Anthony Obame earned Gabon's first Olympic medal on Saturday when he took silver in the taekwondo heavyweight division at the London Games, as Italian Carlo Molfetta took gold in the final.
Obame, who snatched a place in the final after a last-second win over of three-times world champion Bahri Tanrikulu in the last four, took a 6-1 lead after the first round and had a five point lead in the third before Molfetta powered back to 9-9.
Neither fighter could score a point in sudden death and after the referee consulted the judges' scorecards he signalled the Italian was the victor.
Both fighters sank to their knees in an embrace then raised each other's arms in a show of sportsmanship that had the 6,000 fans in the ExCeL arena roaring.
Obame said he hoped his silver would just be the first of many medals for Gabon.
"I think it's a good start for us. We have to try to get more medals in the future," he said.
"For now it's just me, but I hope that other people from Gabon will win medals at other Olympic Games and have the same success as me."
Molfetta said all of his hard work had paid off.
"The first person I'd like to thank is myself. I've put a lot of work into this medal, lots of injuries and many sacrifices," he added.
"That's why I have to dedicate this gold medal to myself in the first place. Then to all the people who supported me on the way to gold."
Mali's Daba Modibo Keita was unable to fight for a bronze due to injury, leaving Robelis Despaigne of Cuba to pick up the medal.
China's Liu Xiaobo won the other bronze after beating Turkey's Tanrikulu.
Mandic takes women's heavyweight gold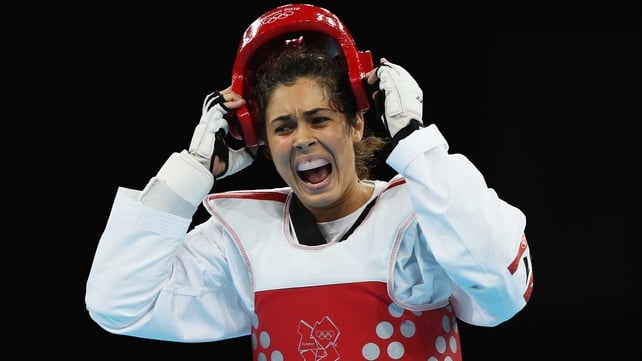 Serbian Milica Mandic won the taekwondo gold medal in the women's heavyweight division at the London Games, beating Anne-Caroline Graffe of France in the final on Saturday.
After a tight opening two rounds, Mandic opened up in the third and picked off world champion Graffe with quick kicks to the body, running out a 9-7 winner to earn Serbia their first gold medal of the Games.
Mandic said it was the sweetest moment of her life and the fact that it had earned Serbia their first gold in London was extra special.
"This is something that I wanted so much and I've worked really hard for it. It's amazing, it's the highlight of my life," she said.
"I just can't believe it and I'm so proud I did it for my country."
Graffe had looked the hot favourite to win gold after cruising through the early rounds and knocking out South Korea's Lee In-jong in the second round.
However, she struggled to impose herself on the Serb and had to accept silver.
"I'm proud of my silver medal, although I was expecting to get gold," added Graffe, who was born in Tahiti, French Polynesia.
"This means a lot to me because I'm the first Polynesian to represent France at the Olympics and it's a good way to finish off my Olympics."
Russia's Anastasia Baryshnikova beat Korean Lee and Mexican Maria Espinoza edged Glenhis Hernandez to win the bronze medals following the repechage competition.
Lee's failure to win a bronze left South Korea with only a gold and silver to take home from London. All four of Korea's fighters had won gold medals at the Beijing Games.
Taekwondo is Korea's traditional martial art.