France's Yannick Agnel won the men's 200 metres freestyle Olympic gold medal today.
Agnel, who anchored the French to the 4x100 freestyle gold on Sunday, beat South Korea's Park Tae-hwan and China's Sun Yang, who dead heated for the silver. American Ryan Lochte came in fourth.
Matt Grevers collected his first individual gold medal when he led an American one-two in the final of the men's 100 metres backstroke.
Using every inch of his 2.03 metre (6-foot-8) frame, Grevers stretched his long arms out to win in a time of 52.16 seconds, a new Olympic record and just 0.22 outside the world record set by Aaron Peirsol.
American Nick Thoman finished second in 52.92 while Japan's Ryosuke Irie got the bronze medal.
Lithuania's Ruta Meilutyte won the women's world 100 metres breaststroke gold medal.
Rebecca Soni, the two-time world champion for the event and Beijing Olympics silver medallist, took silver, while Satomi Suzuki of Japan won bronze.
Earlier, Michael Phelps sailed through the heats of the men's 200 metres butterfly to stay on course to cap his incredible Olympic career with more record milestones.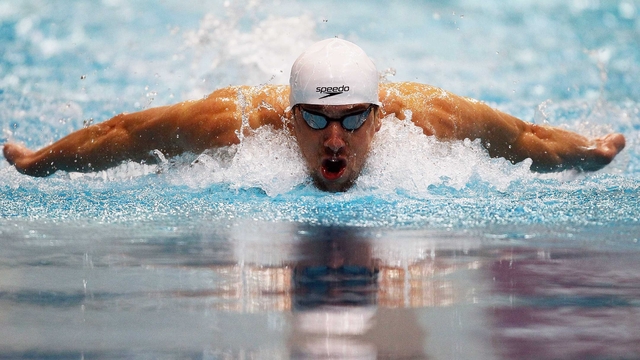 Unflustered and swimming well within himself, the American coasted through his morning heat in one minute, 55.53 seconds, more than four seconds outside his own world record, but enough to qualify fifth overall.
"I'm very happy with that swim," Phelps said.
Austria's Dinko Jukic was the fastest overall, stopping the clock at 1:54.79, just ahead of Phelps' compatriot Tyler Clary.
"It felt fantastic. The time was faster than it was at (U.S.) trials," Clary said.
"Coming into the third wall I was amazed at how well I felt. Historically I go faster in the evenings, and I felt like there was more there."
The 200 butterfly is one of the most physically demanding events in swimming and Phelps is a master of managing himself through the heats and semi-finals without over exerting himself.
Compared to Beijing where he won eight gold medals, Phelps has not had a great start to the London Games, finishing fourth in the 400 individual medley then second in the 4x100 freestyle relay.
But his best events are yet to come and he is poised for a memorable night on Tuesday.
If he wins the 200 butterfly final, his favourite race, he will become the first male swimmer to win gold in the same individual event at three successive Olympics.
He will also equal Soviet gymnast Larisa Latynina's record tally of 18 Olympic medals.
Phelps could then claim the outright record when he contests the 4x200 freestyle relay event, where the Americans are overwhelming favourites to win.