Ireland's Kieran Behan was eliminated from the vault and his favoured floor event at the London Games earlier today.
Coming into the event Behan was tipped to score highly in his heat and advance to the finals.
However, two stumbles on his final two landings damaged his score significantly, ending on 13.966, a score which dropped him to 16th out of 21 overall.
With only eight gymnasts making the floor final, Behan's journey in the event came to a premature end.
Behan was reduced to tears later when, after twice being told as a youngster that he would never walk again, he reflected on the enormity of competing in his first Olympic Games.
"It has been a very emotional day," the 23-year-old said after mistakes in both his events cost him marks. Behan sat down on his landing from the vault and stumbled as he completed his final twists on the floor.
Though he was disappointed, his scores were almost incidental considering Behan's long struggle against adversity, a story which is making headlines from New York to Bangkok.
As a 10-year-old, and already two years into gymnastics training, Behan developed a tumour in his leg.
"Luckily it wasn't cancerous but the operation went wrong and I suffered severe nerve damage so I had to learn to use my leg again and I was in a wheelchair for 15 months."
"I didn't know what to think because I have been through so much ... and to actually walk out on that stage, to actually be able to walk, is something I never thought would happen..." - Kieran Behan
"I got back into the gym and then at the age of 12 I suffered a head injury. I had a freak accident coming down from the (high) bar on the back of my head and I was again in a wheelchair for a long time.
"After three or so years out I eventually was able to take my first steps back into the gym and then went on from there, but I ruptured both my anterior cruciate ligaments in my knee."
Determined not to give up, Behan battled on and became only the second Irish gymnast to qualify for an Olympic Games.
When he walked out to Saturday's qualifying session along with the defending team champions China and home favourites Britain, and with his parents in the crowd at the North Greenwich Arena, Behan was almost overcome with emotion.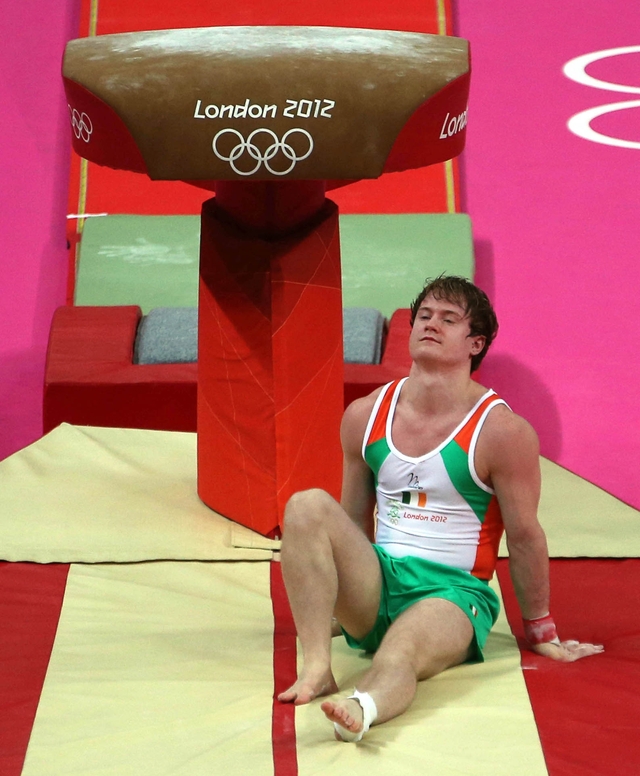 "I wasn't nervous, I was very emotional," he said. Behan opened his mouth to continue, but tears welled up in his eyes.
"It is just crazy," he said when he had recovered, "but my story is about triumph over adversity and it was a bit of adversity with my routines not going to plan but I will try and get over it and I will come back stronger," he said.
"It was hard, but it is good."