Allegations of a betting scandal haver broken within Team Ireland.
According to the Irish Independent, OCI president Pat Hickey has confirmed that the organisation has received an allegation against one of the Team Ireland members.
The OCI has sought legal advice on the matter and has since received a letter from the athlete's solicitor in response.
It is believed that the athlete is said to have placed two bets against themselves to win a competition, directly backing their opponent.
The IOC directly outlaws this practice.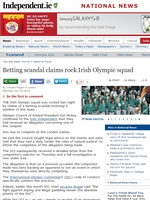 The OCI was made aware of the allegation through an anonymous email. However the Irish Independent claims it has documentary evidence of the bets being placed.
The bets, at 12/1, yielded a dividend of €3,626.
Hickey has said that if found guilty the athlete will face severe sanctions.
The OCI president said: "This is fraught with legal issues and, right now, our priority is not to cause any unnecessary upset to the competitors."
The International Olympic Committee confirmed they were investigating the allegation.
IOC communications director Mark Adams said: "The allegation is that an Irish athlete has been betting against themselves in an event in which he or she was involved prior to the Olympics.
"It was reported to us last night and we have a process of dealing with betting.
"We need to find out what the full facts are and we are looking into it but as far as I understand it doesn't affect anything to do with the Games itself and is entirely separate