By Tadhg Peavoy
Twitter: @TPeavoy
Email: Tadhg.Peavoy@rte.ie
Ireland's 20km Olympic walk medal contender Olive Loughnane has brushed off any thoughts of being under pressure in the run up the London Olympiad.
"I don't really see it as pressure, because I suppose obviously athletes by their nature put themselves under massive pressure. I think I put myself under more pressure than any expectation," said the 2009 World Championships silver medallist.
"It's not going to make me faster, so I just try to park that."
To replicate her silver at the worlds, Loughnane feels she needs to bring her performance to a previously unheralded level.
"I I reckon I need to do personal bests and national records to go that far again," said Loughnane.
"Anything can happen in a race. In Beijing I did 87:45 to finish seventh, whereas in Berlin I did 88:58 to finish second. It's not about the time the race will be run, it's about how it's going to pan out tactically.
"It's not just about being in shape, but about being able to respond to moves, and make your own moves.
"I've been working on stuff like that and I suppose I'm more tactically astute than I was four years ago.
"Anything can happen in a race. But no matter how good your shape is you can't cover everything. You're going to need a certain amount of luck.
"But I'm due a bit of luck, I haven't had any for the last few years. So, I'm looking forward to it coming my way this year."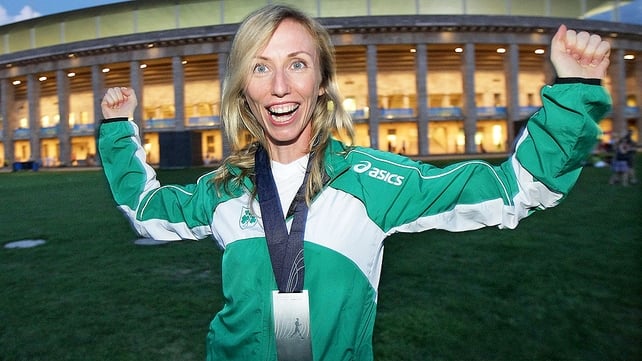 The Cork woman does feel; however, that she is in a good place heading into the Games.
"Yeah, three weeks out, which was last Saturday, I felt more or less the same as [before the Games in] Beijing," she said.
"The huge difference is that I didn't have that much travel in front of me. It's definitely an advantage for me. I'm just so happy to be able to hop across here. They talk about acclimatisation, but one of the things we don't talk about is culturally. Everything is so similar here. Normally we try to buy some stuff in the airport on the way out that you might miss.
"But I came over yesterday and I couldn't think of one thing that I wouldn't be able to get out here."
Loughnane also highlighted that the Olympics is most certainly the pinnacle of a track athlete's career.
She said: "I suppose the thing about the Olympics, this time more than ever because it's so close to home, is that they really capture the general public's imagination. Even if you think back to your own childhood it was probably one of the first international sporting events you became aware of. The World Championships or the European Championships would be second to that.
"For athletes it's very similar. I think everyone lifts their game for the Olympics. We think of everything in four-year cycles, all the planning is done in four-year cycles. It's a huge deal for the general public and it's a huge deal for us as well.
"All our training really is geared towards this. It's wonderful to have won a silver medal at the World Championships, and I'm really proud of that, but the Olympics would be a step up from that."