Japan's rhythmic gymnastics team ready the war paint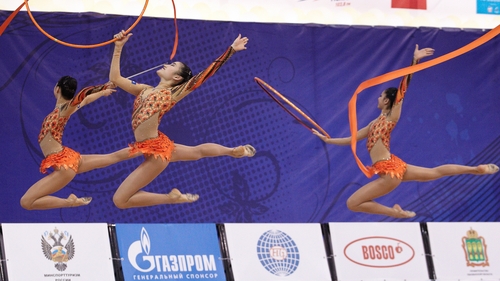 Japan's rhythmic gymnastics team has been in intense training for the London Olympics, and now they are putting on their war paint to get psyched up to compete on the world's biggest sporting stage.
"After I put on the makeup, it's like a switch has been turned on for competing," Airi Hatakeyama, 17, said at an event opened to media to showcase the team's makeup art and new uniforms.
"It makes me feel like I'm in performance mode and puts me up to the challenge," she told Reuters as a makeup artist applied bright red lipstick and eye liner to highlight her features.
Rhythmic gymnastics, a combination of traditional gymnastics and dance in which performers use ribbons, hoops and other apparatus, is well known for the gymnasts' flamboyant costumes and dramatic makeup, similar to in ballet.
The Japanese team aims for its makeup to be visible as far as 15 metres away (about 50 feet), the distance at which the judges sit, and accentuates the corner of the eyes with a "fairy line" to give the impression of fluttering fairy wings.
Another key is applying liquid foundation and makeup that is resistant to sweat as the gymnasts perform their routines, which require not only grace but extreme flexibility, strength and balance.
London will mark Japan's third Olympic appearance in rhythmic gymnastics which made its debut in 1984.
Japan has yet to win a medal in the sport and will face tough competition from the likes of Russia, who took gold in the previous three Olympics.
Team captain Kotono Tanaka, 20, who made her Olympic debut in Beijing in 2008, told a news conference she would draw on her experience to help the team prepare in their quest for their first medal.
Japan also has an extra incentive to win for a country that just a year ago was reeling from a massive earthquake and tsunami that devastated its northeast coast and caused the world's worst nuclear disaster since Chernobyl.
"I'm also from the northeast and my memories of it are really strong," said Natsuki Fukase, 18, wearing the team's pink musical-note themed uniform.
"We want to give top performances at the Olympics to bring smiles to Japanese people's faces and give them energy," she said.