The Long Month of May
I have to start this blog by saying sorry to my brother Levans.
In my first blog I failed to mention his name when talking about how I got started with badminton.
He was a big part of that and I want to thank him for beating me all those years. I will say that beating Levans on Court 5 in Whitehall Road for the first time when I was 14 was seriously unreal. It was a great drive home in the car that evening.
Anyway. May was one very, very long month. Even though I was 99.999999% sure I was qualified for London, I was still waiting for the official confirmation. I was first on the reserve list, but I knew the player from the Netherlands wouldn't be going which meant I would be going in.
The reason the Dutch player wouldn't be sent is because he wasn't ranked inside the top 16 in the world and the Olympic Committee of the Netherlands has that rule that badminton players not in the top 16 of the world don't go to the Games.
The Netherlands hasn't had a men's singles player at an Olympic Games for the last 12 years.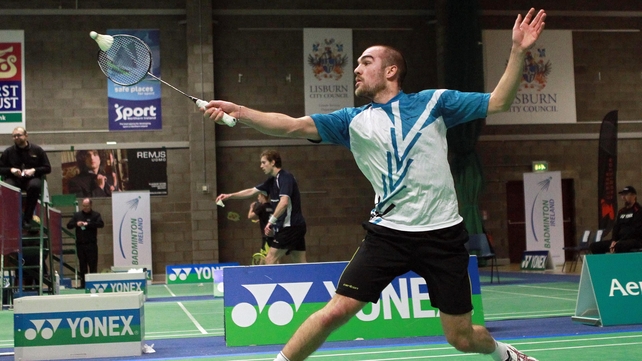 Even knowing all of this I was still a little nervous, which did effect my training over the last four weeks.
I've been doing a lot of physical work since the tournament in Portugal. I've been biking a lot in the gym, doing spinning classes and recently I bought a racing bike so I could cycle outside and not always be stuck in the gym.
I've also been doing a lot of weight training and following my new program from my new trainer Paul in Dublin.
The new program is absolutely insane. I've never experienced weight training like it before and I can already feel the benefits.
Since my last blog I've spent quite a bit of time in Dublin. I was there for five days holiday at the beginning of May with my girlfriend and her family having a 'holiday'.
It wasn't really a holiday as I was doing something almost every minute of every day. I did get to do two things I have never done before in Dublin. I was at Johnny Foxes pub eating dinner and watching the show they put on and I also went to Kilmainham Gaol.
That was one of the first times I've done a bit of sightseeing around Dublin and I really enjoyed it. I'd definitely recommend it!
I came back to Copenhagen for one week where I again did a lot of biking and weight training, but not so much badminton.
Seven days later I was back to Dublin for one week. That week in Dublin I did some fitness testing with the Irish Institute of Sport, which was fantastic.
I did my first ever VO2 max test. I also trained a lot with Paul and had some meetings with Badminton Ireland about the future and what will happen after the Olympic Games.
I have a little bit of an injury in my ankle again, but thankfully it's not too bad this time. I've already started back on court and it feels okay.
I've just returned to Copenhagen after having three insane days in Dublin. I flew home Monday evening having landed at 6.05pm in Dublin.
My mum was there to pick me up and drive me straight to a restaurant to have some dinner with her and my brother. After that I drove to Whitehall Road to film some interviews and me playing for the documentary, which will be coming out in July.
I tricked my brother into coming along as I said he could just watch and we could hang out a bit.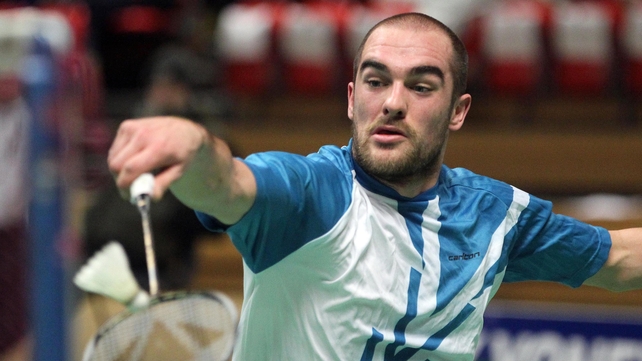 Little did he know that I had planned an interview with him and brought some clothes for him to play in.
He certainly wasn't happy about that!
On Tuesday I was in Whitehall again all morning doing a press conference for Badminton Ireland and after that I had a lot of interviews.
Tuesday night my brother and myself went to the O2 to see Blink 182. Not really my type of music, but some of the songs were fantastic.
Wednesday I was in RTÉ in the morning doing some more things, which you'll all get a chance to see soon!
I drove into town to train with Paul before heading back to Copenhagen in the evening. Three very busy days, but I had a lot of fun especially in with RTÉ.
I'd like to say thank you to everyone who wrote, liked, texted, called, tweeted and emailed me congratulating me on qualifying for London. Every single one of them means a lot to me and I really do appreciate it.
I will continue doing competitions on my Facebook page so keep on the look out.
I've just started a competition for one of my very own Carlton rackets. So get onto Facebook and get liking.
Twitter - https://twitter.com/#!/Scott_Evans1
Website – www.scottevansireland.com
Facebook - https://www.facebook.com/ScottEvansBadminton
Scott Evans will compete for Ireland in badminton at London 2012.