British Grand Prix winner Nico Rosberg breathed a sigh of relief on Sunday after Formula One stewards decided not to punish him for an alleged flag infringement that might have cost him the victory.
The German reported to them after the race with a team representative but was seen sprinting down the paddock afterwards, television crews in close pursuit, with a smile on his face.
A spokesman for the governing FIA said later that Rosberg had been reprimanded for failing to slow for yellow flags through turns three to five.
Rosberg, who celebrated his second win of the season, finished the chaotic race 0.7 seconds ahead of Red Bull's Australian Mark Webber.
Rosberg committed the offence between turns three and five at 14.06pm and, while the stewards found he had not made the required significant reduction in speed required, a reprimand was deemed sufficient punishment.
Once Vettel retired with a gearbox problem at the end of lap 41, Rosberg held off Mark Webber's late charge to take the win by just 0.7 seconds.
Ferrari's Fernando Alonso took advantage of championship leader Vettel's troubles with third place, closing his deficit to the German to 21 points.
Pole sitter Lewis Hamilton was fourth, but was left bitterly frustrated having led the early laps before becoming the first driver to fall victim to a Pirelli tyre failure.
The win was particularly sweet for Mercedes, with the team's Brackley base being so close to Silverstone, and Rosberg dedicated his win to the team.
He said: "It has been a fantastic day. It is very special because it is the home grand prix of the team and the factory is 10 minutes away.
"A lot of people, a lot of my fellow team members and colleagues were in the grandstands and it's very, very nice that I was able to give them such a great race and such a great result.
"They really deserve it because they've worked so well all season.
"It's great to see the momentum we have in the team at the moment."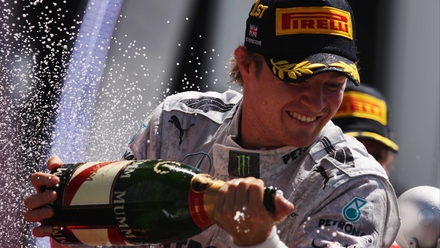 Hamilton had made full use of his pole position to dominate the opening laps, and was edging away from second-placed Vettel when his tyre failed spectacularly as he was building speed on the Wellington Straight.
The mishap dropped him to dead last, although an inspired recovery saw him pick up a handy haul of points.
But the 28-year-old was frustrated to have missed out on another Silverstone win, to go with his masterful wet-weather drive in 2008.
He said: "I'm disappointed by today's race and I would have loved to deliver the win this afternoon for all the British fans here at Silverstone.
"The race started so well for us today; I felt comfortable out in front and was managing my pace. The tyre problem was such a shame and from then it was just a case of giving it my all and battling as far up the field as possible.
"I had some good overtaking moves and, given another lap, I might have got Fernando and ended up on the podium.
"Everything considered, fourth place is pretty good after having been last on lap 10 and we'll take that."
It was also another difficult home race for Jenson Button as the McLaren driver came home in 13th after falling down the order following the second of the two safety car periods.
Button was never likely to secure his first British GP podium finish such have been McLaren's travails this season.
But the 2009 world champion was annoyed to have missed out on a top-10 finish as the decision not to make a third stop for fresh rubber backfired.
"Our pace wasn't too bad, but the last stint was particularly tough," said Button.
"After the final safety car, there wasn't a lot of tread left on my tyres, so getting them up to temperature was very tricky - we struggle with that anyway.
"Into the closing laps, I was vulnerable. All the cars on fresher tyres were fighting to get past, and as soon as I went off-line to defend, it became even more difficult to get temperature back into the tyre."
Alonso should have had more to cheer about than Button and Hamilton, but cut a surprisingly glum figure despite having narrowed Vettel's lead by finishing on the podium after starting ninth.
The Spaniard bemoaned Ferrari's lack of speed, saying: "We were not fast in qualifying and not fast in the race - definitely this weekend we did not manage to get the tyres to work.
"We have been very lucky. I also had a tyre problem, my right rear-tryre was finished and disintegrated but it was at the last corner and I was able to pit.
"It was a very lucky and I just need to be very thankful for the team, for the luck and try to improve for next weekend."