Romain Grosjean has been handed a one-race ban for his part in the first-corner pile-up during today's Belgian Grand Prix.
His team, Lotus, confirmed the punishment had been handed down by race stewards after he appeared to be at the centre of the crash at La Source.
McLaren driver Lewis Hamilton was clipped by Grosjean as he attempted to cut across the Briton.
As the rear-right tyre of Grosjean's car hit the front-left of Hamilton's, it sparked a chain reaction which resulted in the exit of four cars.
As the mayhem unfolded Grosjean and Hamilton collected Fernando Alonso and Sergio Perez, the latter duo having started from fifth and fourth.
On-board replays showed Grosjean's Lotus flying over the front of the Ferrari, missing the head of the Spaniard by inches.
Grosjean was also handed a fine of €50,000 by the stewards who deemed what unfolded "an extremely serious breach of the regulations which had the potential to cause injury to others".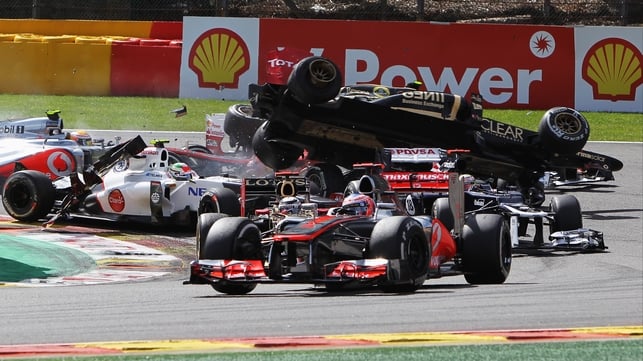 In their conclusion, the stewards added: "It eliminated leading championship contenders from the race.
"The stewards note the team conceded the action of the driver was an extremely serious mistake and an error of judgment.
"Neither the team nor the driver made any submission in mitigation of penalty."
Although reminded of their right of appeal, Lotus have decided they will not do so, which means reserve Jerome D'Ambrosio is likely to step in for next Sunday's Italian Grand Prix at Monza.
Grosjean, the first driver to be banned from a race since Michael Schumacher in 1994 when he ignored black flags during the British Grand Prix, said: "I accept my mistake.
"I misjudged the gap to Lewis. I thought I was in front of him.
"It was a small mistake, but a big incident. I'm very sorry, and I'm just glad nobody is hurt. That's the main thing.
"It's a very hard decision to hear. When you love racing it's hard."
Although team principal Eric Boullier described the penalty as "severe", he appreciates Grosjean needs to start learning given the number of incidents he has been involved in this season.
"Being in the wrong place is not good, and that means we have to keep working and talking - more talking I think - as to the reason why he is in the wrong place," said Boullier.
"Part of the problem is that he wants to do well, he is somebody who is a perfectionist.
"He needs to understand he will deliver more if he doesn't put too much pressure on himself at the start of the race.
"This is a severe penalty, but it's part of his learning curve."