After Kilkenny's Myles Price claimed victory in one of the biggest domestic MMA fights of the decade, no one thought it would be over three years before we would see him compete again.
Furthermore, bookies would have given even longer odds on him reappearing in a bout against one of the most decorated lightweights of all time, former UFC and WEC champion Anthony Pettis, who he meets Friday at a PFL event in Arlington, Texas.
Many felt 'Magic' had been put behind the eight ball by Bellator following his win over Peter Queally in front of a ravenous 3 Arena assembly back in February 2019.
"This would've never happened if he was an SBG fighter," chimed many, highlighting the strong links between the promotion and John Kavanagh - Price's former head coach. Yet, in hindsight, the Team Ryano fighter feels somewhat accountable for what transpired with the US organisation.
"There were a lot of politics involved, but over time I spent more time looking at my emotional reaction to it," Price told RTÉ Sport.
"I got a little bit emotional because I cared about what happened with Bellator and that fight. If anything, I learned a lot from it. You have to let politics be politics and if there's nothing you can do about it, there's no point in wasting energy on it."
Apart from his presence on social media, it felt like Price disappeared completely after his split decision win over Queally. In his absence, his former foe went on to fight for Bellator gold. Price spent time training in the infamous UFD gym in Dusseldorf and even pursued some psychology qualifications.
"For me, psychology is 99% of the game," Price explained. "There are guys that are animals in the gym and just can't do it when the time comes to compete – it's a mental thing, it's a mental block. That's something I've really tapped into over the last three years."
Head coach Andy Ryan and UFC legend Neil Seery have been singing Price's praises since his return to Finglas MMA institution, Team Ryano.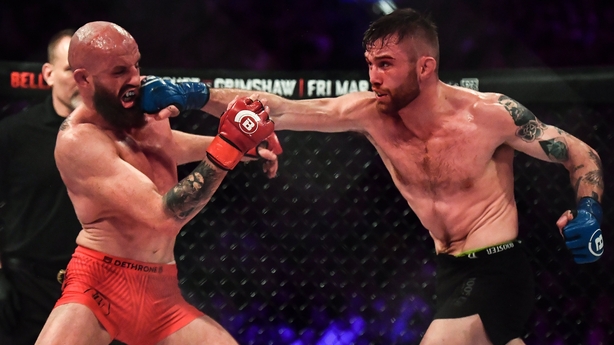 Price knows that he can be "lured to sleep" during bouts. He also knows that he can't afford to let that happen in Arlington.
'Showtime' Pettis has cultivated a reputation as one of the great knockout artists at 155 pounds and 'Magic' is all too aware that no quarter can be given if he wants his hand raised.
"It's no secret that any time Pettis has ever lost, it's because people have put him under pressure. When you look at his bouts that are predominantly striking contests, it's giving him that extra one or two inches that provides him the opportunity to let 'Showtime' shine through. It allows him to command that space and be the creative artist that he likes to be," said Price.
"My fight has to be about taking that inch or two away again and letting him know that he's not going to be able to that, you're not going to be able to be 'Showtime'. Giving him them one to two inches gives him the permission to hit you."
Price has no issue with the substantial stage PFL have provided him with for his promotional debut against one of the great lightweights of his generation. Having been greeted like a hero for his first bout in the 3 Arena in 2015, the silence that fell on the venue during his walkout for Queally has stuck with him.
He was in Dusseldorf when he got the news of the Pettis bout. Extreme excitement became palpable anxiety after a trip to his favourite coffee shop (the familiar "ying and yang" as he refers to it), before he came back to a point of balance.
"He is a human just like me. He has blood just like I do. I deserve what he's achieved in his career as much as anyone else does. We're all born with the same biological make-up, with the same characteristics and with the same aspirations. The fact of the matter is, I deserve this. Now, I just have to go in and take what I feel I deserve."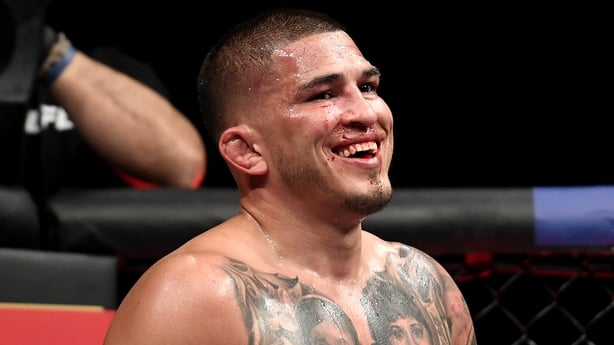 A lot of people are adamant that a win for Price over Pettis would be one of the biggest victories in the history of Irish mixed-martial-arts. As well as that, it would push him into the next round of PFL's lightweight tournament, where the eventual winner will secure a $1m dollar prize.
The Kilkenny man's name was cited endlessly in February ahead of Sinead Kavanagh versus Leah McCourt, as fans and media debated the biggest all-Irish clashes of the last decade. But, as Price has learned from his memorable clash with Queally, he doesn't want to build himself up to an unrealistic expectation.
"I'm prepared for not taking that statement [one of the biggest wins in Irish MMA history] literally. There's one thing that happens with athletes and I see it time and time again. It's happened to me after the Queally fight as well – I took statements like that literally," he revealed.
"There's a massive depression that comes after you buy into statements like that. Your ego attaches to the idea that 'this is the biggest fight in Irish MMA history'. Then you go back to everyday life and it seems dull; it seems like you're not as content with what you have anymore. The simple life isn't quite what it used to be, and it's really hard to shake that when you fully believe it."
"Even look at [Conor] McGregor, I feel like that's where his actions come from," he added. "I don't think they come from a bad place, they come from a lack of understanding. He believes in these expectations that he and others puts on him. It's a lose-lose because he either loses and he doesn't meet them or he wins and he has to go back to everyday life and it doesn't reach that level of expectation he has in his mind. Then it's projected in silly things like speeding tickets and hitting auld lads in bars.
"So yes, I do feel like this is one of the biggest fights in Irish MMA, but I'm just treating it like a fight. Next week you'll be interviewing another fighter and I'll be getting on with my life, training fighters and spending time with my family."