An hour before Conor McGregor's fight, an image of him arriving at the arena flashed on the big screen inside the venue.
It delivered one of the loudest cheers of the night and it was a sign of things to come.
McGregor remains the biggest star in UFC despite the fact that prior to last night's fight, he hadn't stepped inside the octagon since losing to Khabib Nurmagomedov in October 2018.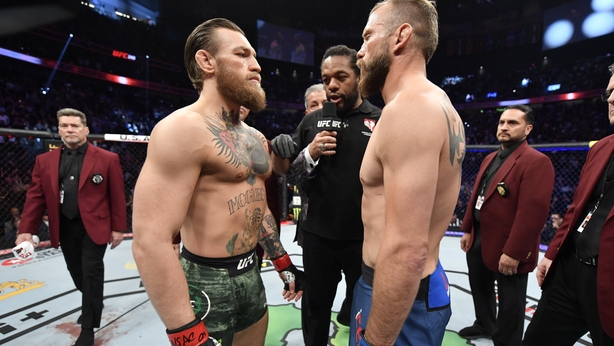 He entered the arena last night with a tricolour draped around his shoulders to the haunting sounds of Sinead O'Connor's rendition of "The Foggy Dew".
Fans waved Irish flags and chanted 'olé olé' as the Dublin man took just 40 seconds to claim victory over his opponent Donald 'Cowboy' Cerrone.
There were references to Ireland in McGregor's post-fight interview.
I just asked @TheNotoriousMMA #ConorMcGregor about the fans who've been disappointed by his behaviour outside of the octagon. He said: "I know some of the things have not been great, I owned up to that and we move on." @RTEsport @rtenews pic.twitter.com/83iDVJeWss

— Brian O'Donovan (@BrianOD_News) January 19, 2020
"I've etched my name in history one more time, for the Irish people and for my ma back home," he said.
Whether it was flags, music or references to home, there was a very 'Irish' feel in the T-Mobile Arena in Las Vegas last night.
Celebrations back home may well be tempered, however, by the fact that for two years now McGregor has been making headlines for all the wrong reasons with court appearances on both sides of the Atlantic.