There must be a certain degree of freedom that comes with heading into an All-Ireland final knowing that win or lose, it will be the last time you tog out beside those team-mates again. Win or lose, it will be one to remember.
On Saturday afternoon, this will be the case for Kilkerrin-Clonberne veteran Sarah Ward as she plans to cap a career that has spanned 20 seasons with the most coveted of rewards.
"You always feel like you might get to that Holy Grail of an All-Ireland medal," said Ward speaking ahead of the 2021 currentaccount.ie All-Ireland Ladies football final against title holders, Mourneabbey of Cork.
"I think anybody who plays football would have the dream of winning an All-Ireland medal and it's no different for me or the rest of the girls. The closer you get, the more you feel like you can achieve it and, absolutely, this year, it would be great to just finish off the career with an All-Ireland medal.
"I think the older you get and the further on in your career, towards the end, you've a tendency to savour the moments a little bit better," remarked the Tribeswoman, who was thrilled to be in thick of it last December when Kilkerrin-Clonberne won their fourth Connacht title in a row.
"Coming on in the Connacht final and being there for the final whistle, my kids coming onto the pitch, those are the type of memories that stay with you and I think I'll probably savour them more than some of the earlier ones where success, you took it for granted or you didn't put as much meas on it as I do now."
As well as preparing for high-stakes games like Connacht finals year after year, along with reaching the All-Ireland final in 2019, Ward is the mother of two children under the age of five and has a career with Microsoft that requires some travelling throughout the continent. Having been a pillar in the club's development from a Junior team right the way up through the ranks too, Ward certainly owes the game nothing at this stage.
"I've said it openly to the rest of the team that I'm finishing this year. I'm marking my last sprints, my last endurance runs," she said.
"It'd be nice to finish on a high but just with work pressures, my kids now starting training themselves, it is the right time plus there's younger players coming into the panel and it's good to leave space for younger players to come in and be part of that panel.
"I think as older players we do have a responsibility and a role to bring those players in and welcome them and make sure they're comfortable at the senior stage but there comes a certain time where the time is right to finish up and certainly for me that's this year."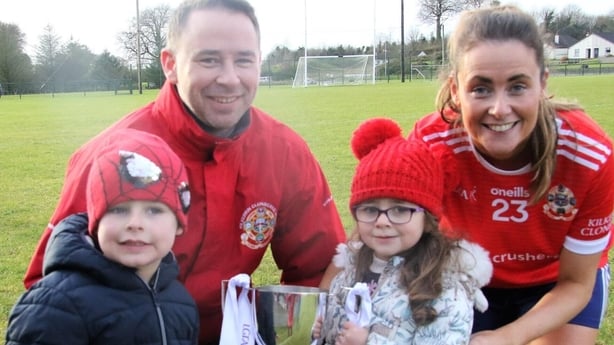 Ward isn't the only one on the team performing such a hectic balancing act.
"There are five of us on the panel who have kids now, so we share stories about teething and missing sleep.
"But at the same time, I think it's good to have the football because you need to get out of the house, you need to be your own person, and have that extra dimension.
"When we're down there training as a group, you don't feel as old as you are. There are a few of us that certainly bring the age average of the team up. But there's a great dynamic there and it's a nice escape.
"It's good for the head to get down there and train with the rest of the girls. It can be a struggle to juggle everything, I think we'd all admit that. But sometimes you need to get out there, put on the boots and go for a run. You're better for it.
"And it's great for my kids, they love getting out, they love going to the matches and they can't wait to start training themselves."
The players from this north-east Galway club have become standard bearers for women's football both in Connacht and nationally. Like most rural Irish GAA clubs, there are strong family ties in the dressingroom and players like Nicola and Louise Ward (distant relations to Sarah), Olivia Divilly and Lynsey Noone have developed into household names from their performances in the Galway jersey.
"It's a testament to the committee and structures that were put in place. It meant we had new players coming to the team every year from the underage set-ups strengthening the team. And as we went up through the grades, winning intermediate and finally getting to the senior stage in 2013.
"Funnily enough, when we got to senior and played our first senior championship match, it was Willie Ward and Michael Divilly who were part of our management team at the time. So, there is a certain familiarity there with Willie and Michael back in the fold again.
"There are still a few stalwarts there and as we grew, the Ward sisters started coming in when we started playing intermediate. And then we got up to senior and the likes of the Divillys and the Noones joined as well.
"So, all through the years, we started strengthening the team with all these younger players which has really stood to us."
There must be something in the water in the two parishes as many footballers have gone on to represent their club at inter-county level and inspire generations.
"John Divilly who was a Kilkerrin-Clonberne player who played on that (All-Ireland winning1998) team certainly would have been a hero of mine and probably because he was just a normal guy who grew up down the road, and went to the same national school.
"You'd feel like, 'Ok, he's achieved that, why can't we?' So, John Divilly certainly was one of my role models."
Absolutely baffled how this isn't played in Croke Park, every other senior final is played there 🤷🏽‍♂️
Regardless we'll be wherever the game is to support our girls but opportunity missed @LadiesFootball ! Imagine presenting the opportunity to play in the best stadium around! #GAA https://t.co/EskreC5b5g

— Shane Walsh (@shane147walsh) January 20, 2022
The 2021 All-Star nominee Shane Walsh also hails from the club and recently questioned on social media why this repeat of the 2019 All-Ireland Senior Club final was not being held in Croke Park, a point that Ward can accept.
"I totally understand the reasoning behind Shane's tweet," said Ward. "I think, no more than any All-Ireland medal, everybody has an aspiration to play in the home of Gaelic games, which is Croke Park,"
"I suppose, for us, we're actually just delighted to get to the All-Ireland final and Birr is an absolutely amazing venue. I've been there to a few games myself; I haven't played there yet. It's got great facilities, it makes sense for both teams to have it somewhere more accessible.
"Certainly for us, the travelling support should be a lot more given that it's in Birr. It's a lot easier to get to. So venue doesn't come into it too much for us, we're just delighted to get there and hope that the home support will come with us and I think that it will if it's in Birr."