When Doireann O'Sullivan joined the Cork football panel in 2012, she found herself immersed in a high-performing team that knew nothing but success.
That year the Rebels claimed a seventh All-Ireland title in eight years. Four years later her sister Ciara captained the team to six in a row, Doireann picking off three points as Dublin were edged out by the bare minimum.
That red dominance however has quickly turned blue.
Dublin will renew acquaintances with the Leesiders on Sunday, and it is Mick Bohan's team who are seeking to lift the Brendan Martin Cup for the fourth successive time.
O'Sullivan acknowledges the team from the capital possess "unbelievable footballers" and away from the pitch, a bond and healthy respect has been built between the two groups.
"The thing that separates Dublin from the rest of us I think is their athleticism," she told RTÉ Sport.
"They are extremely fast and fit all over the pitch. They have taken strength and conditioning to a new level. If you run into a Dublin girl, you know all about it. All counties have excellent footballers, but Dublin have taken the pace and strength to a new level."
If Cork are to prevail on Sunday, lessons will have to be learnt from the recent losses to Dublin (2018 All-Ireland final and 2019 semi-final). Above all else, maintaining concentration right from throw-in.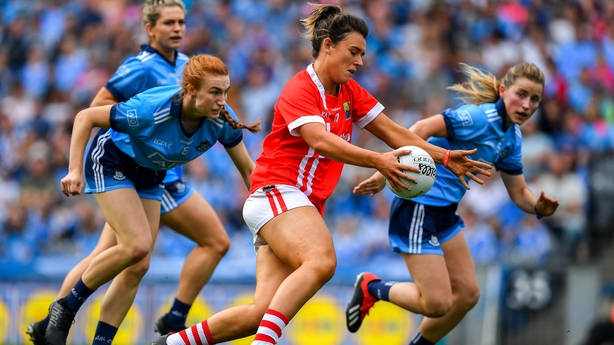 "We panicked a small bit," the Mourneabbey player says when reflecting back on the 2-11 to 0-11 defeat last year.
"Dublin got a goal and we hit the panic button very early. It's important, especially in the first 10 minutes to do the simple things well.
"By the first water break, if we are level or a point or two down, we will be happy with that."
One player who will be very familiar to some of the Cork players is Noelle Healy.
As part of the Dubliner's qualifications as an anaesthetist, Healy spent 12 months working at Cork University Hospital.
In order to keep the football ticking over, she switched to Mourneabbey after making contact with Ciara O'Sullivan, a key part in their All-Ireland club triumph in 2019, kicking two points in a low-scoring final.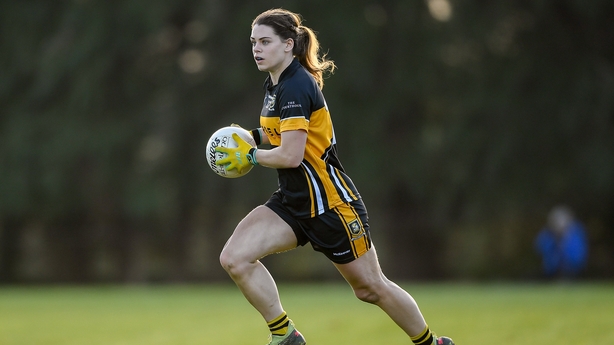 "The dedication and commitment she gave to Mourneabbey was incredible. We all have such huge respect for her. She didn't need to give as much commitment – she was always going to start on our team with her talent – but we all really got to like her and have huge respect for her.
"She was a huge part of why we got over the line in 2019."
There is the intriguing sub-plot that her former club team-mate and Cork corner-back Eimear Meaney could keep tabs on the potent attacker.
"That could take on a life of its own."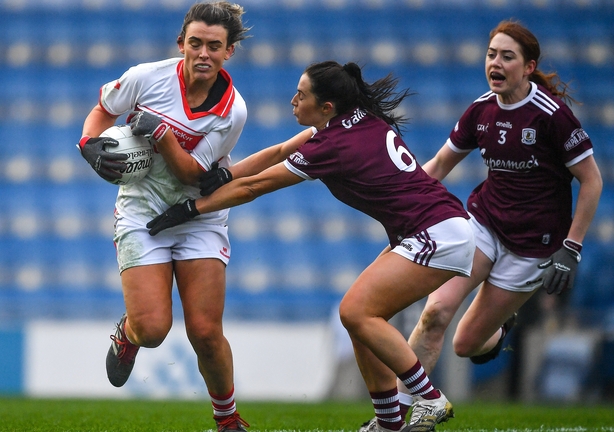 The semi-final victory over Galway was overshadowed by the drama over venue switches and changed throw-in times.
On reflection, O'Sullivan believes it proved to be a very worthwhile exercise given that wing-forward Emer Kiely and wing-back Erica O'Shea had never started a game in Croke Park before.
Another aspect was playing in the empty stadium ahead of the decider.
"Just to hear the calls from players and management on the pitch. I couldn't believe it the last day how much easier it is to communicate and get messages across."
The debacle surrounding the semi-final once again shone a light on the issues that ladies football has had to contend with, but the winds of change are blowing.
Inter-county players from both the Gaelic Players Association (GPA) and Women's Gaelic Players Association (WGPA) have voted to merge into a single 4,000-member representative body and a first Annual General Meeting set to be held in the second quarter of 2021.
O'Sullivan insists it is a "huge step forward" and in a county the size of Cork, the significance cannot be understated.
A recent report by the WGPA found that 93% of female inter-county footballers or hurlers received no travel expenses and a key discussion point with the WGPA was how a merger of the players' bodies would address this issue.
"We have three girls travelling from Beara and two from Dublin three nights a week. That was a big topic, if we were all under the same umbrella, we would be treated as one. I don't think anyone should be out of pocket representing their county."
It could lead in time to a merger of the associations themselves and O'Sullivan could see more opportunities for double-headers with the men.
In January the Cork ladies played in Páirc Uí Chaoimh for the first time when they opened their league defence against Westmeath on same day the Cork men took on Offaly.
The men's and women's finals are taking place on Saturday and Sunday this weekend, and it could be a while before we see a 'double All-Ireland final'.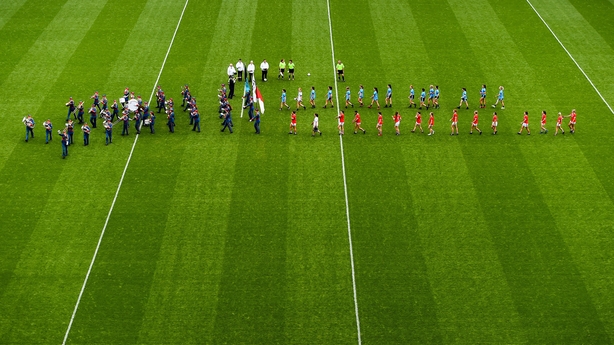 The LGFA has said "it's not feasible at this point in time" given the junior, intermediate and senior ladies finals take place, under non-Covid conditions, on the same day, but would O'Sullivan have any objection in the ladies final being part of a curtain raiser in the event of a double header?
"Absolutely not. I know this year attendance isn't an issue. The thought of playing in front of a full Croke Park I think is very ladies footballer's dream. When I started in 2012, there were maybe 20,000 at games (All-Ireland final). We have doubled that now (56,114 attended the 2019 final) and Croke park has the potential to double that again.
"I think that would be a dream."
A championship, never mind an All-Ireland final, seemed implausible at times earlier this year and O'Sullivan was grateful to have sister Ciara for company, using their primary school pitch for kickabouts, joined by rabbits and sheep.
Now she is just one game away from becoming the second member of her household to lead the Rebels to ultimate glory.
"I grew up looking at the likes of Juliet Murphy, Briege Corkery and Angela Walsh captaining Cork teams. I would love to follow in Ciara's footsteps.
"When you look around and see the calibre of players on our team, it is an honour to represent the girls and our management team."
Follow All-Ireland senior football final between Dublin and Cork with our live blog on RTÉ Sport Online and the RTÉ News app (from 3pm Sunday) or listen to live commentary on RTÉ Radio 1. Highlights on The Sunday Game (9.30 pm RTÉ2)