By Paul O'Neill
Cork might have suffered two defeats along the way, but for Geraldine O'Flynn those setbacks helped to make their latest All-Ireland Ladies Football triumph all the sweeter.
On Sunday Cork edged out Monaghan in the senior decider to clinch the title for a remarkable eighth time in nine years.
Yet earlier in the season their hopes of more glory did not seem too promising when the Rebel County crashed to a brace of losses – both at the hands of Kerry – in Munster.
The first reverse was in the group stage while the second came in the decider but Cork managed to put those disappointments behind them to get back on track.
Defender O'Flynn revealed that the way Eamonn Ryan's side overcame the setback of those defeats made winning again extra special for them.
She recalled: "When we lost twice to Kerry our situation probably did not look too encouraging but the good thing was that we were still in with a chance of progressing in the All-Ireland Championship.
"Wanting to make amends for the mistakes we had made helped to drive us on and thankfully, after the defeat in the Munster final, we got back to winning ways against Armagh in the All-Ireland qualifiers.
"We might not have been at our very best in terms of form but we did enough to get a winning run going. The momentum we built helped to take us through to the All-Ireland final, which was one of our main aims at the start of the year.
"Given the blows we had suffered, it was terrific to get the right result against Monaghan.
"And the fact we had come back from being beaten on two occasions certainly made it all the more sweet. I am lucky to have won eight All-Irelands and while it is hard to single out one as being the best, this rates as being one of the more special ones."
"We might not have been at our very best in terms of form but we did enough to get a winning run going" - Geraldine O'Flynn
O'Flynn and Cork could be forgiven for wondering about what might have been after they slipped up in the Championship in 2010, which is the only year they have failed to land the All-Ireland since their run began.
That year they crashed out to Tyrone in an All-Ireland quarter-final but if they had gone on to win the final and kept hold of the Brendan Martin Cup every year since, they would now be celebrating a nine-in-a-row. Kerry are the only side to have managed that feat but O'Flynn has no regrets about that Championship which ended early for Cork.
"What happened three years ago is not something that we have dwelt on much in the meantime," added O'Flynn.
"You could think about what might have been but, in truth, it is irrelevant now. On the day, Tyrone were deserving winners and we could have no complaints.
"In a way, that loss provided us with a sort of wake-up call and a spur to go on and win the last three All-Irelands.
"Like going down to Kerry this year, we came back the following season more determined than ever to try and win the All-Ireland back and show it was just a blip. The Tyrone game gave us a taste of something we had not experienced before and we did not want to go through it again."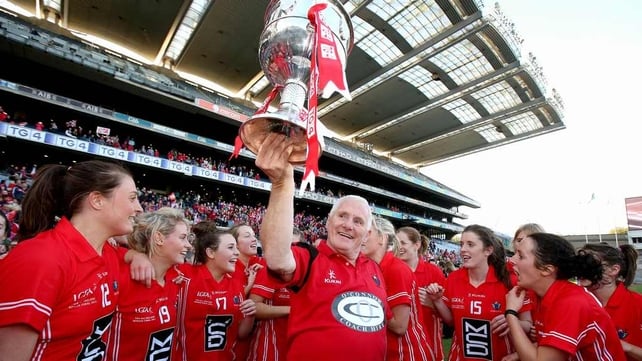 Elaine Harte and Juliet Murphy played their part in Cork's latest All-Ireland success after ending breaks from the squad to return during the Championship.
It is unclear whether Harte will commit to playing next term but Murphy has already declared that she will not be continuing.
But while there might be doubts about the on-going participation of some of the team that started against Monaghan, Cork are expected to welcome back Norita Kelly – who has taken time out from the game – next season.
Regardless of the composition of the squad, All Star O'Flynn believes Cork will be well placed to challenge for more silverware.
She concluded: "While we will enjoy this All-Ireland for the moment, it will not be long before we get down to preparing for the new season.
"We will have to see who will be on board but it looks like Norita will be available and that will be great for us.
"She has been an important player for Cork and her absence this year left us with a big hole to try and fill.
"We are fortunate that we always seem to have excellent young players coming up through the ranks and no doubt some will come into the reckoning for next year – especially if we lose some others.
"In the past players have moved on but we have managed to stay in and around the top because of the fantastic depth of talent that is available."