By Paul O'Neill.
Christina Reilly has revealed how Monaghan have taken a leaf out of Cork's book in a bid to replace them as All-Ireland Ladies Football champions.
Cork will try and claim an eighth All-Ireland crown in nine years when they face Monaghan in Sunday's All-Ireland final. But Monaghan are desperate to upset the odds in the biggest game of the season and scupper Cork's hopes at Croke Park.
Monaghan have impressed greatly as they have swept into the decider and defender Reilly has explained how the Ulster outfit have sought to copy some of Cork's approach to boost their own game this term.
Reilly said: "Last year we were beaten by Cork in the All-Ireland semi-finals and we were lucky to lose by only nine points as we were so poor.
"It was a real low point for us but we have come back this year more focussed about what we need to do if we want to be successful. We are playing more as a team and with a higher work rate – just like Cork.
"I think when you are trying to improve it is no harm looking at the stronger sides and seeing if you can take a bit from their style and put it into your game."
"We were lucky to lose by only nine points as we were so poor." - Reilly
And seeking to learn from Cork has worked quite well for Monaghan this season. They have won 11 of the 12 competitive games they have played and have suffered just one defeat.
One of their victories came against Cork in the opening series of games in the National League.
In fact, Monaghan boast more wins than any other county over Cork in the last eight years. All of their four wins have come in the League – the most recent in February – and All-Star Reilly says that can give them confidence going into the final of the TG4 All-Ireland Championship.
"While Cork have been so strong in recent years, we have not necessarily approached games against them in a special way," she added.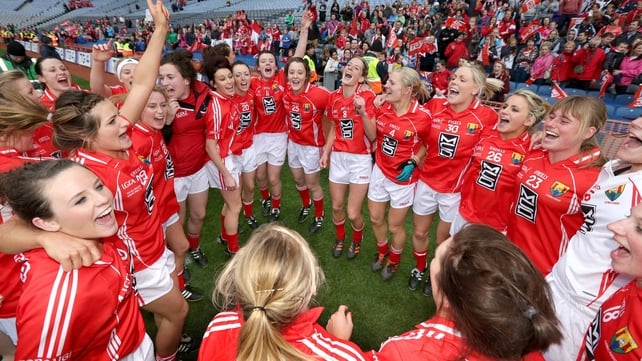 "It is hard to pick a weak link with them so we have just gone out to play to our strengths as much as possible and it has worked well enough at times. Certainly getting the win against them in this year's League can give us encouragement although last season we beat them in the same competition but they bounced back and turned the tables when we met in the Championship."
For Reilly, she will be aiming to at last get her hands on an All-Ireland medal after tasting defeat in her three appearances to date in finals.
In 2002 she featured in her first final where Monaghan went down to Mayo, while there was more disappointment for her six years later and again two years ago – both times at the hands of Cork.
Reilly recalled: "Looking back, the Mayo loss was probably the worst of them all.
"It was a tough one to take as they won by just one point.
"Then in the first of the Cork finals we found the going difficult in part because it was the first final for a lot of our players and they won well. The second was much closer although they were still the better team and again we could have no real complaints about the outcome."
However Reilly believes the experience of those last two finals can stand to Monaghan, whose starting line-up against Cork is expected to include 10 players who also began both their two most recent finals.
She insisted: "Most of us now understand what All-Irelands are all about so there should be no problem on that front.
"We have matured as a group over the last few years and I think we are ready to win. There is tremendous belief among ourselves and I think that is underlined by the fact the squad has stuck together and not broken up much."
Meanwhile, Reilly admits the fact the game was not moved to another date to make way for the All-Ireland Hurling final replay between Clare and Cork shows the standing which ladies football now enjoys.
There had been fears the game would have to be put back – just like last year when the meeting of Cork and Kerry was moved when the All-Ireland Hurling final between Galway and Kilkenny ended in a draw.
Reilly said: "I think it is a huge plus for ladies football that the game is going ahead as scheduled.
"Obviously it has happened before that the date of the ladies football final has been moved at short notice and I think it would have been quite upsetting for everyone involved if it had been switched again."