By Paul O'Neill
Briege Corkery has revealed how Juliet Murphy's dramatic decision to bring an end to her short-lived retirement from ladies football has boosted Cork's push for All-Ireland glory.
Murphy insisted in June that she would not play again at any level but, just five weeks later, she resumed training with Cork after doing a shock U-turn.
She re-joined a Rebel County squad that was reeling from their reverse at the hands of Kerry in the Munster final – a loss which meant Cork missed out on claiming what would have been a 10th provincial title in a row.
"Having her on board once again has been a big help at such a crucial stage of the Championship" - Briege Corkery
But since her comeback Cork have managed to kick-start their Championship, with the brace of wins they have had taking them into the TG4 All-Ireland semi-finals and an eagerly-awaited re-match with Kerry on Saturday.
And All-Star Corkery says Murphy's agreement to be part of the Cork squad again provided them with a timely lift.
Corkery admitted: "Juliet owes nothing to Cork because she has been a great servant to the county for quite a while.
"If she had opted not to end her retirement then nobody could have argued with her but it was fantastic when she turned up at training once more and got involved.
"She is a clever player who holds onto the ball well and she is a great organiser too. Having her on board once again has been a big help at such a crucial stage of the Championship."
However, while Cork got back on track in the Championship, they did not quite sail into the All-Ireland semi-finals with ease.
In the All-Ireland qualifiers they were pushed hard by Armagh, while they had to come from behind against Dublin in the quarter-finals. And Corkery agrees Cork rode their luck at times before securing the results that they wanted.
She recalled: "We were not at our best from the start to finish in each of our last two games.
"Mistakes could have cost us dearly, especially against Armagh, but thankfully we did enough to get through. When we played Armagh it was almost as if there was a sense of nervousness among us but I do not know why that should have been.
"We have lots of experience of big games but we seemed a bit edgy at times in that one.
"Then, when we played the Dubs, we had to dig deep to claw our way back before securing the victory.
"Things did not look too good for us for a while but we refused to panic and I think we showed great character. Perhaps hanging in when the going is tough is something you learn from having success."
Cork will be aiming to avoid an unwanted hat-trick of defeats when they face Kerry, who beat the All-Ireland holders in the group phase in Munster before they clashed again in the decider.
But defender Corkery expects that Cork, who have never lost an All-Ireland semi-final, will have to be at their best if they are to possibly turn the tables on their neighbours and make it third time lucky against them this season.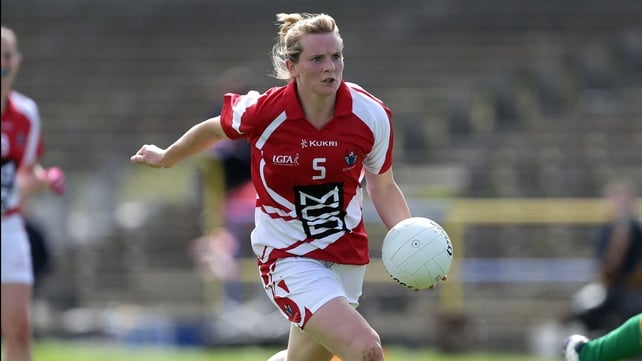 Corkery added: "For me Kerry are a brilliant team and they are a joy to watch – as long as you are not playing against them!

"They are excellent at kick-passing the ball and rarely give it away. Also they are very grounded in that while they have made steady progress over the last three years or so, they have not got carried away.
"We were hugely disappointed to lose to them in the Munster final but, in a way, we only had ourselves to blame.
"In the game we conceded some easy goals and kicked a lot of wides. Certainly we understand another display like that in the semi-final will not be good enough if we are to stay in the Championship."
This latest meeting of Cork and Kerry will go ahead at Semple Stadium and Corkery will be hoping for a better outcome than her previous appearance there, which was also an All-Ireland semi-final.
The dual player was part of the Cork side that lost to Kilkenny in the Liberty Insurance All-Ireland Camogie Championship last month and she admits the pain of the defeat has not gone away.
She said: "It is always hard to take losing a game like that because you go into it knowing you are so close to earning a place in the All-Ireland final.
"Unfortunately for us we did not play to our full capability against what is an excellent Kilkenny side but while they deserved to win, it still hurts that we did not come out on top."
TG4 All-Ireland Ladies' SFC semi-final
Cork -v- Kerry
Saturday 4pm, Semple Stadium