By Paul O'Neill
Louise Galvin says Kerry's rare win over Cork in the Munster Ladies Football Championship will count for little unless they go on and collect some silverware before the end of the season.
Kerry caused a sensation last month when they sent Cork crashing to their first provincial defeat since 2004.
The reverse in the round-robin opening phase of the Championship eased some of the pain that Kerry suffered when they lost to the same opposition in last year's All-Ireland final.
But for Kerry forward Galvin, the victory will not matter much if the Kingdom do not win at least one of the Munster or All-Ireland titles this term.
Galvin insisted: "Beating Cork was a terrific achievement for us but, in truth, we have not got carried away with it.
"We did not celebrate it much because all it meant for us was that we had taken a significant step towards qualifying for the Munster final. I think it will only prove to be something really notable if we can manage to go on and win one or both of the trophies that we are still in contention for in the Championship.
"However having said that, the win over Cork has given us an extra bit of confidence.
"The win over Cork has given us an extra bit of confidence" - Louise Galvin
"Cork have been the dominant force in the game over the last eight years or so and we have shown that we can be more than a match for them.
"For us, though, it was not like it was a surprise result. We had been making steady progress in that we got to last year's All-Ireland final and in each of the previous two campaigns we reached the semi-finals.
"Now the challenge is for us to not just push for All-Irelands but start winning them and hopefully that will happen before long."
Kerry will seal their spot in the Munster final if they take at least point from the last round-robin game against Clare at Scartaglin on Saturday.
The last time the teams met - in Division 2 of this year's National League - William O'Sullivan's Kerry side came out on top by a whopping 27 points.
But Galvin does not believe that win will have any bearing on the teams' forthcoming clash.
"We have not read too much into that result and it will not be any real factor for this game," she said.
"That day in March, Clare were not at full strength and not much went wrong for us. It was just one of those games and we feel that if are to possibly win again then we will have to earn it.
"The Championship is generally so much different to the League and just because you beat a side in the League does not mean you will automatically repeat it if you meet again in the Championship later in the year.
"Clare are not out of the running for a place in the final so they will be fighting for their lives. We will not take them for granted, and that is for sure."
Galvin has already enjoyed plenty of sporting success this year - but not all of it with Kerry.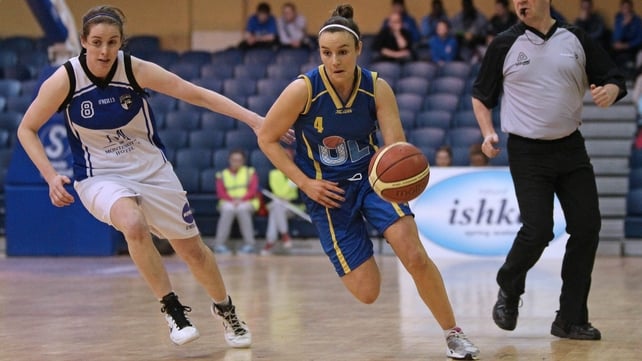 While they were crowned League champions in May, in the previous four months the versatile Galvin helped the UL Huskies basketball team to women's SuperLeague and SuperLeague Cup glory - the second season in a row for them to complete the Double.
And she says she has no plans to give up her life as a dual player just yet.
Galvin added: "I thoroughly enjoy playing basketball and football and while it can lead to a busy lifestyle at times, I am well used to it.
"There can be a bit of an overlap between the two codes for the first two or three months of the year but it is a case of dividing my time as best as possible between them for games and training sessions and, if there is a clash, picking whichever is the most important at the time.
"The two games compliment each other and being involved in them helps me maintain my fitness levels right through the year. I have been fortunate to have been part of terrific UL side and it is fingers crossed we can stay in and around the top of the domestic game for a while yet.
"The new season will not be long coming around but for now all of my focus is on football."
Fixtures
Saturday: Liberty Insurance All-Ireland Camogie Senior Championship first round, Group 1: Derry v Kilkenny (Donaghmore Ashbourne, 1.30), Wexford v Galway (Wexford Park, 3.0). Group 2: Cork v Dublin (Páirc Uí Rinn, 2.0), Offaly v Tipperary (Banagher, 2.30). TG4 Munster Ladies Football Senior Championship first round: Kerry v Clare (Scartaglin, 5.0).