New Kilkenny manager Derek Lyng said he wasn't caught up in the debate about the team's evolving style of play and said the most important thing remained having hurlers who are able to make decisions on the pitch.
Lyng, in the first league game of his reign, watched his side dig out a hard fought win over Antrim in squally conditions.
The six-point win featured a standout performance from Billy Drennan, who shot 1-08 despite an awkward wind.
Perfection may not have been a priority for Lyng, but Kilkenny earned a vital first win for their new manager.
"We had a lot of young players on the pitch today and to get through that and to have that experience of what it takes was hugely important," Lyng told Saturday Sport on RTÉ Radio 1.
"Look, ultimately we got the result at the end, it wasn't perfect, but that's ok."
There has been much chatter about how Kilkenny's style of play might change under new management, with opposing manager Darren Gleeson alluding to it in his comments after the game.
Traditionally favouring a long ball game with a premium placed on aerial strength, Kilkenny had shifted slightly towards a short-passing game even during Cody's time.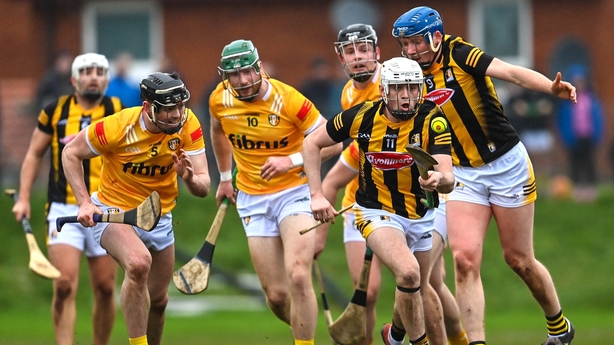 Lyng acknowledged that they're "working on things" but says players still need to play as they see it.
"I'm not sure if it's a new style of hurling. A lot of people talk about it. I'm not caught up in it. Ultimately, when they get on the pitch, they have to be able to make decisions.
"We're working on lots of things, of course we are. But when you get out on the pitch, players need to play what's in front of them."
The Cats didn't line out at full strength, with the absence of their All-Ireland Club winning Ballyhale players.
"They've had a long campaign and we'll just have to manage some of their workload, you know, the next few weeks and a rest is needed for some of them, so look, great to have them back. They're back in training now as well and hopefully they will strengthen the squad as we move along."
Antrim boss Gleeson was frustrated by his side's error count.
"Unforced errors, Kilkenny will punish you at that. It was a new style of Kilkenny play as well, which was I suppose unusual for us all to see. They were finding their feet at it, some really good plays." Gleeson said.
"Padraig Walsh from our point of view dominated the game from 6, something that we couldn't contain, but that's what happens when you're playing against top class opposition."