Two passionate Tipperary men will share the sideline in Páirc Uí Chaoimh this Saturday.
Two Liams, in fact, their teams facing off in the chase for the biggest Liam of all - the MacCarthy Cup.
Liam Sheedy has led the Premier County to two previous All-Ireland titles (2010 and 2019), and if they are to repeat the trick this season it will be by the same scenic route taken in those campaigns.
"There's a lot of experience, a few lads have been in this situation before and the majority of the panel have come through the backdoor," defender Ronan Maher told RTÉ Sport ahead of this weekend's All-Ireland quarter-final clash with Waterford.
"You have to draw a line in the sand when you're gone out of Munster and it's a whole new tournament when we look at it.
"It's down to crunch time and looking at players that we have, it gives us good confidence. We all know our ability as a team and we all know we can drive forward and takes these knocks as all good teams do."
It's a finely balanced match-up between a Tipp team that were almost as brilliant in the first half of the Munster final as they were awful in the second, and a Waterford side who rediscovered their mojo against Galway but are playing for a third weekend on the trot.
The man who marshalled the Déise to last year's All-Ireland final is Liam Cahill, a Tipperary panellist in 2001 and a minor and U20 (x 2) All-Ireland winning manager for the Premier.
"It's very strange to see him on the sideline there when you're playing," admits Maher.
"He brings out his own personality in the team. They're very fired up so we're expecting a massive battle. We've seen it with teams he has been over in the past, they all seem to be the same. He's very driven on the line and brings great energy to the team.
"Liam Cahill has drilled into them that they fight very hard for the ball. They're all fighting for each other and you have to be top of your game going up against them. All their big players are playing really well, they have Jamie Barron back as well in the middle of the park.
"Whatever about the Munster final (Tipp's loss to Limerick), the energy game they bring, it's going to have to be very hard to beat them over 70 minutes because they cover some amount of ground. It's important we have everybody behind us including our subs, the whole lot. It is probably something that we will go after is matching them for their energy all over the pitch.
"Game management is obviously going to be a big factor on Saturday. We will try and focus on ourselves now for the weekend, we will go into training and we will try and bring the Tipperary way of hurling. We will see if that gets us over the line and we have full confidence that it will."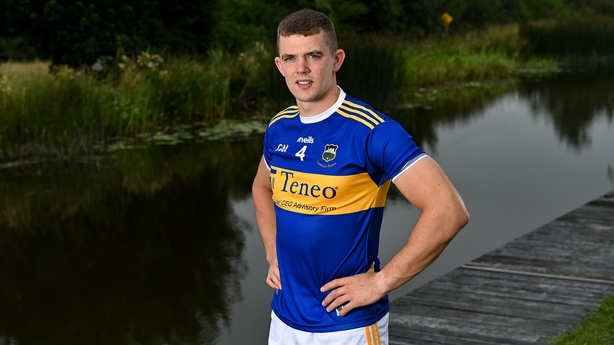 Though this is already his eighth senior season in the blue and gold, Maher (25) was the youngest of the six defenders to start against Limerick.
Older brother Padraic and namesake Brendan Maher are both 32, as is fellow veteran of 2010 Seamus Callanan, which is enough to earn Tipp the label of an ageing team these days.
"I wouldn't consider myself old!" laughs Ronan. "I suppose it's something that is going around there but to be honest the boys are well able to handle themselves and stay going at the minute as far as I can see.
"Liam Sheedy is a very experienced manager and he knows these lads. If they were gone past it and didn't have anything to offer that he wouldn't be putting them in a Tipp jersey.
"That experience is vital coming towards the latter end of the season if you want to push on towards the All-Ireland.
"You see even in 2019, when we pushed on, experience was vital in getting over Wexford. That game was a big boost for us. We know that these games are going to be very tight and there's nothing between the teams at this stage of the tournament."
In any case, some of Cahill's former charges are knocking at the door or already through it. Brian McGrath, Paddy Cadell and Mark Kehoe all came off the bench against Limerick while Jake Morris started and scored 1-02.
"The competition is huge," said Maher. "There are a good few of those younger lads I don't like marking at training anyway.
"They have great energy around the pitch and they're doing everything they can to break onto the team.
"There are a lot of new lads that bring a lot of energy and it's massive. A prime example is when you see Limerick bringing on their subs with 55 or 60 minutes gone on the clock and that's when the game is getting tough and it's to be grabbed by the scruff of the neck.
"When you see lads coming on with massive energy onto the pitch it really lifts a team. Luckily enough we've a good few boys coming along like that, and have the experience of winning All-Ireland finals as well, so we'll be looking for them to bring it to the All-Ireland final series now."
Follow all the championship matches this weekend with our live blogs on RTÉ.ie/sport and the RTÉ News app.
Watch Tipperary v Waterford live on RTÉ One or RTÉ Player from 1pm Saturday, and Monaghan v Tyrone live on RTÉ2 or RTÉ Player from 3.30pm. Dublin v Kildare is on RTÉ2/Player from 3.30pm Sunday.
Watch highlights of all the weekend's action on The Sunday Game at 9.30pm on RTÉ2.
Listen to live and exclusive national radio commentaries on RTÉ Radio 1's Saturday and Sunday Sport.