It was a year with a difference, but one that ended in familiar disappointment for Waterford and Liam Cahill.
In his first campaign in charge, the Tipperary man took a team that hadn't won a championship match in two seasons after reaching the 2017 decider to Munster and All-Ireland finals.
That they lost both to a Limerick side at the peak of their powers is no cause for shame.
"We'd like to think that we made great progression this year, but the real test of us will be next year now, to see how we can build on that and make sure that our progression stays on an upward curve all the time," Cahill told RTÉ Sport after yesterday's defeat at Croke Park.
Two incidents inside the first 10 minutes told you it was not going to be the Déise's day.
First, Jack Fagan shot across goal and inches off target.
"We needed to score two to three goals today, we said that," admitted the manager, also referencing a Stephen Bennett shot that was blocked before half-time.
"We needed to be in 2-24, 2-25 territory to counteract whatever points Limerick were going to put on the board and the scoreboard told the story at the end.
"We had one or two half-chances in the second half as well playing poorly, and playing maybe without any real energy. The energy was kind of sapped out of us, but we needed them two goals to go in."
Secondly, Limerick captain Declan Hannon hauled down Dessie Hutchinson rather than allow the forward a clear run at goal.
Referee Fergal Horgan correctly awarded a free but no yellow card - under the rules a barge in the back is only a caution if it's a second offence.
However, that was just the first occasion of what appeared to be a profitable policy of tactical fouling throughout from the winners.
Even though Limerick conceded 19 frees to Waterford's 10, from the neutral's point of view the disparity could have been even greater.
In truth, however, that might have changed the margin of victory but probably not the result – Limerick were deserved winners, as Cahill sportingly agreed.
"There was a couple of incidents there you feel would warrant maybe a little bit more stricter punishment for a couple of times we did break the tackle and get through," he said.
"But I thought Fergal Horgan had a very good game, I felt he refereed the match very well and we have no complaints in that department."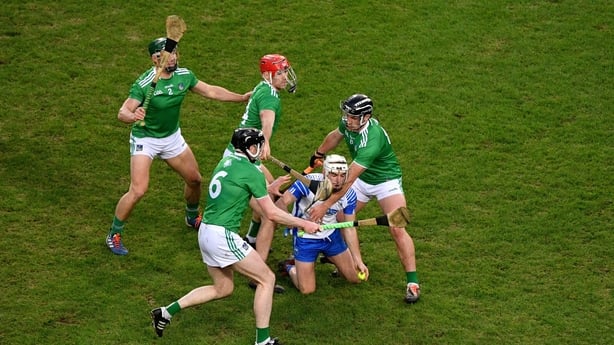 Desperate for goals, Waterford kept running the ball in the closing stages, and Kyle Hayes and William O'Donoghue both understandably took yellow cards rather than give their man a clear run on goal.
Cahill thinks it is time hurling followed Gaelic football in adopting stricter punishment for cynical play.
"I know we toyed with the idea of the black card and the sin-bin there earlier in the year and I wasn't maybe in favour of it," said Cahill.
"But I think now, not just today, but throughout the course of our championship this year that it is something that has to be looked at."
In the previous decade, Tipperary eventually learned that they couldn't rely on referees to do them any favours against Kilkenny's focused aggression and that the only way to beat them (occasionally) was to fight fire with fire.
Lads built like rugby second rows with superb hurling skills such as Gearóid Hegarty don't fall from the sky but Cahill suggested a similar approach to his native county's when he said that Waterford would be focusing on "the whole strength and conditioning side of it as well, to make sure physically we improve to be able to try and match the likes of Limerick and other counties out there that are so physical."
Waterford will nurse their bruises and hope to inflict a few themselves next year.