The Dublin manager had a message for the presenter of The Sunday Game.
"Tell that Lyster fellow he's a big bo****ks!"
That was the instruction that Kevin Heffernan gave Seán Óg Ó Ceallacháin to pass on the next time the reporter would meet the presenter.
Heffo, in the aftermath of the 1985 All-Ireland semi-final draw with Mayo, was miffed to say the least.
Michael Lyster, in his second season at the helm of the Sunday Game, had the temerity to suggest that Dublin's team selection was not all above board and proper.
"A lot of Dublin players must have got injured on the way to the match," was how Lyster explained the late withdrawals of Ray Hazley, Ciaran Duff and John Caffrey, who had all been named to start but replaced before throw-in.
Back in those days, a disgruntled player was more likely to feed an eager reporter a line and Duff said: "I was told on Saturday I would not be playing."
So while Ger Loughnane is often cited as the inventor of this particular subterfuge, it was in fact Heffernan who started it.
The ex-Clare manager just honed the practice of knowingly declaring a false team for the purpose of gaining a tactical advantage over an opponent – a.k.a. a 'dummy' team.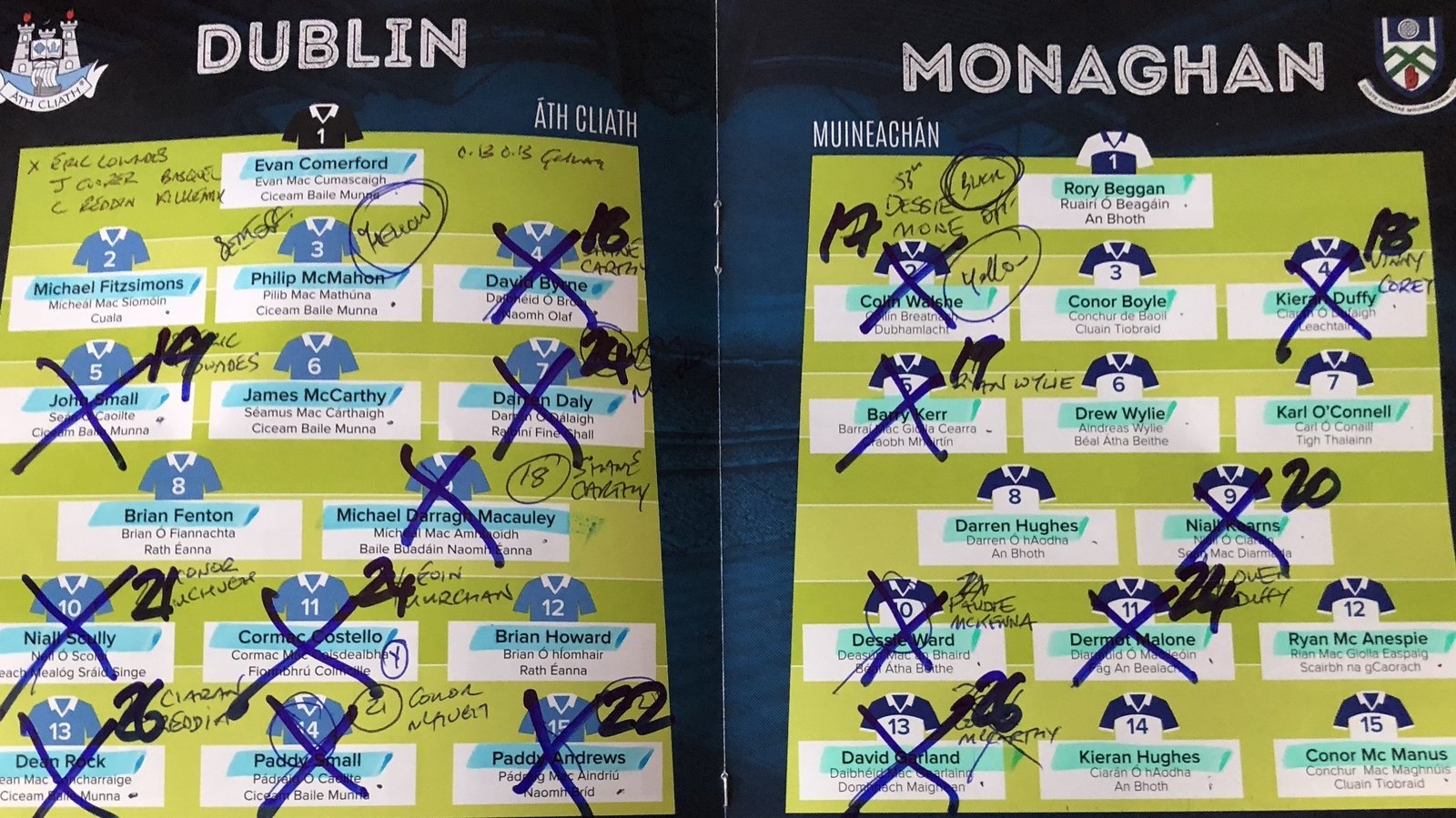 Famously, when the Banner County paraded around Croke Park before the All-Ireland final against Tipperary in 1997 there were 16 men following behind the Artane Boys Band and 16 men too in the team photo.
The extra player was Fergal Hegarty.
The Kilnamona man was part of the winning team two years previous but had been told in advance that Niall Gilligan would start in his stead.
Loughnane, now an RTÉ pundit, said: "Niall Gilligan was very young at the time and if we'd selected him we were afraid that the occasion might get to him, people would be talking him up so much.
"It would put too much pressure on him so basically we selected the team that had played in the previous game and we told Niall just a few hours before the game that he was going to be playing.
"[Fergal] knew he wasn't going to be playing [a few days in advance].
"In fairness, he took it well. Even though he didn't like it he understood we had one chance of beating Tipp in an All-Ireland final, it might never come again.
"We did what we thought was the best thing to do and he was prepared to go along with that," explained Loughnane.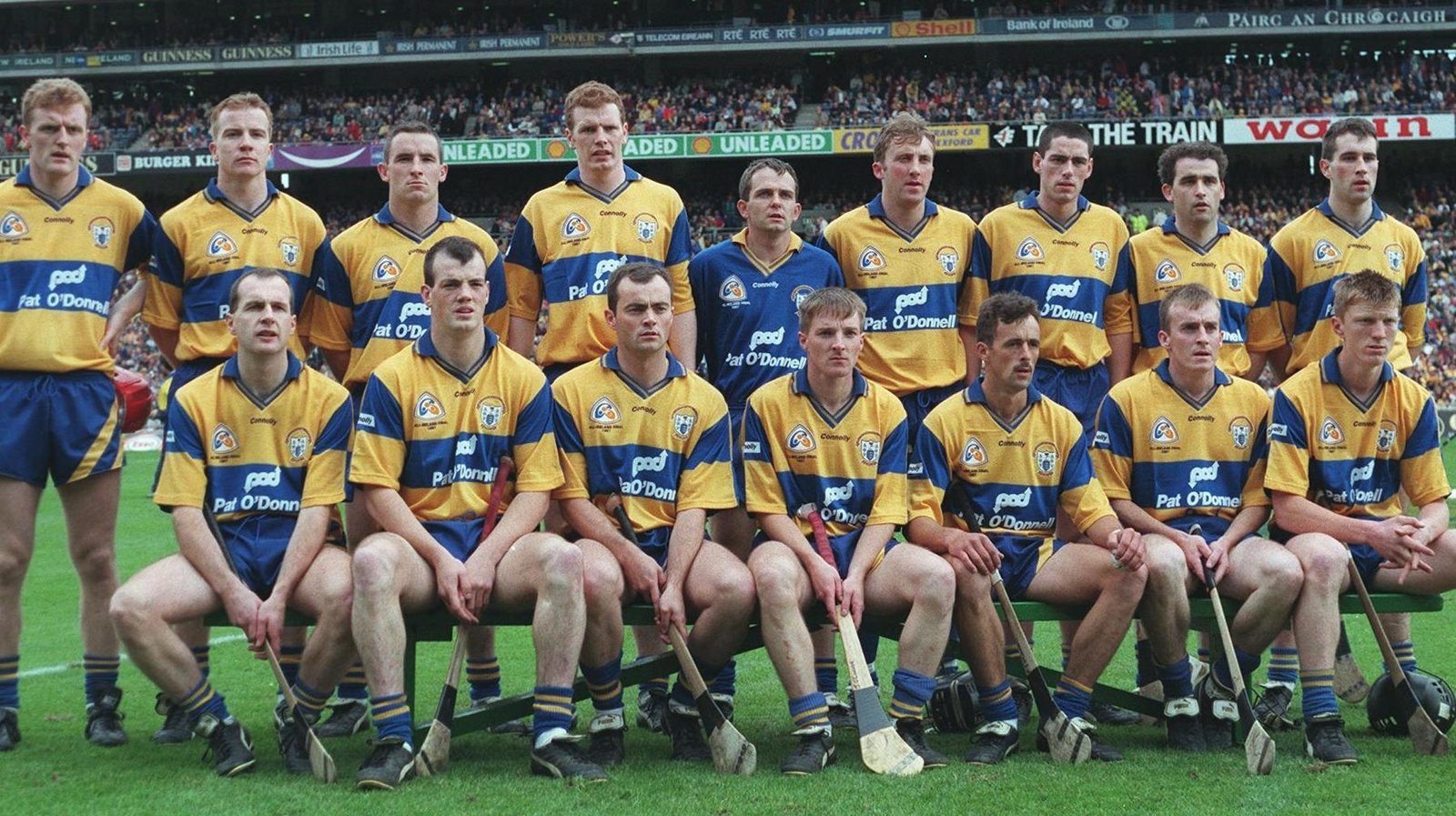 "People do get annoyed by them, especially in an All-Ireland final, it's a big call to make but we had to balance that against too much pressure being put on a very young player, who had very little experience of senior hurling.
"The focus was so much on the game and winning, you didn't even consider any other aspect of it.
"You look at it now and say it was hard on someone to sacrifice a starting place but at the same time it was our only chance, we had to use every tactic available"
"Everybody had to sacrifice in order to win. If you were on the field, you had to sacrifice everything you'd got in order to win. We put emphasis on being totally unselfish, on the field and off the field. Nothing else was really considered.

"You look at it now and say it was hard on someone to sacrifice that [starting place] but at the same time it was our only chance, we had to use every tactic available."
That's one side of it and the end result in these situations, a one-point win for Clare, always seems to justify the means.
As for Hegarty, who appeared as a substitute in the game, 21 years later he has no desire to discuss how it felt to go through the motions in the build-up to the final.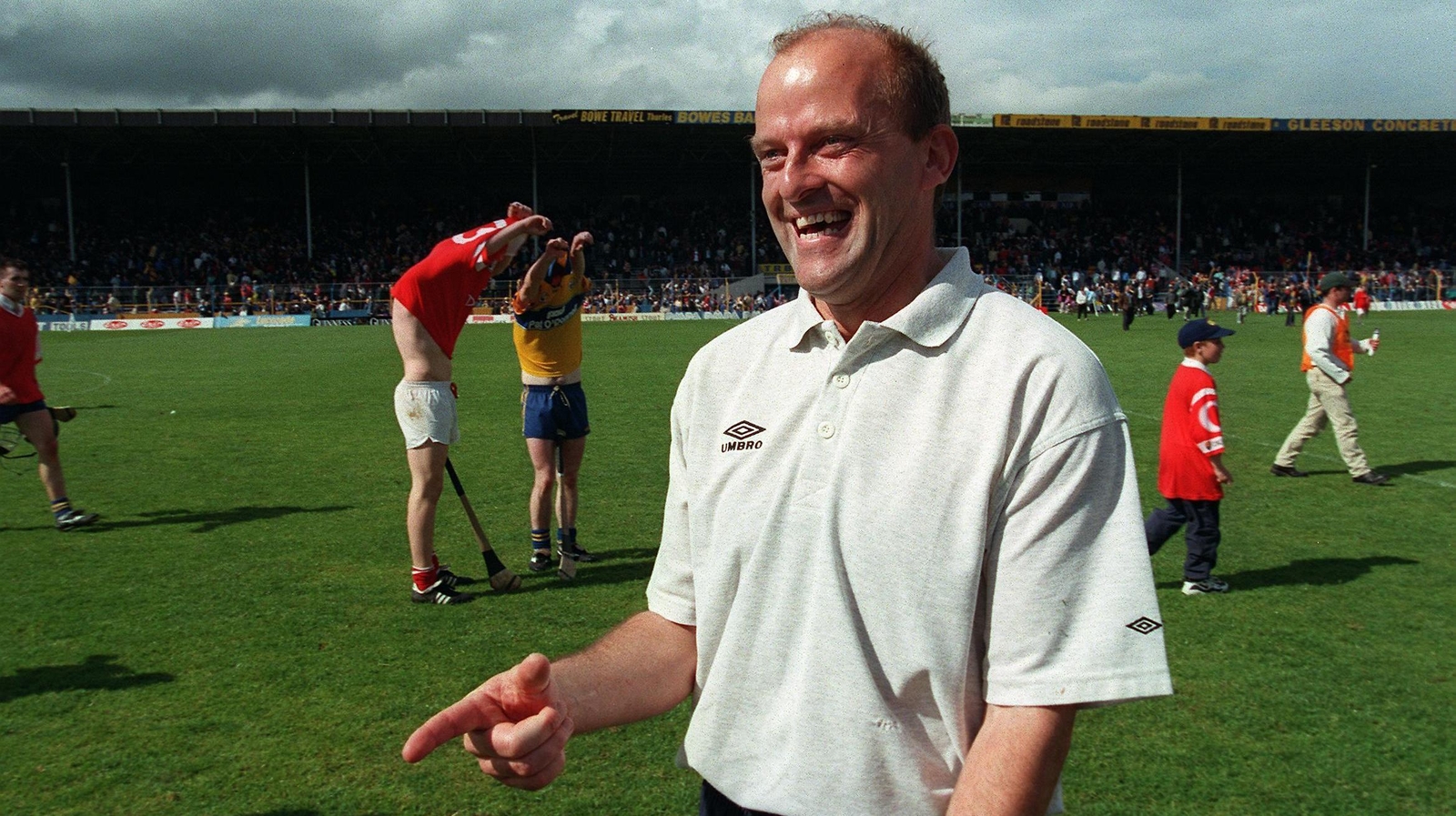 The next year, Loughnane took it to the next level.
To quell a Rebel rising, the canny coach named what was called "the real dummy team" in the Munster semi-final.
He said: "Cork were coming with this new team, under Jimmy Barry-Murphy.
"They had Seán Óg [Ó hAilpín], Diarmuid O'Sullivan, the O'Connors, Joe Deane, Seanie McGrath, and they beat us in a league semi-final by 11 points, with what was, we'll call 'our old team'.
"Then when we played them in the Munster semi-final, we'd the whole team switched around and there was at least two or three switches right before the throw-in.
"That time it wasn't to protect them, it was a ploy to upset Cork and it worked a treat"
"I remember seeing Tom Cashman and Jimmy Barry-Murphy looking at the programme and looking out at the field saying 'what the hell is going on?'
"At that stage people weren't used to dummy teams. That time it wasn't to protect them, it was a ploy to upset Cork and it worked a treat."
Loughnane now admits that the practice, widely prevalent in the modern game, gets to him in his current role.
"It annoys the living daylights out of me now as a pundit but when I was a manager I couldn't care less about annoying anyone else," he says.
So will the programmes available at today's championship games be worth the paper they are printed on?
Time will tell but, taking last weekend as an example, there's a good chance that the red marker will be out.
Between the qualifiers and provincial finals there were 11 SFC games.
In four of these there were no changes to the teams in the match programme, and of the 22 teams, 13 started as named.
From the remaining nine teams 12 players were 'dropped', i. e. named to start in teamsheets sent to the relevant council but not present on the pitch come throw-in.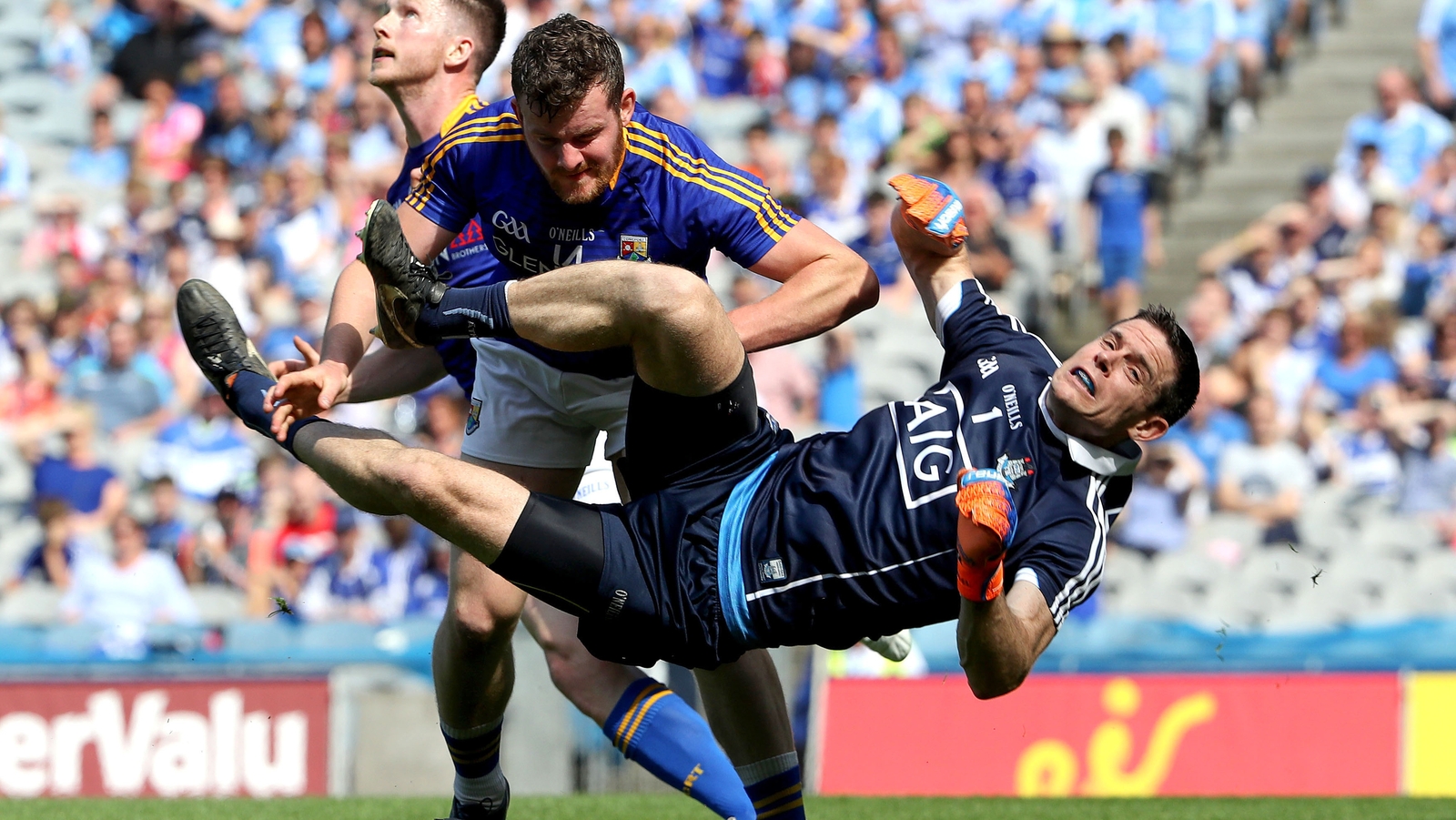 There are many legitimate reasons why this can happen, of course.
A player may get injured between the teamsheet being sent to Croke Park or the provincial council and throw-in. It happens.
Or a player who is carrying an injury may be named to start in the hope that they present fit and ready for action. If, however, it becomes clear in the warm-up that things are not right, the management can make a change – the referee must get the starting team no later than 20 minutes before the game.
This also happens.
What raises suspicion is when the 'dropped' player is deemed fit to play some part in the game, and has a stormer.
Of the 12 men who were dropped last week, only two didn't come on as substitutes – Stephen Cluxton from Dublin and Shay Millar from Down.
Cluxton suffered a rib injury in the Leinster semi-final against Longford but was given every chance to make the starting line-up.
Millar "felt a strain" playing a club game for Glenn, according to their PRO, and asked to be taken off as a precaution. Down named him to start but he didn't see any game time.
According to Fermanagh GAA, it was simply a dummy selection, not a concern over injury or fitness
Armagh's Niall Grimley, for example, was deemed not fit to start but shot six points in their win over Sligo after coming on in the 31st minute.
Another man who was named to start was Fermanagh's Seamus Quigley.
The Roslea clubman was to play corner-forward in the Ulster final against Donegal.
But, as happened in their semi-final win over Monaghan, he was missing come throw-in.
Before the famous win over Monaghan, Fermanagh boss Rory Gallagher told RTÉ Sport less than an hour before throw-in that the team would line out as named.
So what happened in the brief window between that confirmation and the teamsheet going into the ref.
According to Fermanagh GAA, it was simply a dummy selection, not a concern over injury or fitness.
"It just would have been a tactical decision," a spokesman told RTÉ Sport.
Quigley's omission for the Ulster final "was the same", he confirmed.
Not to be outdone, the women's teams are catching up. Mayo's Cora Staunton got the nod over Aileen Gilroy despite being named on the bench for the Connacht SFC final last weekend.
Famously Gemma O'Connor, the Cork camogie captain began last year's All-Ireland final moments after being declared a non-starter by her manager Paudie Murray in a televised pre-match interview.
Is that what's happening in the majority of these cases. Are managers knowingly sending in fake teams?
In other words, lying to fans, broadcasters and journalists.
Most people know the answer.
21 years later, it's still happening on the biggest stage
When Dublin played Monaghan in the Allianz Football League in March, there were no fewer than nine changes between the two teams.
To cause even more confusion to the paying supporters there was a delay in relaying the changes to the stadium announcer and broadcasters.
Niall Scully was on the Dubs teamsheet when it was announced on Twitter the day before last year's All-Ireland final.
When the game began it was Eoghan O'Gara who started.
Paddy Durcan for Diarmuid O'Connor was the late Mayo change. 21 years later, it's still happening on the biggest stage.
Before leaving the role as the GAA's Director-General earlier this year Páraic Duffy floated the idea, first raised by ex-Laois player Billy Sheehan, that any changes from the team handed in on a Thursday be counted as one of the six substitutions.
Exceptions would be made for players who suffered a genuine injury in that timeframe but something along those lines would be a start.
"Really, the only solution is to give players a set number at the start of the year and let people fill in the programmes when they are there," says Loughnane, the man who mastered the tactic.
"People don't care about fines, if they want to put out a dummy team they are going to do it.
"Now some people are just doing it for the sake of doing it. Everybody knows players so well nowadays that you'd wonder what benefit it has.
"That time they didn't know the players so it was effective. Nowadays you don't believe the team that's announced.
"As a tactic, its effectiveness has been lessened if it's not null and void."
As a tactic its effectiveness has been lessened if it's not null and void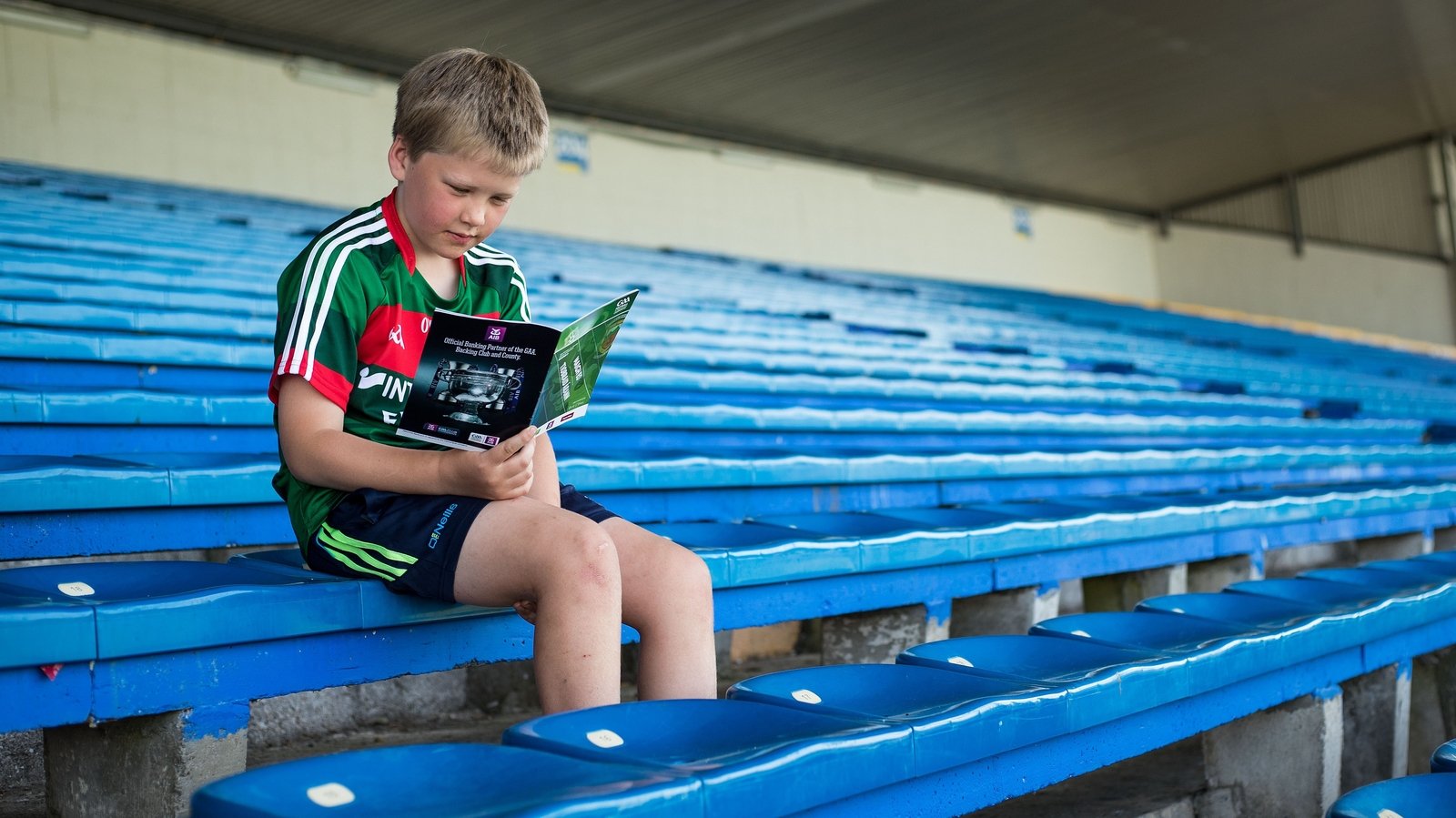 A straw poll on the matter reveals that 62% of responders want something done about the practice.
That figure, by the way, is enough for a rule change at Congress, which last year lowered the threshold from 66% to 60%.
The GAA, for their part, say that the practice of announcing dummy teams has decreased since the introduction of tighter deadlines – that is: teamsheets must be received by the committee in charge no later than 9am on a Thursday and the 1-15 list to be handed to ref no later than 20 minutes before throw-in.
The punishment for turning up with a different player other than those named in the 26-man sheet is the forfeiture of the game, with an exception for goalkeepers.
"They have definitely improved the situation," says the GAA's Feargal McGill of the new arrangements.
"We are keeping an eye on things and will consider this issue as part of our Championship review at the end of the year."
For now, there's little to prevent a manager naming a team of dummies and the general feeling is that it is getting worse, not better.
"Something needs to be done because it's gone crazy," says former Galway manager Cyril Farrell.
"The sanction should be severe. The county boards should rule the management.
"The dummy teams, who are you fooling?"