It's the trump card of the uncertain pundit. If in doubt, or even completely uninformed, scratch your chin and declare, 'Home advantage could decide this one'.
Under the new format of the Munster Championship, each team plays twice at home and twice away, and, as our pundit would solemnly observe, winning the home ones is crucial.
But when is a home game not a home game? When you're a Waterford hurler, travelling to the Gaelic Grounds to face Tipperary (today) or Cork at Semple Stadium (next weekend).
Despite initially declaring their intention to host two of hurling's superpowers at Walsh Park, the Waterford County Board admitted defeat when it seemed capacity at the run-down city-centre venue could be restricted to as low as 8,000.
The result is that last year's All-Ireland finalists now find themselves on the road four weeks in a row. Waterford started well against Clare last week before being undone by injuries and indiscipline. But how much of an impact did the crowd in Ennis have on the result?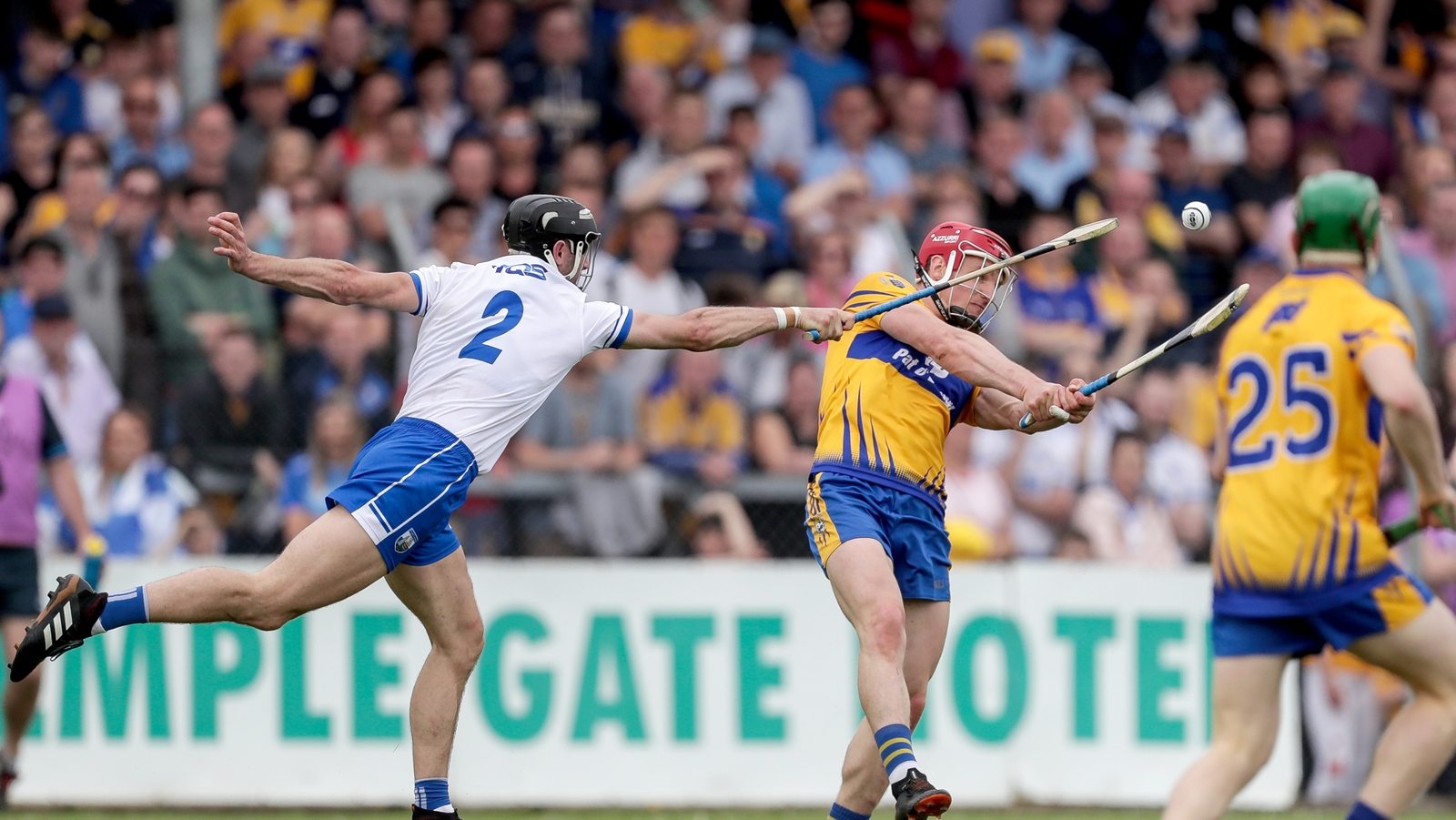 "It's a crazy disadvantage," says three-time All Star and Waterford legend Ken McGrath. "You're playing all four games away.

"It's hard to expect families to go to four games week after week. It will cost a fortune."
"It's a massive disadvantage," agrees former Clare All-Ireland winner Brendan Bugler. "It's a league within a league. You can see in league results, home advantage is big.
"I loved playing in Cusack Park. In 2007 we played Galway there and the atmosphere was unbelievable. Apart from the All-Ireland final I don't think I've ever played in an atmosphere like against Dublin in 2012, Fitzy against Dalo. The likes of (Clare's) last group game against Limerick in the Park are the ones you'd love to be involved in."
I wouldn't like to be in their shoes.
Limerick manager John Kiely saw his side win their opening game at home to Tipperary.
"I wouldn't like to be in their shoes. I wouldn't like to not have a home game," he says.
"I think they've been put in a difficult position. They are trying to make the best of it, more luck to them, but I wouldn't like to have to travel for the four games.
"I think the home venue is a huge factor. If you look at the last 10 years of Championship matches or the League for the last number of years there is a huge correlation between venue and home team winning."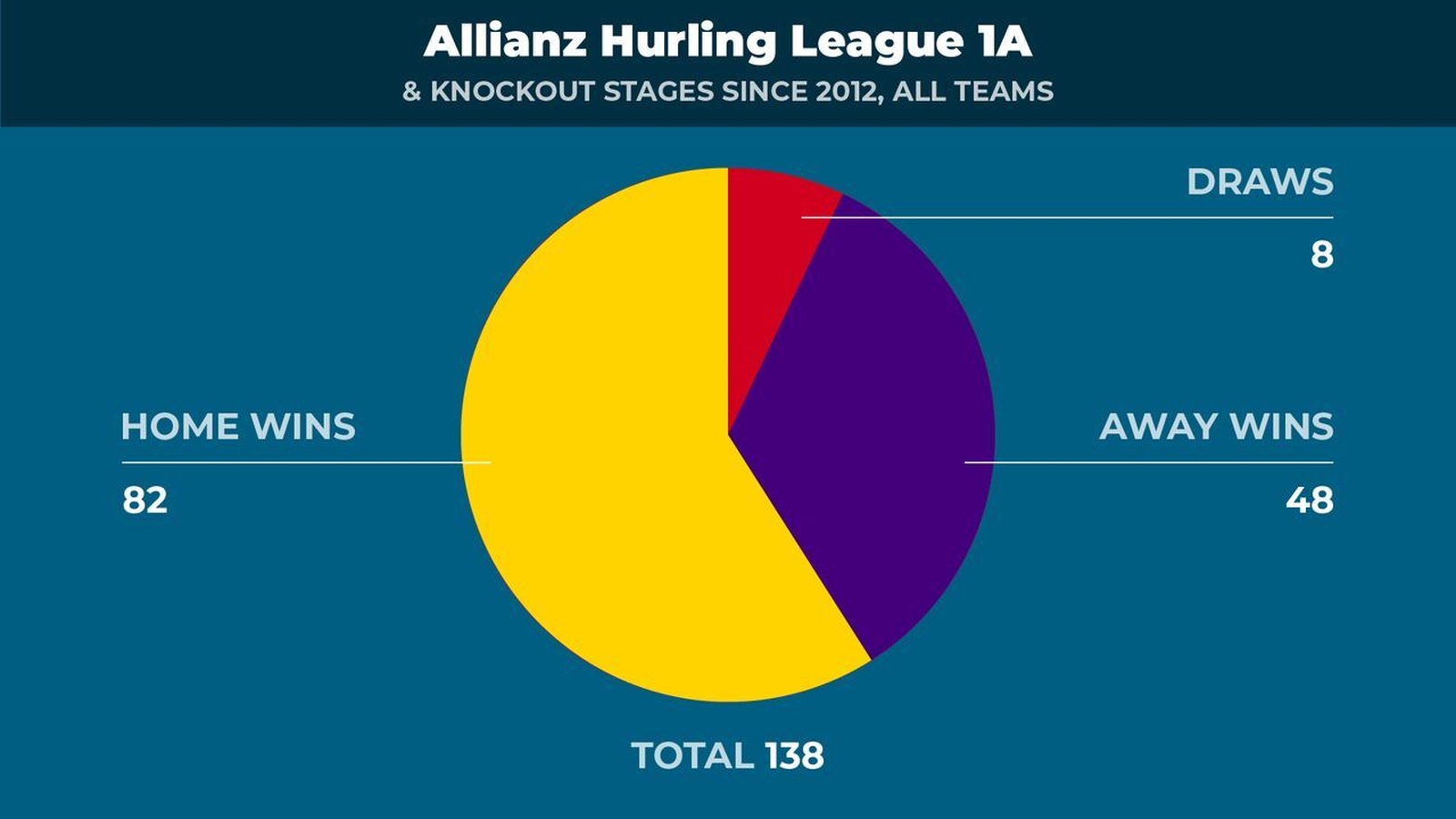 Results support the assumption that playing at home provides an advantage, particularly in a league format like the new Munster Championship.
Since the Allianz Hurling League split into 1A and 1B in 2012, the home team has won 82 out of 138 games in the top tier and knockout stages. That's a victory rate of 59%, compared to 34% away victories and 7% draws.
In the same time-frame, though the majority of games were at neutral venues, the home side in the Leinster, Munster or All-Ireland Championships has won 55% of the time.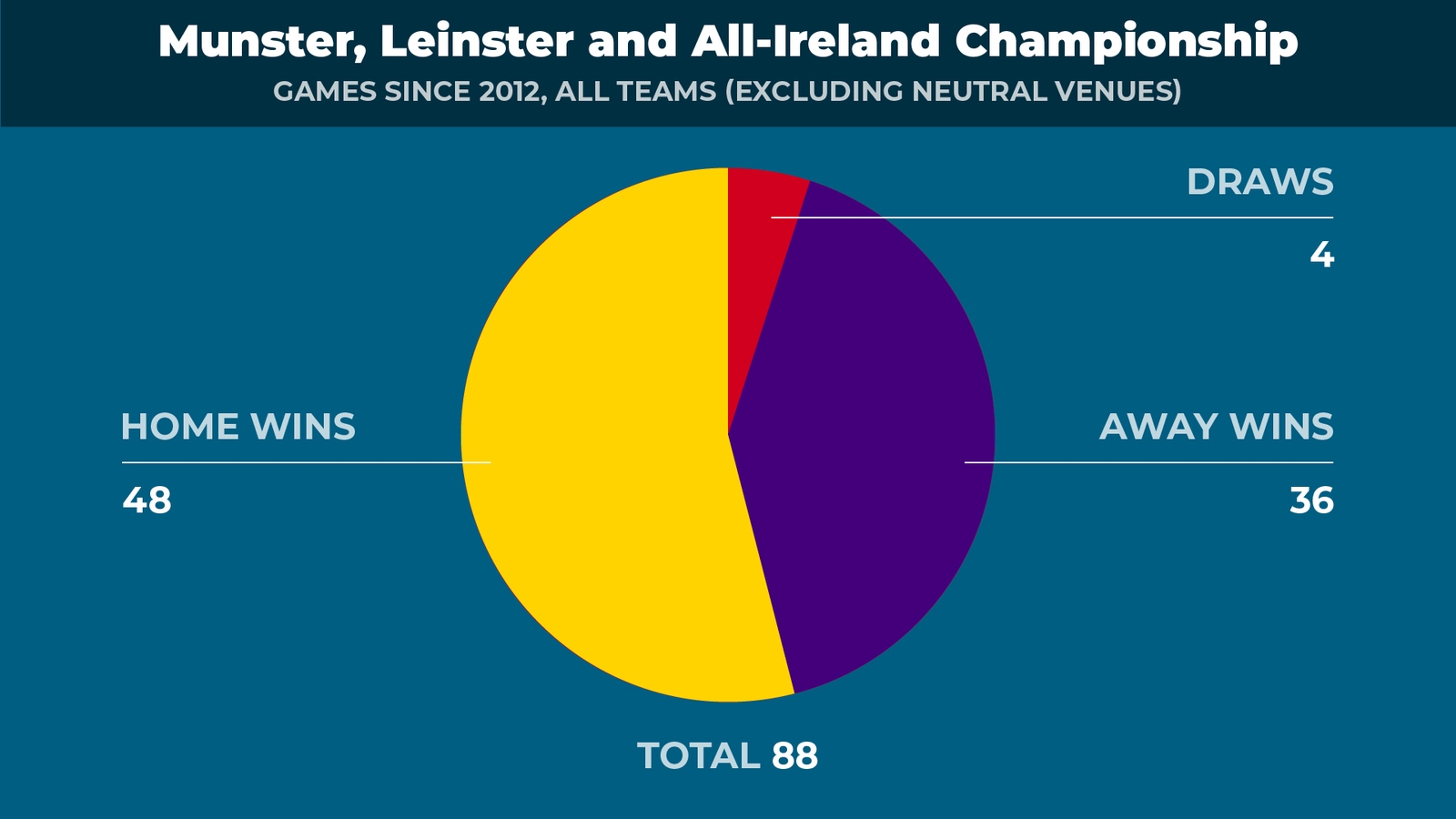 In the 10 games so far under this year's new structure, there have been six home wins, three away wins and one draw. Only Dublin and Offaly, the weakest of the teams based on league form, have lost at home and the Dubs still pushed Kilkenny all the way at Parnell Park.
Waterford will take some comfort from the fact that their Championship record at neutral venues is positive – 26 wins compared to 22 defeats and 4 draws since their last home Munster game since Kerry in 2003.
But in the intervening 15 years they have played four qualifiers at Walsh Park and won them all. Who knows whether having a passionate home crowd behind them might have turned around some of those losses?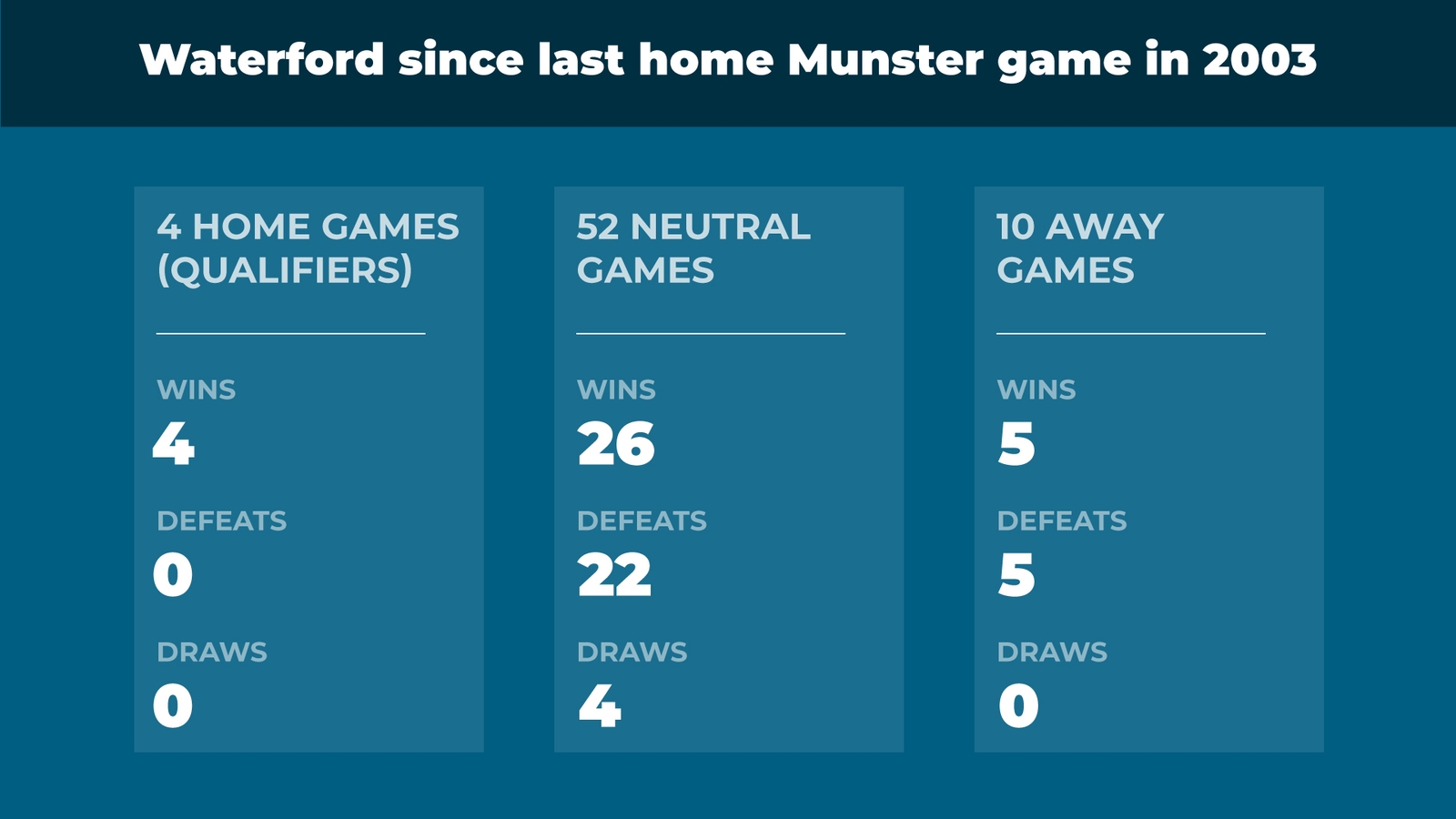 Ken McGrath thinks the county have wasted time by failing develop Walsh Park or the smaller-capacity Fraher Field as a top-level inter-county venue.
"Waterford have been a top-tier team since 1998, in 14 or 15 All-Ireland semi-finals. We've had 20 years to develop something," he states.
"We've put up with two mediocre, second-class stadiums for all those years.
"Continuous county boards since that haven't put money into it. All of a sudden now we're under pressure.
This didn't happen in January that the new system came in and we said 'Oh s**t we have to build a stadium'.
"This didn't happen in January that the new system came in and we said 'Oh s**t we have to build a stadium'.
"To do the stadium properly will take two years at least. There's no point doing half a job and having to do it again in five years' time.
"If you don't qualify this year from Munster, and you're in Division 1B next year, that's less crowds and high-profile games again."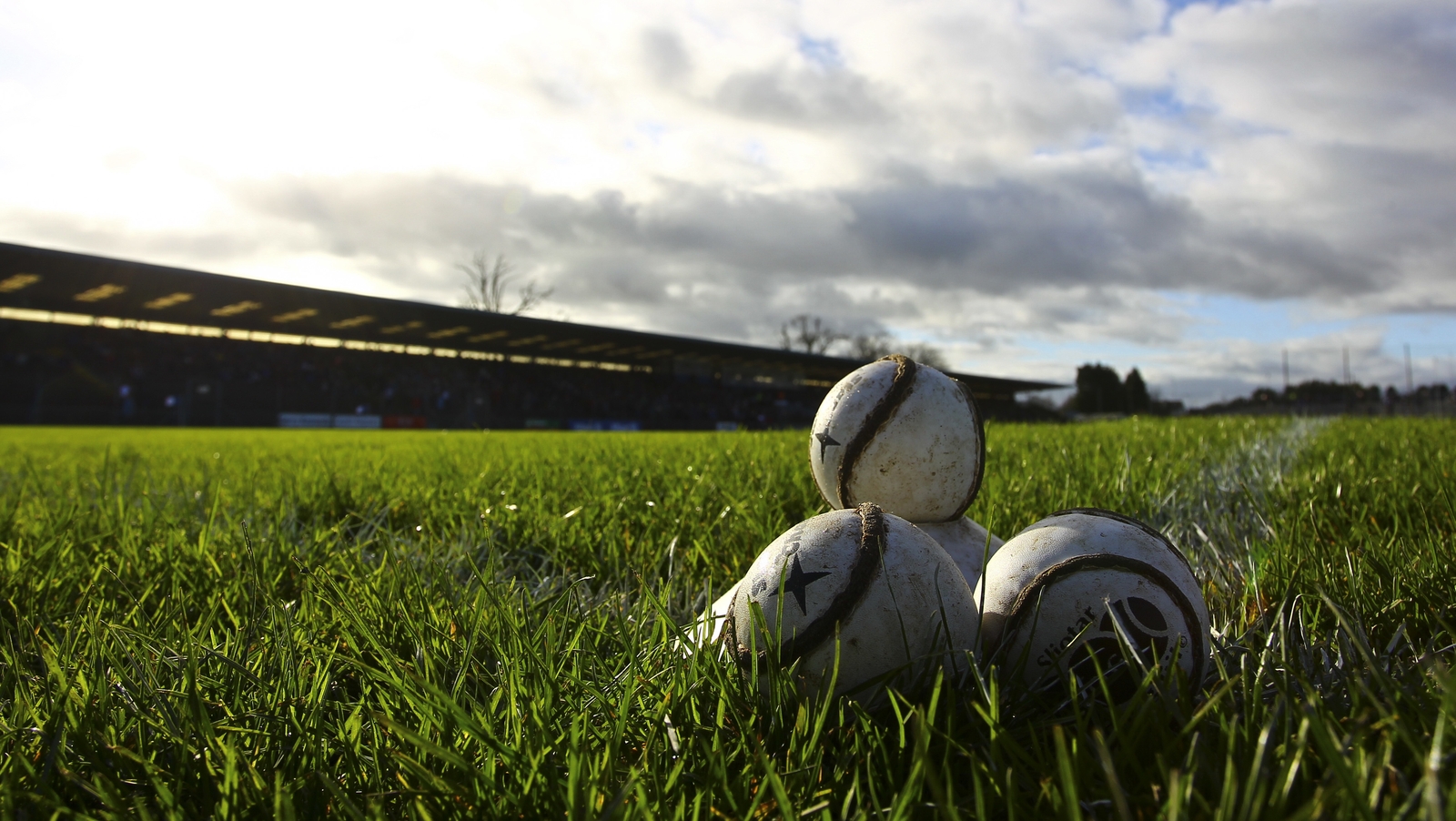 However, Waterford chairman Paddy Joe Ryan says that years of debt and the cost of financing inter-county teams didn't leave any money for redevelopment.
"It isn't that everybody fell asleep. I can assure you that nobody works harder than the offices of Waterford County Board," he insists.
"We've been up to our eyeballs in debt for the last number of years.
"Over the past number of years, we weren't in a position to go to any bank and borrow because we owed too much money. We had to pay back the debts that we had.
"It's all about having finances now to train county teams. We're at a very low base and we're trying to match Tipp and Cork and Limerick. I'd say our club gates are last in the province.
"Nobody denies it's a disadvantage. It's tough on families," he said of playing four games outside the county. "But Cork had to play away from home for a couple of years. If you're ever going to do redevelopment, you have to close down your stadium."
"We have to see that we have ways and means of paying back our debts within reason. We've got the support of the clubs for the new scheme of Walsh Park."
Ryan said he expected planning permission for work on Walsh Park to be sought next week, with a final capacity of around 16,000 hopefully ready for Championship 2020.
The county will be seeking to raise funds at local, provincial, central and government levels to a total of approximately €6m.
"We won't need any more than 15,000 to 16,000 for our major games, once or twice every year. It'll be around 11,500 seats, of which 5,500 will be covered, and 5,000 covered terrace.
"If the planning goes smoothly, my aim would be to have the county senior hurling and football finals at Walsh Park next year."
Be it Croke Park or Cusack Park they're all just fields.
For now, they remain in transit. But Waterford selector Eoin Murphy remains hopeful that they can defy the statistics and he points out that Semple Stadium in particular is almost a second home for the side.
"We would have liked to have played in Walsh Park but unfortunately the circumstances didn't allow it," he says. "It's a challenge that we're getting ready for. We'll give it the best we can and see what happens.
"Someone did the statistics recently on the Division 1 home games (in 2018) and it's a 70% strike rate. If that holds up, the odds are probably stacked against us a little bit.
"In saying that, on any given day, we believe that we're competitive and could take anyone down. When you cross the white line, wherever it is, it's just about staying tuned in and focused on the job at hand. Not getting too emotional about the thing.
"It's a hurling game at the end of the day. Be it Croke Park or Cusack Park they're all just fields.
"We've played so many of our games in Thurles at this stage that we have a routine so it's not the end of the world going there for us."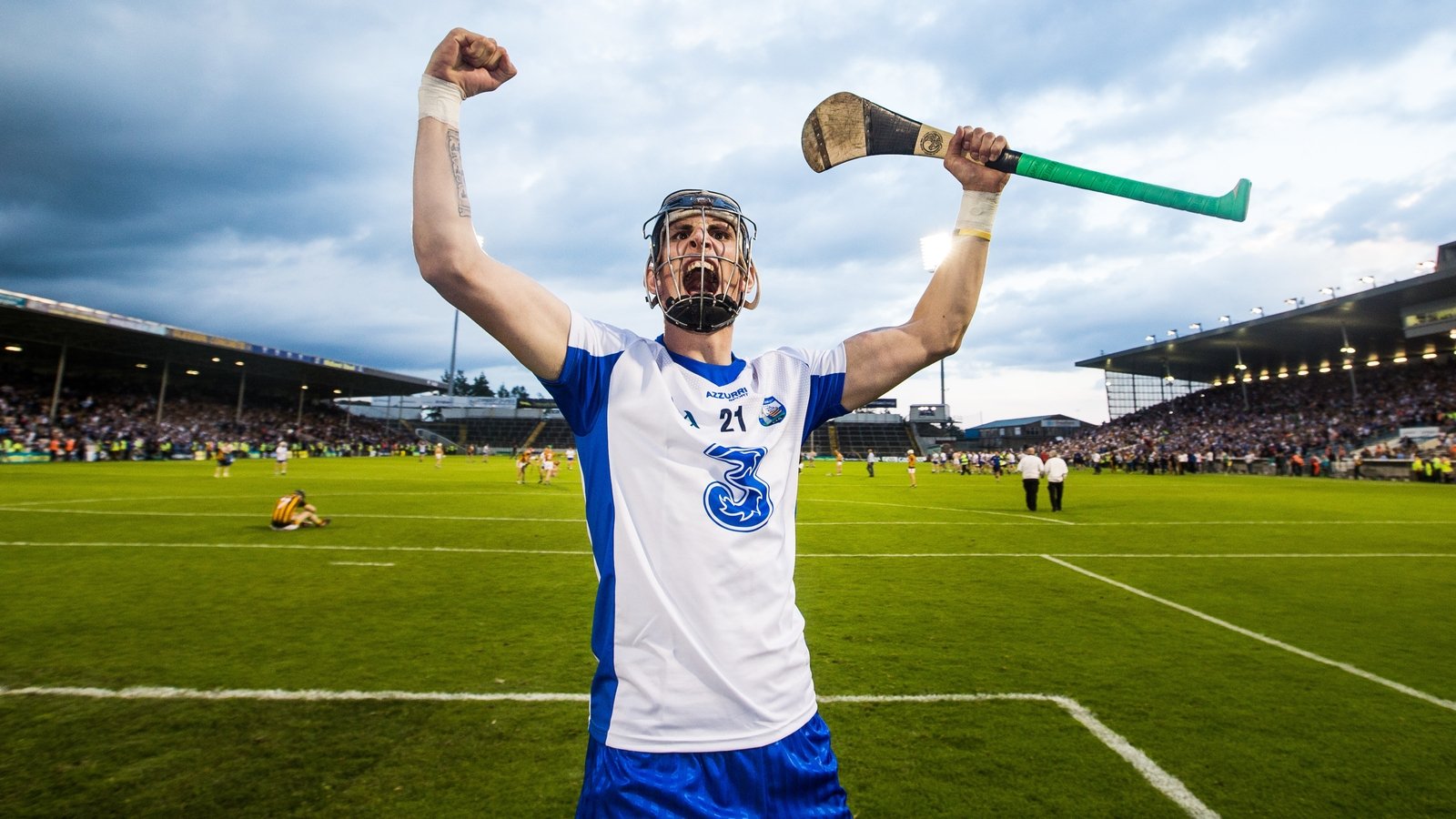 RTÉ hurling columnist Richie Power fears for the Déise. They will be without a number of their key men for today's clash with Tipperary, who he believes were inspired by the crowd when rallying to level with Cork last week. Defeat would make qualifying from Munster highly unlikely.
"They are the only team in this year's All-Ireland Championship that won't have home games in the round-robin system," says Power.
"You can't beat a home crowd. You look at Tipperary last Sunday, I have no doubt that the crowd played a role in that second-half comeback. They came out of the blocks after the break and the crowd really got behind them and willed them on. It's a huge factor.
"It was the same for Clare against Waterford at Cusack Park. Waterford were in a good position early in the match. Tadhg de Búrca got injured and the whole thing fell apart.
"If Tipp bring their second-half intensity against Cork, needing the win, I can see it being a bad, bad beating for Waterford.
"To be honest, I can't see any way back for Waterford, I can't see them winning any of their remaining games. I feel the next three weeks could be a long three weeks for them and a short year."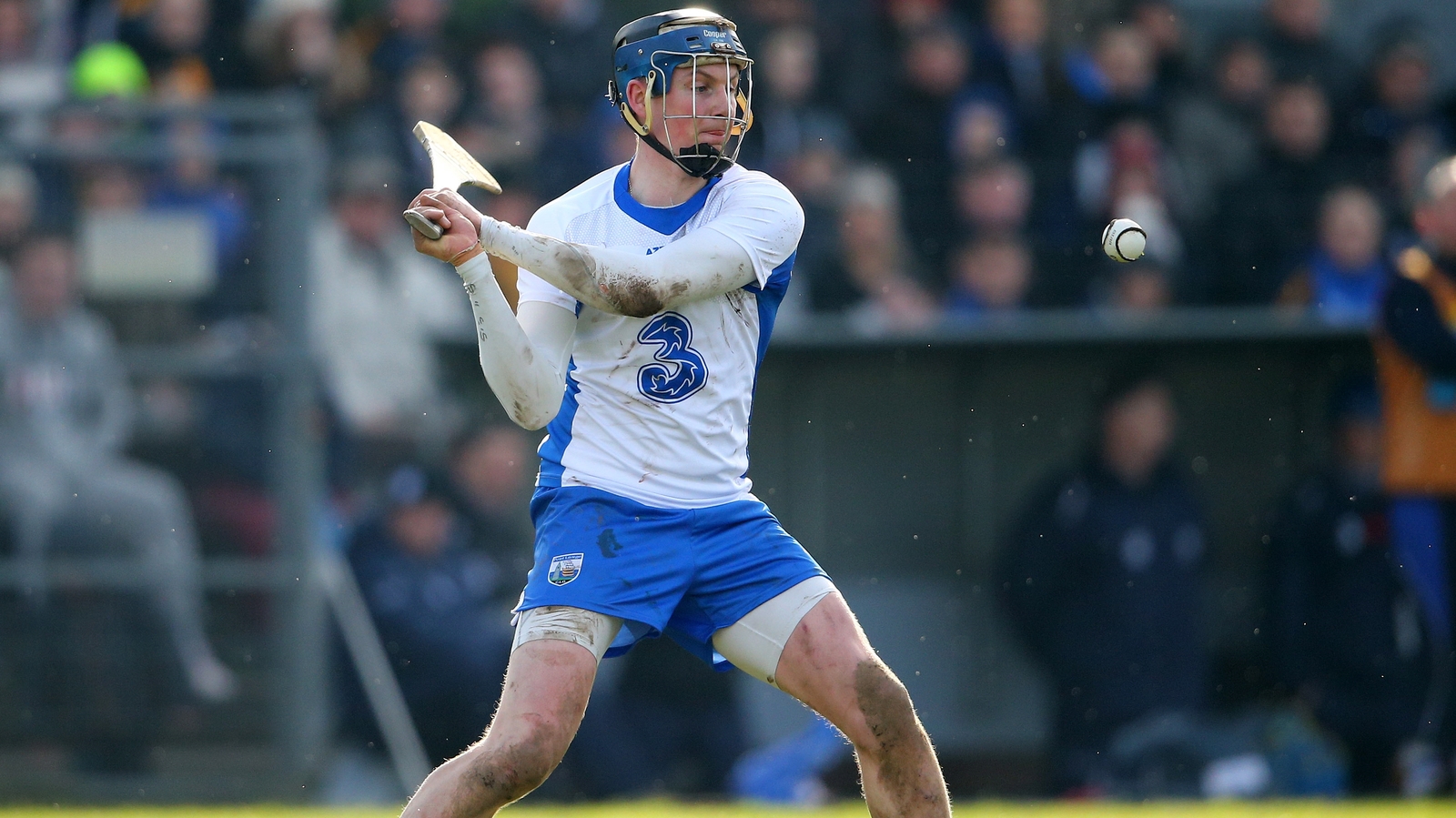 Even though the odds are stacked against them, hope remains in the county that they can produce a performance to rival last year's run to the decider.
"There are quality players that can step up," suggests former Déise star Paul Flynn. "Okay, you could put the argument out about that their lack of senior inter-county experience and so Austin Gleeson must then start whether he can walk or not, but they have Fitzgibbon and All-Ireland success at minor and U21 level behind them.
"It could be the start of someone's career on Sunday if they get the chance."
We'll leave the final word to Flynn's one time team-mate McGrath, who knew a thing or two about surprise victories.
"The whole thing is not in our favour but you never know, a lot of times, that's when Waterford produce the goods."
Follow all the football and hurling games this weekend via our live blogs on RTÉ.ie and the News Now App, watch exclusive television coverage of Waterford v Tipperary on RTÉ2 or listen to exclusive national radio commentary of all games on RTÉ Radio 1. Highlights on The Sunday Game at 9.30pm on RTÉ2.