Three second half goals for Connacht proved crucial in O'Connor Park as Anthony Cunningham's team secured a 3-13 to 1-16 win over Leinster in the M Donnelly Interprovincial Championship semi-final.
With a team featuring only three starters from the Galway team that played Kilkenny in the All-Ireland final replay last Autumn, Connacht were expected to struggle and they did early on, trailing 0-06 to 0-01 after just over ten minutes.
Six points from Niall Burke helped them draw level by half time at 0-08 apiece, but they conceded six of the next seven scores to fall behind again.
However goals from Colm Callanan, Damien Hayes and Joe Glennon turned the game back in their favour and secured the win.
Despite playing into a tricky swirling breeze, Leinster were much the sharper team in the early stages and they established an early lead with Shane Dooley and Richie Hogan both causing problems in the Connacht full-back line.
Accuracy was also a key factor in the first 15 minutes as Leinster struck six points and just one wide in that time, while Connacht had only one point to show from their five attempts on goal.
Anthony Cunningham chose to rotate his forwards frequently throughout the half and once Niall Burke was switched out to the centre-forward position he began to play a much more prominent role in the game.
He scored six points in the first half in total and was central to Connacht's efforts as the western province slowly reeled Leinster back in and drew level by half time, 0-08 to 0-08.
Both sides could have scored goals in the first half, however Leinster missed their chance when Colin Fennelly was denied by an excellent hook from Joe Cooney, while at the other end Cyril Donnellan got in behind the full-back line and attempted to place the sliothar underneath Gary Maguire, only to see his mishit shot get stuck in the sandy goalmouth.
Connacht kept Leinster waiting on the field for five minutes at the start of the second half but if that was a tactic designed to ensure that the home side resumed cold, it didn't work.
Connacht substitute Davy Glennon opened the scoring with a neat point from the right wing but Leinster then scored six points in a row, including two elegant scores from Joe Bergin and a very accurate point from Aidan Fogarty, struck from the left hand sideline.
More goal chances for Leinster went unconverted in this spell of dominance, chances that were to prove critical to the result.
Shane Dooley had a great chance to beat Colm Callanan after winning a high ball in behind his marker but his neat first-time flick died in the heavy ground, just as Donnellan's shot did in the first half.
Dooley disputed the decision, feeling that the ball had crossed the line, but the umpires disagreed.
Danny Sutcliffe had another glorious chance after good approach play from Colin Fennelly and Richie Hogan, but he blasted narrowly wide from fifteen yards out.
Connacht were struggling to score from range into the wind but Davy Glennon's introduction had given them a much more potent running game and a typically incisive drive from the Mullagh player led to the first of the game's four goals.
He drew a 20m free after cutting in from the left corner and even though Colm Callanan's shot was parried, it still crept into the net.
Leinster responded with another free from Shane Dooley but another Galway substitute then intervened when Damien Hayes finished from close range to give Connacht only their second lead of the game, 2-11 to 0-15.
Jonathan Glynn fielded Tony Óg Regan's long free out of defence and played a very slick handpass into Hayes, who struck low past Maguire for the score.
Again Leinster had a chance to respond and again they failed to take their opportunity.
Shane Dooley was put through by Eoin Larkin and from the same spot where Sutcliffe blasted wide earlier, Dooley shaved the right hand post on the wrong side with a powerful drive.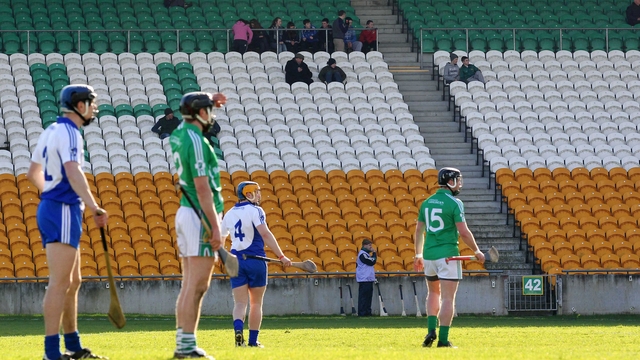 A kicked goal from Davy Glennon in the 65th minute gave Connacht a little bit of breathing room and while Eoin Larkin's late ground shot gave the Connacht supporters in the crowd of 489 supporters a few nervous moments, their defence dealt with two late high balls into the box and that was enough to ensure that they hung on and advanced to a final meeting with Munster on 3 March.
Leinster: Gary Maguire; Paul Murphy, JJ Delaney, Jackie Tyrell; Tommy Walsh, Brian Hogan, Rory Hanniffy; Michael Fennelly, David Redmond; Danny Sutcliffe, Joe Bergin (0-02), Aidan Fogarty (0-02); Colin Fennelly (0-01), Richie Hogan (0-03), Shane Dooley (0-08, 0-07 frees).
Subs: Peter Kelly for Michael Fennelly, Eoin Larkin (1-00) for Bergin, Conal Keaney for Colin Fennelly, Paul Morris for Sutcliffe
Connacht: Colm Callanan (1-00, free); Brian Flaherty, Shane Kavanagh, Paul Killeen; Tony Óg Regan, Joseph Cooney, Niall Donoghue; Aidan Harte, Pádraig Brehony; Paul Gordon, Jonathan Glynn, Cyril Donnellan (0-03); Shane Moloney, Niall Burke (0-09, 0-04 frees 0-01 '65), Aongus Callanan.
Sub: Davy Glennon (1-01) for Callanan, Damien Hayes (1-00) for Gordon, Jason Grealish for Brehony, Richie Cummins for Maloney