Glenanne emerged at the top of Division One at the end of the first half of the season as Shane O'Donoghue's last-second winner against Annadale saw them jump above Three Rock Rovers and Lisnagarvey.
It was a cracking series of week nine fixtures with each of the five games going down to the wire on Saturday.
For the Glens, they trailed to much-improved Dale 1-0 at half-time and were pegged back to 2-2 by Adam McAllister with time running out despite a couple of O'Donoghue strikes. But Ireland's all-time top scorer added yet another goal to his tally with a powerful drag-flick, his 15th goal of the campaign.
Three Rock Rovers, meanwhile, drew 1-1 with Monkstown at Grange Road to drop down to second place. In the end, it could have been much worse and much better for the Rathfarnham club who trailed to Guy Sarratt's goal with three minutes to go only for Ross Canning to chip in the leveller.
In a thrilling endgame, James Walker hit the underside of the bar for a would-be winner. For Town, it was the third time in the past five weeks they have taken points off the current league leader to depose them from that position – they sit fourth at halfway.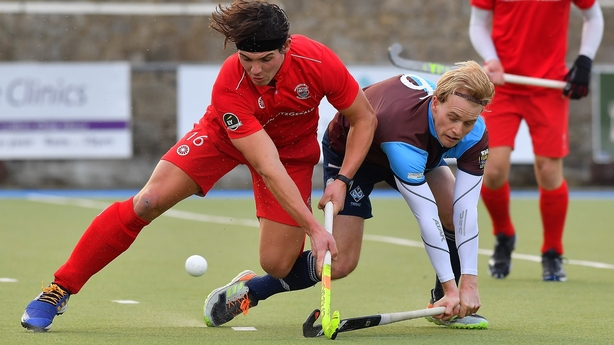 Lisnagarvey were held to a 2-2 draw by fifth-placed Banbridge in a high-octane affair. Ben Nelson had the hosts 1-0 up before youngsters Chris Curry and Louis Rowe swapped the lead in Bann's favour. Ollie Kidd's fortuitous strike meant a share of the spoils.
At the bottom, Pembroke recorded their second win of the season to put six points between themselves and the side they defeated UCD 3-2. It was more comfortable than that suggests with Julian Dale's double putting them 3-0 up before UCD netted twice in the last seven minutes through Jay Menelaou and Sam Byrne.
YMCA got their first win in eight attempts with Grant Glutz earning them a 1-0 win over Corinthian. It keeps them two points clear of the relegation playoff post occupied by Pembroke who are now level with Corinthian on points but behind on goal difference.
In EYHL2, Bandon and Cookstown are in the best position after day two as both have two wins two in Pool C at the expense of Mossley and Portrane, respectively.
The other pools are less clear-cut. A spectacular Cork C of I comeback saw them draw 2-2 with Instonians from 2-0 down in the fourth quarter in Pool A. That pair share the lead on seven points while Railway Union are one back on six with a 4-1 win over Rathgar, Mark English getting all their goals.
No clear favourite has emerged in Pool B with Kilkeel and Cork Harlequins drawing, meaning each game in this group has been a draw thus far.
EYHL Division 1: Annadale 2 (T Cross, A McAllister) Glenanne 3 (S O'Donoghue 3); Lisnagarvey 2 (B Nelson, O Kidd) Banbridge 2 (C Curry, L Rowe); Three Rock Rovers 1 (R Canning) Monkstown 1 (G Sarratt); UCD 2 (J Menelaou, S Byrne) Pembroke 3 (J Dale 2, G Chambers); YMCA 1 (G Glutz) Corinthian 0
EYHL Division 2: Pool A: Cork C of I 2 (I Balding, J Bruton) Instonians 2 (B Palmer, C Kirk); Railway Union 4 (M English 4) Rathgar 1 (S Madeley)
Pool B: Kilkeel 0 Cork Harlequins 0
Pool C: Bandon 5 (F O'Leary 2, I Perrott 2, E Hamilton-Foott) Mossley 3 (S Todd 2, J Robinson); Portrane 0 Cookstown 1 (R Millar)