Ireland women's hockey team beat Chile 1-0 in the final pool game of the Electric Ireland 4 Nations at UCD securing them a spot in Wednesday's final against New Zealand.
In a match that saw young Chloe Watkins, aged 22, securing her 100th cap, Ireland secured a narrow win with a goal late into the second half thanks to striker Alex Speers.
Ireland started strong with numerous chances being created with a string of passes through midfield but the closing shot evaded the Girls in Green, including a penalty stroke opportunity in the 24th minute which was saved well by Schuler in goal for Chile.
Ireland were forced to soak up a period of pressure deep into the first half but a well organised Irish defence marshalled by Cliodhna Sargent and Emma Gray at the back ensured Ireland's clean sheet at the break.
Ireland finally broke the deadlock in the 57th minute when Gillian Pinder burst through from midfield on a great run picking out the experienced Speers who finished to give Ireland the lead.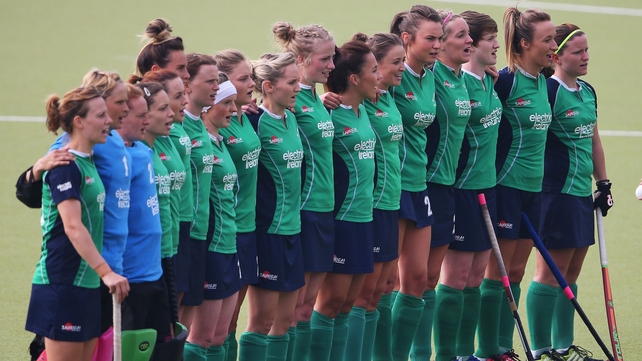 Ireland ramped up the pace looking for a second to ensure their place in the final and had to cope for a period of three minutes with eleven outfield players as Chile swapped out their keeper for an extra outfield player but Ireland held strong seeing the match out until the end keeping the 1-0 lead intact.
Commenting after the match, Coach Darren Smith said "It was a tough tight match, both teams knowing that a place against New Zealand was at stake in tomorrow's final.
"I felt we had more opportunities, territory and possession deserving the victory but it was a closer match than we would have liked, this was because the Chilean team competed well looking for a win."
"The girls are looking forward to the opportunity to play against one of the best teams in the world for the second time in five days, we'll need to contain their pace and direct approach. We need to play with our own confidence and we need to enjoy the occasion."
Ireland: Emma Gray; Cliodhna Sargent; Nikki Evans; Shirley McCay; Megan Frazer Capt; Chloe Watkins; Nicci Daly; Anna O'Flanagan; Gillian Pinder; Deirdre Duke; Ali Meeke.
Elsewhere, Ireland's Under-21 men secured a convincing 6-1 win over Ukraine in the second match of their Europeans taking place in Portugal, building on their 5-2 win over Russia the previous day.