By Tadhg Peavoy
"Qualifying for the Olympics is what we all aspire to when we start playing for Ireland. The fact that we're making history with the Irish team would mean a lot to the hockey community in Ireland if we make the Olympics," says Ireland hockey international Eugene Magee about Ireland's attempts to qualify for the London Olympics.
Ireland won a silver medal at the 1908 Olympics in London, when they played under the British flag, and were labelled a home nation. They lost the final to England.
If Ireland qualify for London, after a 104-year absence from the Games, they will become the first side from the Republic to do so, and will play with the tricolour flying.
So, when Magee refers to qualification for the Games as historic, he is not embellishing, it really would be a landmark event in Irish sporting history.
Magee is part of Paul Revington's 16-man Ireland men's squad that will take part in the Road to London at UCD from 10-18 March. Six teams – Ireland, Chile, South Korea, Malaysia, Russia and Ukraine – will all play in one pool, after which the top two teams will play off for a spot at the Games. The winner goes to London, the loser doesn't. It's that tough.
Revington, former South Africa and South Africa U21 coach, is under no illusions that his Ireland side face a huge challenge, "Korea are ranked five or six in the world. I think looking at the qualifying events that have taken place the quality of this one coming to Dublin is pretty tough - there's not too many sides in our pool that we've looked beyond."
Ireland missed out on qualification to Beijing 2008, but former hurler Magee, who plays for the KHC Dragons in Belgium, feels that this year could very well be Ireland's year; however, he also feels every match in the pool is fraught with danger, "There is no one team that is going to be a lot more difficult than the other. I wish we could say that there was an easy match in this competition, but none of them will be easy. The team that is highly ranked is Korea. So, that will be a tough one. But no team will be easy."
<notforsyndication>Pictured below: Eugene Magee made his debut for Ireland against Belgium in 2005. He has since amassed 131 caps</notforsyndication>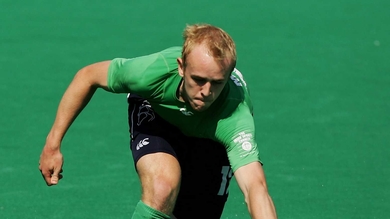 The tournament comprises playing six matches in nine days, which is gruelling by the standards of any sport and Revington emphasises that consistency is massively important, "It's pretty much a winner takes all, on top of the six games in nine days.
"So to finish in the top two in the pool you have to keep performing, you have to keep producing.
"At the end of the day you have to keep getting those results. That's the challenge, and when you're ranked third out of the six teams, the challenge then would be to try to fight above your weight, to try to keep the teams below you at bay.
"That would be the traditional challenge for the Irish team."
Magee feels preparation and recuperation are the key to making sure the athletes recover fully for each upcoming match, "A lot of it comes down to recovery strategies for each team – how well they recover, how well they hydrate, pre- and post-games.
"Basically maintaining the athletes so that they can perform to the best of their ability."
Ireland open their campaign against Russia on 10 March, with coach Revington adamant that his team won't be taking anything for granted in that first exchange, "We certainly won't be underestimating them.
"We've had games against them in 2011, the results would suggest Ireland have got the better of Russia. As one of the fastest-growing nations hockey-wise, we performed particularly well against them. They will know what we're about and therefore we'll have to make sure we bring our A-game.
"That fact that 16 players have to perform at a high individual level is the key for us."
<notforsyndication>Pictured below: Revington guided South Africa to tenth place at the Athens Olympics in 2004</notforsyndication>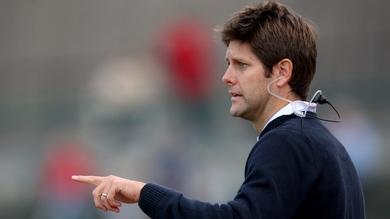 Magee expects that first battle to be a high-octane affair, "We'll be going into the match pumped up, hopefully that will be helped by the support in the stand.
"Everybody's looking forward to the tournament. We'll be going into it quite eager because we're all quite excited and anxious to start because we've been preparing for so long.
"The first match should be high adrenalin, high fuel, high pace."
Anxiety: with such pressure on their shoulders, these young men are bound to feel it, and Revington knows getting out onto the pitch is the best way to dispel that feeling, "Based on the back of 2011, and the weeks we've had together, there is a quiet confidence within the side.
"I think everyone understands that they've got to arrive and bring their A-game. I suppose that's a little bit exciting and a little bit anxious."
Banbridge's Magee feels the mood in camp is high and the team are raring to get out onto the Belfield pitch and put their preparation into practice, "The mood is good. We've got everyone back from niggling injuries and things like that.
"We've got everybody fit and healthy. So, we're confident, but not overconfident."
Playing as a team is perhaps the most important element of any team sport and is this is a facet that Revington feels is Ireland's best quality, "I would hope that the whole team are stars. The strength of this team is that they've produced performances together, while there are one or two standouts, the performances have been based on everyone hitting a seven out of ten together.
"Outside of just one person, I'm anticipating we'll qualify because we'll get that collective seven out of ten every game."
Having trained for this tournament for the last number of months, Magee, a quantity surveyor by profession, feels that the fitness will be in the bank come game time, "A lot of hard work has been done over the past three of four months, and we can take confidence from that going into this tournament, knowing that we have done the work and trained well, and that we deserve a place at the Olympics."
Magee also praises coach Revington as a man who gets the important details right, "He's a great coach with regards to organization and extreme detail. He's a very good man-manager as well, all the things you look for in a coach."
Interestingly, Magee feels that his hurling background helped him as a player and that the two sports are complimentary, "I played hurling until about 12, then I went to a school where the sports were rugby and hockey and I found it quite natural because of the hurling. It all started there really, and I haven't stopped since.
"Hockey is more technical. Hurling is high-fuelled adrenaline.
"Hockey you have to slow the game down at times, which you never get a chance to do in hurling really."
"The only other difference is the physicality, there are things in hurling you certainly can't do in hockey."
Home support can play a crucial factor in the winning and losing of tight matches and tournaments, Magee knows just that, "If we get the support that we would like down at this tournament it would be a great advantage to us, and give us a great buzz, maybe that extra bit of adrenalin that we need to take us over the line."
Olympic qualification for Revington will achieve many goals that he has targeted as the national coach, "For Ireland, it means that we are moving up the world rankings. It will mean that the quality of players that is in Ireland has taken effect to fulfil that quality, and aggressively show the world that they're going to take another step forward once they're in the Olympics.
"This group of players – over the last couple of years now - have done good things consistently, and I suppose the Olympic Games will be the reward at the next step if they qualify."
Revington's South African drawl is delivered in a calm and assured manner. Therefore it came as no surprise to be informed that the coach's mantra is "discipline + effort = enjoyment."
The coach's life philosophy also defines what he expects from his team, "That would be something that I would live by. And I suppose coaching philosophy-wise, I would engrain in the players that if they get the first two right, generally in life, and high-performance sport, the third part takes care of itself."
Paul Revington and Eugene Magee were in conversation with Tadhg Peavoy on 29 February 2012.
Ireland men will compete in the Road to London 2012 in Belfield, UCD, from 10-18 March.
For tickets, the tournament schedule and further information, please visit http://www.hockey.ie/index.cfm