The absence of Tiger Woods will not go unnoticed at this week's WGC-HSBC Champions tournament but the attendance of 40 of the world's top 50 players suggests the tournament is living up to its billing as a World Golf Championships tournament.
The HSBC is the only WGC event played outside the United States but an $8.5 million purse has still not been enough to lure world number one Woods to Sheshan International Golf Club.
With appearance money banned in official PGA Tour events, the 14-time major champion has snubbed the event since 2010.
This week, instead, he s participating in some lucrative corporate outings elsewhere in Asia following on from Monday's exhibition match against Rory McIlroy on Hainan Island in South China.
World number two Adam Scott, who this year became the first Australian to win the Masters, is also missing as he prepares for a busy year-end schedule in his homeland, but the presence of British Open champion Phil Mickelson, US Open winner Justin Rose and two-time major champion McIlroy helps soften the blow.
Mickelson's golf course design business is growing in China - he has a new course opening in Shanghai early next year - but his focus this week will be on clinching a Sheshan hat-trick, where he also won in 2007 and 2009.
"It's a big week obviously... it's sort of make-or-break" - Rory McIlroy
"I was not swinging well in Malaysia (but) the last two days my game started to come around," Mickelson told reporters, referring to last week's CIMB Classic in Kuala Lumpur, where he finished tied for 19th.
"I enter this tournament with a lot more confidence than I've had in a while. I feel the ball-striking is getting better, the rhythm is getting better and Sheshan is a course I feel very comfortable on."
Englishman Rose knows a good result here would boost his chances of winning the Race to Dubai - formerly known as the European Tour Order of Merit. He is third with just two events left after this week.
"To get my name on that trophy again would be a huge honour," said Rose, who won the European money list in 2007.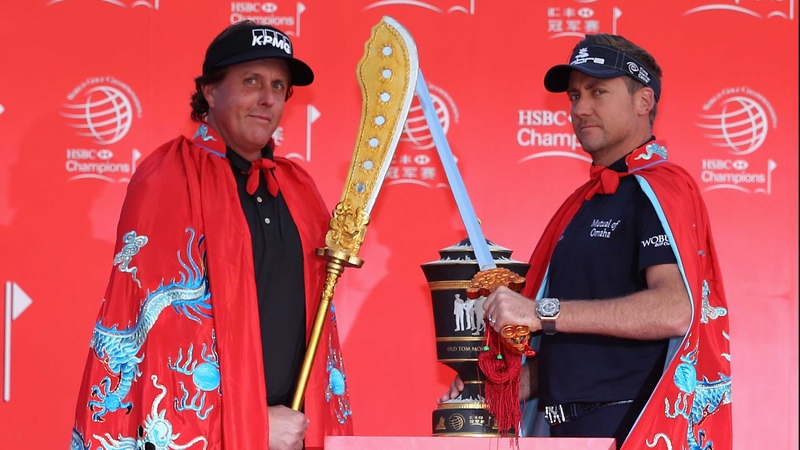 "This is a key week on both tours (because) it's my first event on the 2014 PGA Tour schedule."
McIlroy, meanwhile, needs a strong performance to qualify for the European Tour's season-ender in Dubai in a fortnight. He is 62nd on the money list, with only the top 60 advancing.
"It's a big week obviously... it's sort of make-or-break," McIlroy said.
"If I don't play good enough here, then you know, there's a good chance I won't play in Dubai. But... there's a bigger chance of me winning this tournament than not playing in Dubai, I feel."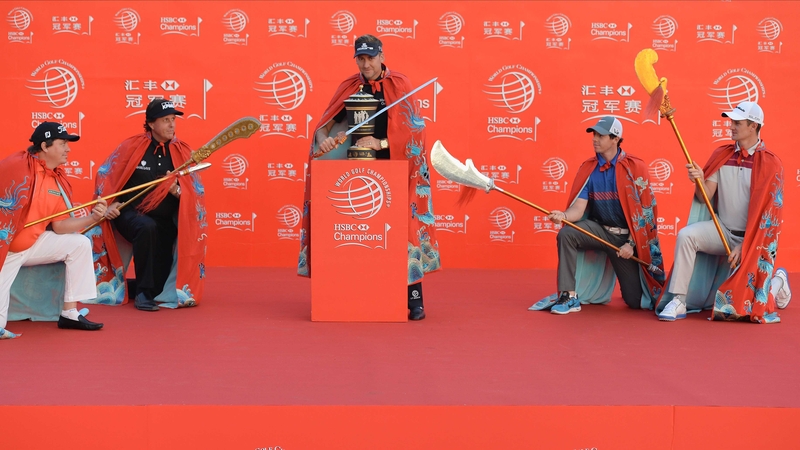 "I'm looking forward to going out there and playing well," added McIlroy, who has been backed by Woods to get back to winning ways before the end of the season.
"I feel like I'm capable of winning this golf tournament and I feel like my game's coming together nicely.
"I did a little short game work over the last couple days and I feel like if I can get that part of my game where it needs to be, then I've got a good chance.
"I'm really glad that this tournament is back here at Sheshan. It's a golf course that I've done well on, as you've said, and it's a golf course that I really like. It's one of my favourite venues of the year quite honestly.
"Of course I expect myself to be a lot higher than that (62nd). I won the Race to Dubai last year and I was second in 2011 and I was second in 2009.
"So I've been a factor in it for the last few years and to be down where I am obviously doesn't feel too good and is a reflection of how my year has gone.
"It's just the reality and the reality is I haven't played well enough to be a factor."
The international field here comprises 72 players from 21 countries, headed by 24 American players.
The host country has a six-man contingent, while nine other Asian players are in the field - four from Japan (including young stars Hideki Matsuyama and Ryo Ishikawa), two from Thailand, two from South Korea and one from India.
Englishman Ian Poulter is defending champion.