A month after winning golf's so-called unofficial 'fifth major', Ryder Cup hero Martin Kaymer charged into the lead of the US Open.
Kaymer carded six birdies and one bogey to record a superb five-under-par 65 at Pinehurst, claiming a three-shot lead over former champion Graeme McDowell, Zimbabwe's Brendon de Jonge and American duo Kevin Na and Fran Quinn.
McDowell had earlier celebrated confirmation of the Open's return to his home course of Portrush by firing an eagle, one birdie and one bogey to shoot 68 - his lowest opening round in a US Open.
Former champion Rory McIlroy, who played his round with compatriot McDowell, was alongside English amateur Fitzpatrick on one over with a 71 after struggling to get the pace of the greens.
Shane Lowry shot 73 and Darren Clarke had a disappointing 75.
McDowell admitted the early starters had enjoyed the luck of the draw, adding: "I spent the last few days just preparing myself mentally for the challenge, knowing that this golf course wasn't going to give much and it was only going to take.
"I really felt like I got my head in the right place the last few days.
"It wasn't my best ball-striking display, but you don't have to strike it amazing around here - you just have to position the ball correctly at all times, and with a tiny bit more moisture this morning we got lucky.
"In practice the golf course seemed to be very firm, kind of a weekend set-up. I guess the USGA were really relying on some rain last night, which didn't come.
"I'm assuming they put some water on this place this morning and we were able to take advantage of that a little bit early on, and actually think about getting at some of those flags."
"It wasn't my best ball-striking display, but you don't have to strike it amazing around here" - Graeme McDowell
Speaking about the Open Championship returning to Portrush in 2019 - it was last staged there in 1951 - McDowell added: "That's extremely exciting. I've been kind of hesitant to comment because I really didn't want to take anything away from the official announcement [the R&A are holding a press conference in Portrush on Monday].
"I'm very proud of where I grew up. I'm very proud of the tradition and history there and to bring an Open Championship back to Northern Ireland is very special. It speaks volumes about how far the country has come.
"It's going to be a very special thing for Northern Ireland and Ireland in general. I just hope I'm exempt and playing well. It's been a dream of mine as a kid. I've spent many an hour out there as a kid and dreaming of playing major championships. To have a major championship come to Portrush, [especially] the Open Championship is special stuff.
"It's the result of a lot of gentle ribbing in the direction of Mr Dawson [R&A chief executive Peter Dawson] the last four or five years from myself and [Rory] McIlroy and [Darren] Clarke. Nice to see the fruits of our labour, I suppose."
Kaymer, meanwhile, who won the US PGA in August 2010 and became world number one for eight weeks the following February, became just the fourth European to win the Players Championship in 41 years last month.
And the man who ensured Europe would retain the Ryder Cup after the 'Miracle at Medinah' in 2012 reproduced the form he displayed at Sawgrass on Thursday, beating the previous lowest score in a US Open at Pinehurst of 66 by Sweden's Peter Hedblom in 2005.
"When you win the Players it's pretty much as if you have won a major, the way the field is," said Kaymer, who equalled the course record with an opening 63 at Sawgrass.
"I needed a win, whether it was the Players or a PGA Tour event for my confidence, to feel it's worth it for all the hard work I have put in over the last couple of years.
"That was a nice, huge win and, coming into the US Open and the next few weeks with big events, it's nice if you've just won before. I'm very happy.
"It's an exceptional score and very nice to lead the tournament but I was very surprised the course played fairly soft.
"I try to win as many majors in my career as possible. I won one so far, I put myself so far in a good position here, but we have three rounds to go. There's so much golf to play and no-one should expected me to shoot another 65."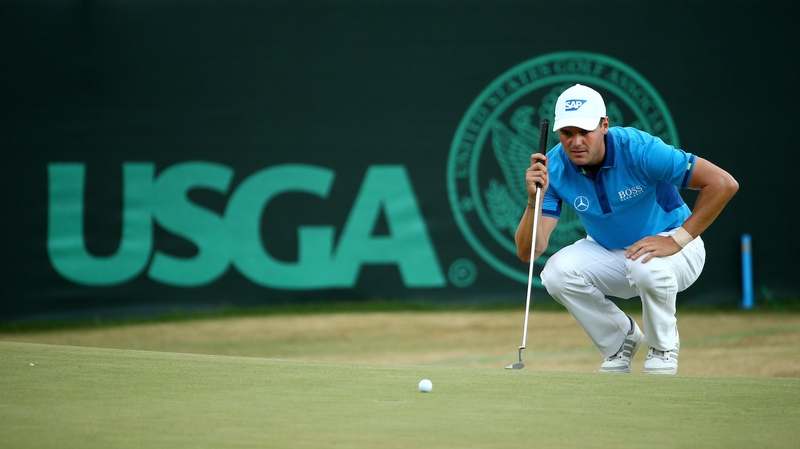 Sweden's Henrik Stenson, who can overtake Adam Scott as world number one by claiming his first major title on Sunday, was among a 10-strong group on one under as the early starters in particular made the most of more receptive greens than had been expected.
Six-time runner-up Phil Mickelson, looking to become only the sixth player to win all four majors, was another shot back on level par alongside English trio Ian Poulter, Paul Casey and Danny Willett and Welshman Jamie Donaldson.
Defending champion Justin Rose was two strokes further back.
Clarke had a disappointing day, carding a 75 with successive bogies on holes 11, 12 and 13 causing particular damage to former British Open champion's round, though the Dungannon man did manage a late birdie on the par-three 17th.
Lowry fared slightly better with a 73 but is well down the field tied in 68th. The Offaly man had a steady start covering the front nine in a par 35, but dropped three shots on the back nine with bogies on the par-four 11th, 16th and 18th holes.