Rory McIlroy has already caught a break this week when the R&A decided that Greg Norman was best excluded from this year's annual Champions Dinner.
Jack Nicklaus, this week conferred with honorary citizenship of 'the Royal Burgh of St Andrews', was naturally going to be the centre of much attention at the dinner and the R&A presumably felt this would be awkward, what with Norman having recently labelled his childhood golfing hero a "hypocrite" and all that.
The Shark, who successfully managed not to blow the Open Championship in both 1986 and 1993, was none too pleased at being asked to stay away.
"There have been a lot of dumb decisions made, quite honestly, and this one seemed as if it was very petty," Norman told his local paper, The Palm Beach Post, this week.
"'Governing bodies should stay above the fray. They should be Switzerland. For them to stoop to this level..."
Another excellent champions dinner @TheOpen amazing to be in such company. Great speech @jacknicklaus 🐐 pic.twitter.com/uk81ZNILlv

— Paul Lawrie (@PaulLawriegolf) July 12, 2022
Rory has emerged as the PGA Tour's gleeful rottweiler in his denunciations of the LIV Series and it's difficult to picture him managing some amiable chit-chat with Norman in the circumstances.
"Because of everything that's happening in the golf world, I think it was the right decision to be made," McIlroy told reporters this week.
McIlroy is now a venerable spokesman of the professional golfing community, having been voted in as Chairman of the PGA Tour's Player Advisory Council last year. This week, however, he told RTÉ Sport's Greg Allen that he was placing down his megaphone and concentrating on the primary task - that of adding an overdue fifth major championship to his tally.
"Everything else that's happening in the golf world will still be there next Monday. So I can forget about it until next Monday and just focus on the Open Championship," he said.
It's McIlroy's first Open Championship appearance at the Old Course since finishing in a tie for third - albeit a distant third - behind runaway winner and current LIV stalwart Louis Oosthuizen in 2010. Rory's performance that week was fairly typical for him in that era, beginning with a tournament record 63 on Thursday and then following it up by failing to break 80 on the Friday.
McIlroy was defending champion the last time the Open was played at St Andrews in 2015 - though he didn't get to defend his title. An ankle injury incurred during a "football kickabout" scuppered his bid for back-to-back Claret Jugs.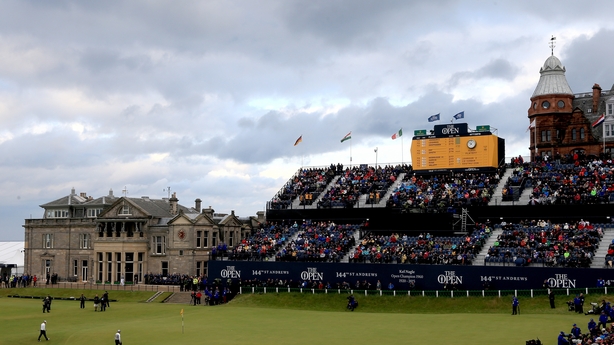 Padraig Harrington successfully managed to overcome his wrist injury - incurred when he tried a 'one-handed Happy Gilmore swing' into his impact bag at home - to eventually defend his title in stunning fashion at Royal Birkdale in 2008. But there was no way back for Rory, who posted a photo of himself on crutches on the Monday before the off.
"I think after the 2010 Open, I was really looking forward to 2015," he says.
"That was going to be my next shot at St Andrews. That didn't end up happening. And then it was 2021 and then Covid hit.
"There's something a little different and special about the Open at St Andrews. It's the spiritual home of our sport."
There's enough in the 2010 performance to suggest that St Andrews should be right down McIlroy's street. With decent weather and minimal breeze predicted, scoring is expected to be low.
Golf Digest have released one of their magnificently august and portentous hole-by-hole flyover videos of the course, narrated by their 'Architecture Editor Emeritus' Ron Whitten ("What do you want to be when you grow up, son?"), in which he announces, "All that's sensible about golf course architecture and some that is nonsensical is derived from a single golf course - The Old Course at St Andrews in Scotland".
Compared to the lush identikit layouts on the PGA Tour, the course looks magnificently raw and authentic, with wild undulations and the familiar pot bunkers.
"Nearly every course that has been built in the last 150 years has been inspired by St Andrews or is a reaction against it," Whitten tells us.
Some of the holes, like the 1st and the 9th, look remarkably tame and straightforward by modern standards. Then you've the famous 17th, which is absurdly difficult. All but four of the holes finish on double greens.
It was supposed to hold the 2021 Open until Covid pushed the schedule back by a year. In deference to its history, it generally appears every five-six years in the rotation, as opposed to once a decade in the case of the rest.
While the US Open organisers have been known to have a conniption if the scoring goes too low, the R&A are relaxed about the possibility of low numbers this week, chief Martin Slumbers saying he'll be the first to shake the hand of anyone who goes sub-60.
Shane Lowry last week dismissed the notion that the course could no longer provide an adequate challenge modern golfers and that it's days as an Open host were numbered.
""If somebody shoots 59 next week, I hope it's me... What's taking it apart? 20 under? Would people be annoyed if 20 under won?" Lowry asked.
"I'm sure if the weather is good, scoring will be decent. You still have to get it around, some tricky holes. Yes, there are some greens that certain people can drive. But there are also lots of big pot bunkers waiting for you if you don't hit good tee shots."
That the course plays into the hands of long hitters is clear enough from the roll of honour. Tiger Woods ripped it apart on a couple of occasions, winning at a canter in 2000 and 2005. Jack Nicklaus, when he stole it from under the nose of poor Doug Sanders in 1970, lashed his drive on the 18th on Sunday through the green, into the rough behind.
A favourite is 1995, when John Daly overcome some stodgy form and his usual parade of off-course issues to win a second major championship.
"Banned from the American Tour for 'exotic behaviours', served with a paternity writ when actually playing in the US Masters," begins the The Open Official Film 1995. "But that's all behind him now."
His win only arrived after Costantino Rocca, having duffed his approach, famously holed out on from the 'Valley of Sin' on the 72nd hole to force a playoff, beating the ground in joy in one of golf's most memorable celebrations. Alas, the Italian was spent for the play-off, Daly winning the four-hole showdown easily after Rocca took three swipes to escape the Road Hole bunker.
"I think this week, you need a good balance of power and precision," McIlroy told RTÉ Sport.
"Being able to hit the ball a long way around here has always been an advantage, you take some of the bunkers out of play, you can get it closer to some of the par-4s.
"But at the same time, that can present some difficulties in itself as well.
"Patience, trying to think one shot ahead all the time, thinking about where you want to play your second shots from, thinking about where the hole locations are. There's a lot of chess that you'll have to play this week."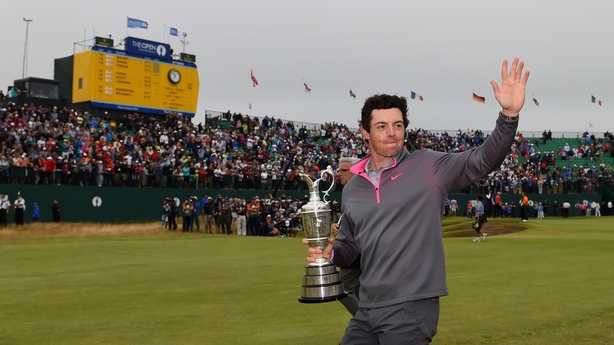 Since winning at Royal Liverpool in 2014, McIlroy has three top-5 finishes in the Open Championship, including a tie for 2nd in Carnoustie in 2018. However, his last two attempts at the tournament have been underwhelming, an infamous missed cut in Portrush and only tied-46th in 2021.
In acknowledgement of his superb form in 2022, McIlroy has been installed as favourite, although for many weary punters, he's lost the benefit of the doubt after too many major letdowns.
We've grown accustomed to a strong Irish challenge in the biggest tournaments.
Lowry, though he's just missed his first cut at a major in 13, has a strong pedigree for links golf generally and finished tied-4th in last year's Dunhill, carding 67 and 68 in his two rounds at the Old Course.
Seamus Power has performed superbly in his first major campaign and was seriously in the running at the PGA Championship come Saturday evening, registering a top-10.
Two qualifiers, Castleknock's David Carey and Galway's Ronan Mullarney, the latter of whom is a disciple of the divisive DeChambeau method, provide further intrigue.
But McIlroy, back at No. 2 in the world, has to be acknowledged as the form player.
"Everything is in good shape... I feel good. If I go out there and play the golf that I'm capable of and the golf that I'm playing right now. If I don't get ahead of myself and stay smart and patient, I'll give myself a good chance come Sunday."
Follow our live blog for each of the four rounds of the 150th Open Championship on the RTÉ News app and on rte.ie/sport, with regular updates across Radio 1 and 2fm.