The numbers don't lie; Leona Maguire has had a remarkable 2021.
Apart from a second appearance at the Olympic Games, the Cavan native managed a best ever finish for an Irish player on the LPGA Tour when she came second at the Lotte Championship in April, and then matched it at the Meijer Classic in June.
It has seen her move from 177 in the world rankings in January to 43, where she will end the year. On top of that, her greens in regulation percentages have shot up by nearly 15% to 74.13%, and it's that consistency which has most pleased Maguire.
"Rankings is not something I've ever focused too much on," she tells RTÉ Sport.
"But at the same time, they are an indicator of where you sit relative to everybody else on tour. Breaking into the world's top 50 was definitely a big deal, and I consistently did that throughout the year - [my ranking] kept coming down and coming down.
"It wasn't just one big massive jump. And that consistency is something that I'm very proud of. My irons have always been a strength of mine, and the last couple of years they weren't. This year, the work we put in last winter really, really helped and I saw that through the entire year, which is something I'm really happy with."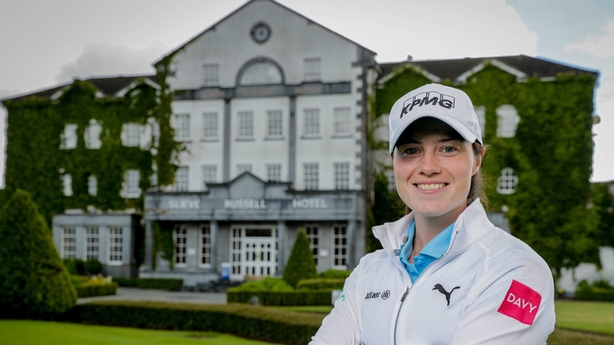 Added to that, she became the first Irish woman to compete at the Solheim Cup, where she put in the best rookie performance in the competition's history to take 4.5 points from a possible 5.0, helping Europe to a rare win on American soil.
"The Solheim Cup has probably been the highlight of my career, let alone my year," she says at a Davy event.
"I couldn't really have asked for that week to go better. Considering it's something that I've dreamt about for a long time, for it to actually come together as it did made it a special week and one I'll not forget for a long time.
"You never know how you're going to react in those situations until you're there. You plan for them, and practice and prepare as well as you can, but the big thing for me is that I was able to pull off those shots - the drive off the first tee, or the putts - when I needed to and when my team needed me to.
"It's something I'll bring into the regular LPGA events, and try to feed off that confidence and draw on those experiences when I'm in those situations."
While the targets have been met for 2021, the new base level means that next year has massive promise for the 27-year-old. But that also brings increased expectation, and with that is more pressure to deliver on the greens.
So what does success look like in 2022?
"There's no glaring part of my game that needs serious attention; it's just making those small, incremental changes and improvements.
"If you can save a shot every round, that adds up to four shots every week, that would be a big deal. It'll be a case of sitting down with my team at the end of this year and seeing where those little gains can be made.
"I think the majors are something that I'll definitely be targeting.
"I got my first top 10 at a major this year at Evian so I would like to be in contention a little bit more in those next year. And putting myself in contention as many times [as possible] in the regular tour events.
"It was a very consistent year this year, and all the time I'm just trying to shift that up. A lot of top-20s this year, hoping for maybe more top 10s next year, and work my way up that way. It's hard to focus on the outcomes too much, there's a lot of great players on the LPGA, and ultimately, I can't control what they do.
"All I can control is what I do. I'll put in that work and preparation myself and see where that leads me in terms of finishes in tournaments and board rankings and that sort of stuff."
One experience that won't happen again next year for obvious reasons is the Olympics.
After coming home 21st in Rio five years ago, Maguire wasn't able to build on that in Japan over the summer as she finished up in tie for 23rd at the Kasumigaseki Country Club.
"It was different from Rio," she says.
"In Rio we went to watch a lot of different sports in the evenings. Anytime there was an Irish athlete competing, we went to cheer them on. I got to see Michael Phelps in the pool and Usain Bolt on the track. There was hardly any of that this year.
"But at the same time, there was still that camaraderie with the Irish athletes. We'd eat together and you did get that sense of a team team environment, which us individual athletes don't get very often. Anytime there was an Irish athlete that came back with a medal, there was a guard of honour outside where we were staying.
"We got to cheer and celebrate with them. I was fortunate enough - we were done on the Saturday and I got to go watch Kellie's fight on Sunday, watch her win her gold medal.
"That was inspiring to see her achieve her dreams on a world stage, knowing how much she deserved it and how much work she had put in. It was nice to be a part of that team thing. The Olympics is a special event. It's the biggest sporting event in the world. I'm fortunate enough to call myself a two-time Olympian now."
'There were flashes of gold medal golf, just not enough of it' - @leona_maguire's assessment of her week as she finished in a tie for 23rd on -5#tokyo2020 #olympics #golf #rtesport
📺Watch - https://t.co/fU3o0t1wGZ
📱 Updates 👇🏾 https://t.co/twy2rQuIwM pic.twitter.com/qkNod1QhW2

— RTÉ Sport (@RTEsport) August 7, 2021
With the season in the US now finished, Maguire is continuing to work on her game before a planned return to Ireland for some down time over Christmas.
"I hung on in Orlando for a few extra weeks after the season was done," she adds.
"I'm still getting a bit of practice in, back in the gym and all that. I'll go home for about three weeks at Christmas. It will be nice to be back in Cavan again to see everybody.
"I haven't been home since the Solheim Cup. That's the nice thing about Christmas; no matter where everybody is working or in school or wherever they are, they're generally always home at Christmas.
"So hopefully - if everybody behaves themselves over the next few weeks and there's not too many restrictions - I'll get to catch up with people, take it easy and enjoy it for those few weeks."