Solheim Cup star Leona Maguire hopes that the momentum from her stellar involvement in Europe's success against America can spark a revival of the Irish Open.
The competition hasn't been played since 2012 when it was won by Catriona Matthew, who captained Europe to victory at the Inverness Golf Club earlier this week and also at Gleneagles in 2019.
Maguire was just 17 at the time of that 2012 event at Killeen Castle – the venue for the Solheim Cup 11 months earlier. Although six players from the previous year's team competition were in the field and a then attractive purse of €350,000 was on offer, it would be last running of the tournament.
Now nearly a decade on and with Maguire becoming not only a national star but a worldwide one too after her stunning rookie performance in Ohio, the Cavan player is hopeful that the tournament can return to the Ladies European Tour schedule.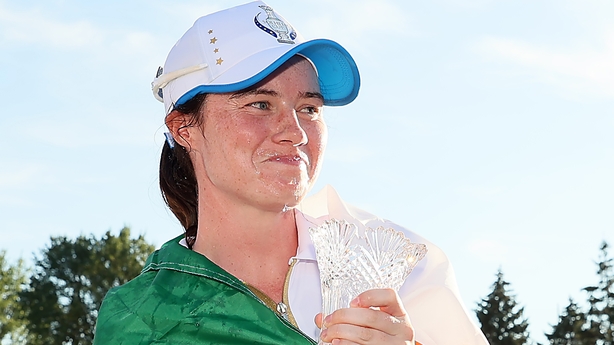 "We did have it in 2011 so it's 10 years ago. I don't know if we'd be able to have it again so soon, but short term I'd rather see an Irish Open back," said Maguire when asked about playing in a future Solheim Cup on Irish soil.
"That was an incredible boost to me as an amateur, getting to play in Irish Opens with Suzann Pettersen at Killeen Castle and Portmarnock.
"As a 15-, 16-year-old, that was invaluable, the experience I gained and seeing the crowds there as well. I remember being at Killeen Castle and the crowds being five-, six-people deep, and that was long before any 20x20 campaign or anything like that.
"I think that would be massive in inspiring a new generation, both girls and boys. People got a glimpse of it on the telly this week with the Solheim Cup so I think there is an appetite there for it."
Stephanie Meadow currently has her LPGA Tour card while Olivia Mehaffey will compete in Stage Two of the LPGA Q-School in October. Lauren Walsh this week moved into the top 10 in the world amateur golf rankings while Julie McCarthy is inside the top 500.
Despite the growing strength of the women's game here, Maguire, speaking as she launched the third video in KPMG's Performance Series, said that she had not been involved in any discussions about the Irish Open's return.
"A lot of people a lot higher up the food chain than me make those decisions," she said.
"We've got ample golf courses that would be willing to host, we've got some phenomenal venues here in Ireland. At the same time, I suppose it needs the financial backing as well and the right people to get in the right room and chat together and hammer that out.
"Those decisions are being made a lot higher up than me, but hopefully they're in the works now."
It's been a whirlwind few days for Maguire ever since her starring performance at Inverness Golf Club, where she collected 4.5 points out of a possible five, with crowds lining the Ballyconnell streets on Wednesday evening for her return to the Slieve Russell Hotel.
A fire engine led the parade through the town with a piper leading the golfer, who waved to the crowds from the back of a gold-coloured BMW.
The 26-year-old said that she had no idea of the scale of the celebrations when she landed back into the country.
"I didn't know what was happening at all, it was overwhelming the amount of messages of support and everything.
"Dad and mam had kind of been telling us what was happening at home, everybody stopping by the house and calling and texting and all the rest.
"They did a few TV bits and stuff like that as well, and they came to get me in the airport and mentioned that there might be something then later on that day.
"I went to bed for a couple of hours and it all sort of kicked off. It was a lot of fun, especially for everyone in the local community to give them a buzz, to give them something to smile about.
"It was fantastic to see so many people that came, and all the kids out in their jerseys with their flags and all the rest.
"Hopefully that will be the first of many celebrations we can bring back to Ballyconnell."
"I think it's been an incredible year for Irish sport."

Solheim Cup star Leona Maguire has made a triumphant return home to Cavan this evening. Family, friends and supporters have gathered at the Slieve Russell to help the 26-year-old from Ballyconnell celebrate her success pic.twitter.com/OhQ1STqIdw

— RTÉ News (@rtenews) September 8, 2021
Maguire also jokingly refuted her brother Odhran's claim that she was practicing her fist pumps in the lead up to the Solheim Cup, while she also said that her father Declan would have been delighted with the distraction of having to manage Drumlane in Sunday's Cavan Intermediate Championship tie against Butlersbridge.
"Dad is big into his football, Dad's a big GAA man.
"Dad's not great to watch my golf, he gets quite nervous. He keeps himself busy, I think there were a couple of rooms painted as well when the Solheim Cup was going on last week.
"Mam was watching and refreshing every five seconds. Dad made sure it was all recorded and watched it back after the fact."