Padraig Harrington believes there will be a "seriously big party" if the Ryder Cup can take place with full crowds on site.
But the three-time major winner admits that it could have to go ahead with restrictions in place rather than be postponed again.
"I know if it does go ahead with full spectators and things like that, it will be a seriously, seriously big party," Team Europe Ryder Cup captain Harrington said.
"I think the relief for people to get out there and go to a sporting event of that magnitude will be palpable, and I'm sure the players will appreciate it. Maybe I'm being hopeful, but that's exactly what I want to see.
"At the end of the day, I don't believe there is wiggle room for pushing this back. It's full steam ahead.
"I suppose I could have said the same thing this time last year. We are in the same boat now but I'm an optimist and I believe we will be good to go in a capacity for sure that the players will want to be there and enjoy it."
The Team Europe captain added Tyrrell Hatton is "a Ryder Cup captain's dream".
Hatton won for the fourth time since November 2019 in Abu Dhabi on Sunday, a victory which lifted him to a career-high fifth in the world.
A closing 66 saw Hatton overhaul 54-hole leader Rory McIlroy and take a major step towards securing a second Ryder Cup appearance, much to Harrington's delight.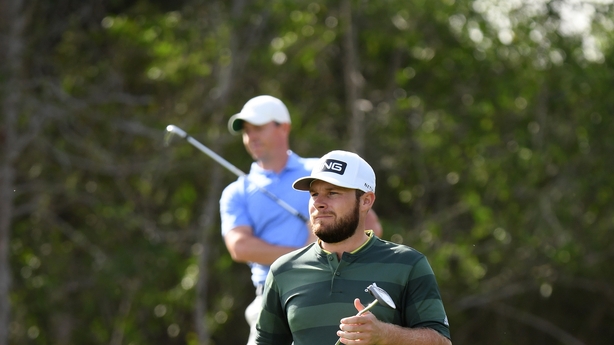 "He's everything you'd want in a player for sure," Harrington said.
"Obviously plenty of good golfers out there but Tyrrell does seem to have it when he comes under pressure on the big occasions with big players staring him down, like he was going against Rory last week.
"He's a Ryder Cup captain's dream, isn't he? That's exactly what you want, a player that has that gumption and can really get it done.
"Even though he's won four times over the last year, they have been nicely spread out and it's not flash-in-the-pan stuff. He keeps delivering. His win in Bay Hill last year I thought was very impressive down the stretch and again he proved it last week.
"Rory took an early lead and it would have been easy for Tyrrell to play nicely and finish second or third, but he took that tournament by the scruff of the neck and from a captain's point of view it was very impressive. That's the sort of stuff I'd like to see all my players doing."
McIlroy's failure to convert his opening 64 and 54-hole lead into victory in Abu Dhabi increased the scrutiny on the former world number one after a winless season in 2020, but Harrington has no concerns.
"Wouldn't we all like to play as bad as Rory McIlroy?" he added. "Right now he's not getting it across the line at the very end, but when he does he'll go on a run and maybe he comfortably could have a run of winning six, seven, eight times in a year.
"And from a Ryder Cup point of view, a little bit selfish, I'm kind of happy to see it.
"He was playing unbelievable at the start of last year and I said it at that stage, I'd just like to rein him in a little bit and hold him back. We don't want him burning himself out. We want him fresh and ready to go come September.
"I'm actually very pleased with where he's at. Rory is at his best when he's trying to prove a point or two."
Harrington has also been impressed with Scotland's Robert MacIntyre, who won his first European Tour title in Cyprus last year and is currently just outside the world's top 50.
"He's definitely a good enough player to make the team," Harrington said. "He's one of the future players of the European Tour. It could be his time in the next eight, nine months, there's no doubt about it.
"He's a tough customer. He's a fighter. I won't say he has a chip on his shoulder, but he certainly fights like he has a little bit of a point to prove.
"We've already looked at the stats and he's very, very balanced, so actually would work very well in different formats, foursomes, fourballs."