Brendan Lawlor believes that his participation in the European Tour this week will help raise visibility of disabled golfers and is hoping that he can inspire others to take up the sport.
Lawlor, who has a rare condition called Ellis-van Creveld syndrome which is characterised by a shorter stature and shorter limbs, became the first disabled golfer to appear on the European Tour when he competed at the ISPS Handa UK Championship at the Belfry.
The Louthman is currently in fourth place in the World Rankings for Golfers with Disability (WR4GD), and this week teed off in his first European Tour event since he turned professional in September last year.
Lawlor enjoyed solid front nines in both the first and second round of his tournament at the Belfry and while he struggled slightly on the back nine on both days, he still relished the experience and believes he learned a lot from playing alongside fellow pros.
Speaking to RTÉ Sport, Lawlor said: "It was a fantastic week, I can't complain. There was so much exposure for the game and that's why I was here this week.
"I couldn't get over how nice the guys were, both playing partners Jeff Winther and Richard McEvoy were both absolutely lovely. Play went really well, there was no slow play and the whole week went so well, it was an incredible experience.
"The big differences are probably in the length of the course. These courses are about 7,300 yards and I'm used to playing probably 6,700 and 6,800. It's a big difference especially when the fairways are not running and the ball is staying where it's landing.
"I found that quiet tough because I'm obviously not carrying as much as the tour guys.  
"It was such a good week. I held my own, I played the front nine pretty well both days and just had a few bad holes but I can't complain."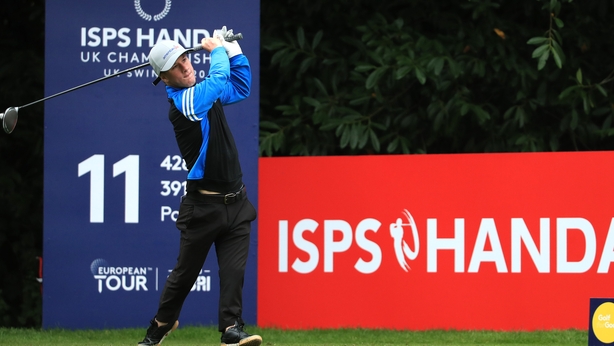 Lawlor admitted to feeling slightly rusty out on the course and revealed that he only had four weeks to prepare for his debut appearance on the Tour.
With golf, like all other sport put on hold during the Covid-19 lockdown, Lawlor didn't have the ideal preparation for the tournament but he still believes he learned plenty from the experience as he gears up for next week's Northern Ireland Open.
"I heard [about the invite] four weeks ago, it was quiet tough, especially coming out of lockdown. The playing schedule was empty and it was hard enough to get out on courses.
"I joined Carton House and that was great preparation. It's a great spot to prepare with this event coming up.
"It's the first one of the year and I took a lot of learning experience out of it.
"I have the Northern Ireland Open on the Challenge Tour next week so it was really good experience for next week."
For now Lawlor is looking forward to a well earned rest after such a hectic week but he has big plans for the future, not just for his career, but for golf as a whole.
The 22-year-old is hoping that his exploits this week can help give further credence to both the creation of a new disability golf tour, that could run in parallel with the European Tour, and for golf's inclusion in the Paralympics.
"I'm going to sleep a lot when I get home, I'm absolutely knackered," he replied when asked about his short-term plans. "There was so much media stuff and so much hype around the event.
"I'm going to play next week and hopefully I'll enjoy it.
"I hope I can just get more people into the game, I think this week was a huge step forward for disability golf.
"I want to get more people into the EDGA [European Disabled Golf Association] and playing disabled golf because we are stuck for numbers.
"We're looking for lots of good players to create a tour that can compete alongside the European Tour and hopefully make some money out of it competing.
"That would be the end goal along with the Paralympics.
"It wasn't in the 2024 Paralympics but I actually good a tweet from World Paralympics saying congratulations and they were liking stuff so maybe this was an eye opener for them."