Stephanie Meadow spent the 2018 season securing a coveted place on the LPGA Tour; now the Jordanstown native has two weeks to save her top-tier status for 2020.
Plying her trade on the most prestigious – and naturally toughest – tour in women's golf, Meadow currently sits in 108th place on the season-long points list.
Seven events remain on this year's schedule, culminating with the Tour Championship in November, where the top 60 players battle it out in the season finale in Florida.
But there are just two regular tour events remaining for Meadow to make a move into that top-100 safety zone, starting with the Indy Women in Tech Championship in Indianapolis next week, followed by the Volunteers of America Classic the following weekend in Texas.
"A top ten or a top five would probably lock me down for next year," said Meadow, speaking to RTÉ Sport.
And while the golfer's goals for the year are not yet achieved, Meadow believes that she has "figured something out" in recent weeks, which has led to a run of decent form, making the cut in four of the last five tournaments to leave her just outside those automatic placings for her 2020 card.
"It's not been as good as I had hoped, but the last five tournaments have been pretty good, and I think I figured something out," said Meadow.
"So I am hoping I can carry that form into the final two weeks in Indy and Dallas and come up with a big finish, so I will be ready and set to go for next year and not have to worry so much.
"I know that I am playing well and I know that I haven't had the tournament that I play unreal yet, and I know that I always have two or three of them a year, so I am hoping that I can time it right and have one of those weeks in the next two."
Refreshingly honest, Meadow admitted that she will need to do something special to achieve her 2019 goals, which includes qualifying for the Asia Swing, while finishing inside the top 50 on the points list.
Whichever way the following fortnight takes shape, Meadow has the safety net of conditional status on tour in 2020, but the former amateur star remains hopeful that a big performance over the next two weeks Stateside will see her prolong her season and qualify to compete at the Tour Championship.
The Race to CME Globe – the LPGA's equivalent of the FedEx Cup or the European Tour's Race to Dubai – heads for foreign climes following the Texas tournament, with four prestigious events taking place throughout Asia as the LPGA's top fifty travel to Korea, China, Taiwan and Japan.
The season then finishes with the CME Group Tour Championship in Naples, Florida, where the top 60 on the points list will play for a $5m purse, with the winner securing a record-breaking $1.5m.
"[Qualifying for the Tour Championship] would be huge, that is what I have been striving for," said Meadow. "It's still within reach, it's not gone yet.
"It would take a really good week to get where I wanted to be. I wanted to be in the Asia Swing, I wanted to be in the top 50 and obviously that hasn't panned out.
"But you learn things every day in golf, and I think this year has had multiple challenges to it and I have battled through those again, so now I am hoping I can keep believing in myself and have the confidence to go out and compete."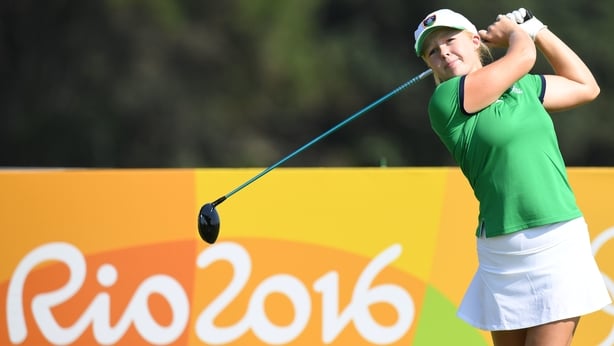 To say Meadow has had a traumatic few years would be a bit of an understatement, as the golfer has fought battles both on and off the course.
Meadow lost her father – her number one fan – who died from pancreatic cancer in 2015, while injury issues hampered her progress significantly in her fledgling years as a professional.
And the 27-year-old admits that she has had to deal with mental issues throughout her first season back on the LPGA Tour, which affected her confidence earlier in the year.
"The LPGA is just a different environment, and the biggest thing is learning that you are good enough to be there, and sometimes it takes a while...
"To be totally honest, one of the reasons I think I struggled this year is because I had a lot of flashbacks from two or three years ago.
"I played so great on the Symetra Tour [in 2018] and then I got out on the LPGA, and then you miss a cut and your brain goes, 'oh here we go again', and that is what I have battled with this year, and trying to get over that.
"So I have to remember it is just me, the golf course and the golf ball, and while there is much better competition, if I play as well as I did last year, you can come in the top ten, the top five or maybe win."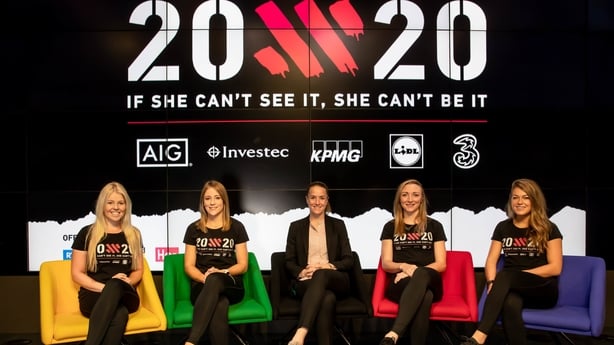 And while her professional journey may not have played out exactly as envisaged as she teed off at the US Open in her maiden professional event in 2014, there are plenty of positives to draw from, most notably a third-place finish at that maiden major, not to mention a stellar amateur career, which included two Curtis Cup winners' medals.
"It really is a mindset, so having the prior disappointment is always going to be in the back of the head. I have to push that back and remember I am still the same person as the Stephanie Meadow who finished third at the US Open, and you draw on those experiences and say 'I do belong here'."
Meadow now resides in Phoenix Arizona, and rarely tees it up on this side of the Atlantic, as she admits her main priority remains on the LPGA Tour.
However, the former University of Alabama star did make it home for the inaugural ISPS Handa World Invitational at Galgorm Castle during the summer, and Meadow managed to hold off the challenge of four-time Solheim Cup star and current world number 29 Charley Hull to secure the title.
"To win on front of a home crowd, I have never felt anything like that, so I can only imagine what Shane [Lowry] felt when he was playing at Portrush.
"I have never thought walking down 18 that I wanted to win for anyone else, as selfish as that sounds, that's golf, you win for yourself.
"Obviously, you want to win for all the people that support me, but walking down 18 in Galgorm, I knew every one of them, so to be able to win at home against Charley, was a real confidence booster."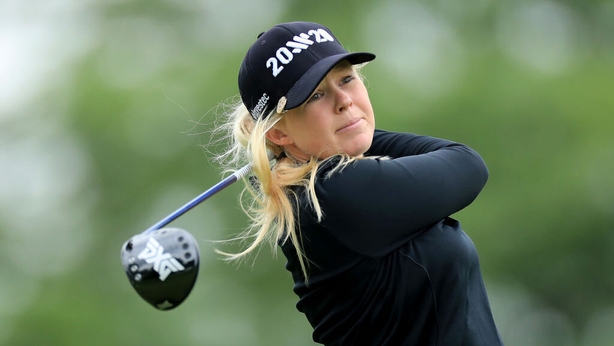 Looking ahead to the perhaps penultimate event of the season in Indianapolis next week, Meadow's first goal will, no doubt, be to make the cut for the weekend, which will add valuable points to her quest to get inside the top 100.
And Meadow's recent form, complemented by her season-long statistics, will surely see her enter the event full of confidence.
Currently 62nd on the driving distance ranking and a very impressive 39th in accuracy off the tee, Meadow's statistics would indicate that she is comfortably inside the top 100 with the golf she is playing, but she admits that she needs it all to come together over four rounds to make a real impact over the next two weeks.
"You need to go low and shoot multiple six or seven-under rounds to have a good week," explains Meadow, highlighting the high level of competition on tour.
"My driving has been one of the things that has been nice to see, it has been pretty consistent all year.
"The frustrating thing is that all my numbers suggest that I am definitely a top 100 player, but the problem this year has been, that I have put two good rounds together and then two bad rounds together, or maybe missed the cut by one shot.
"My stroke average and my ball striking is good and my consistency has been my best ever on the LPGA Tour. It would be different if every one of my stats was 125, 130, so that makes a difference, helps my confidence and allows me to see the light."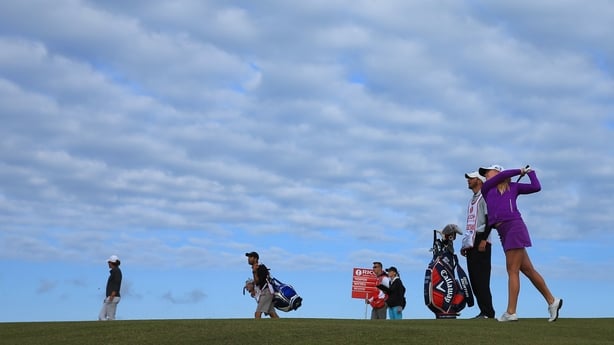 Meadow, of course, left Ireland with her family at the age of 14 to focus on her golf career, enrolling at the Hank Haney golf academy.
And while she remains convinced that it was the right decision for her and her family, Meadow believes that the opportunities for junior girl golfers in Ireland has improved over the past decade.
"I think there is a slight difference now as the ILG and the GUI have the funding and facilities to help junior girls. Fifteen years ago, I still think I did the right thing and my parents did the right thing."
But Meadow still feels that any Irish girl who is looking to improve their game and test themselves throughout their amateur career should really consider a third-level career in America.
"In terms of going to going to University in the States, 100 per cent. It is four more years to learn and to grow as a player and to get a back-up plan in place.
"If you are number one amateur in Ireland, that's great. But put yourself over there and see where you are at and then you will have a better idea, because at college it is hard and then when you get to pro, it is even harder."