For the second time in two days, Shane Lowry had to negotiate the course.
Forty-eight hours previous, the inclement weather at Royal Portrush and weight of expectation couldn't halt the smiling Clara man as he realised a lifelong ambition that at times in his career seemed unattainable.
At a packed Dublin establishment, Lowry was back in front of the cameras, dictaphones and mobiles as he sought to put into words the enormity of what he had achieved.
And this must have been a challenge in itself. He was a man in demand. TV and radio sought one-on-ones. Print and online journalists were plentiful in their numbers, looking for more insights from the Open champion.
And so it began. He teed off at the top of the room and moved patiently between each waiting interviewer. The media handler kept everything moving along as the champion was obliging with his time, stopping for selfies in between recordings, and treating each and every question like it was the first time it had been asked of him.
2019 Open champion @ShaneLowryGolf talks @gregallenRTE on his major success pic.twitter.com/AzZn0ANzJV

— RTÉ Sport (@RTEsport) July 23, 2019
He revealed that the final round had been completed with very little fuel in the body. Two slices of brown bread in the morning, one piece of bacon and an egg. Nothing for lunch. A banana and protein bar on the course.
"I felt sick with nerves all day, even on the course."
One can only assume that eating correctly hasn't been at the top of the priority list since Sunday evening either, and however long Monday's celebrations in the capital went on for, he certainly didn't appear tired or emotional.
In fact the smile – "I'm carrying it everywhere with me" was almost infectious. Like Sunday, it was there from start to finish.
Look at the great golfers that haven't won one and it's like, 'oh my God'
By time he reached the written press he was on the back nine.
The significance of his exploits may take a while to sink in. He used the word surreal twice in the first sentence. On a number of occasions he made eye contact with the Claret Jug, a nod to his earlier statement that he can't stop looking at the names on it.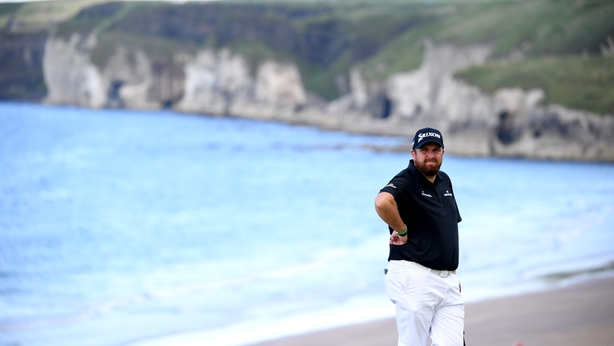 "The one thing I have realised over the last couple of days is the people that haven't won one. Look at the people that have won, and the names on that trophy, but look at the great golfers that haven't won one and it's like, 'oh my God'.
"You always have doubts in your head, are you good enough? Do you have the balls? Literally that's what it is, do you have the balls to go out there and do it?
"That's what it takes. It's a lonely place out there when you are not going well. I've had a couple of bad Sundays in majors, one particularly bad one. I was going out there Sunday and just hoping it wasn't going to happen to me. I was hoping I'd be able to go out there and man up and win the tournament."
He recalled again the feeling on the 18th of trying to drink it all in, Fleetwood's race up and the victory assured after another controlled iron shot.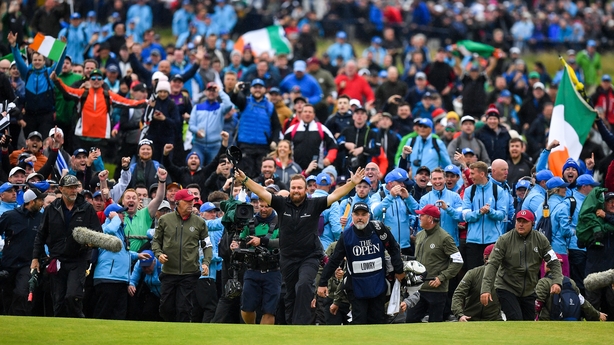 "You'd love to be allowed to stand there forever... you just can't [take it all in], you don't have enough time," and you wonder that maybe it would have been a possibility if his playing partner was JB Holmes.
Refreshingly he is only focused on the now, rather than contemplating what he can achieve in the future. There is plenty of time to ponder on the golf course, but right now he is a man utterly content.
"I'm a very ambitious person, so I want to do bigger things in the game, but there aren't many things that come bigger than Sunday. The way I won, how I did it and where I won is incredible.
"If you were to write down all the tournaments I'm going to play over my career and to pick one you'd want to win, that one might be top of the list. It's definitely in the top two.
"Obviously you'd like to have more, but one is enough for now anyway."