Stephanie Meadow will tee it up in the prestigious LPGA Tour for the 2019 season following a top ten finish in the Symetra Tour's order of merit.
The Jordanstown native completed the season with an 11th-place outing at the Tour Championship, and as a result, finished the season well inside the automatic qualification on the Volvik Race for the Card money list.
Meadow actually went into this week's season-ending event in fourth place on the list, safe in the knowledge that she could not be bumped out of the top ten.
The former Curtis Cup winner ended this week's Daytona Beach tournament with a solid four-under-par 68 to move up to 11th overall with a final total of nine under, ten shots off the winner Ruixin Liu from China, and only two shots off third place.
Meadow, who finished third at the US Open in 2014, in what was her first ever professional event, will now prepare for the elite Tour in women's golf, the LPGA, with the 2019 season starting in January.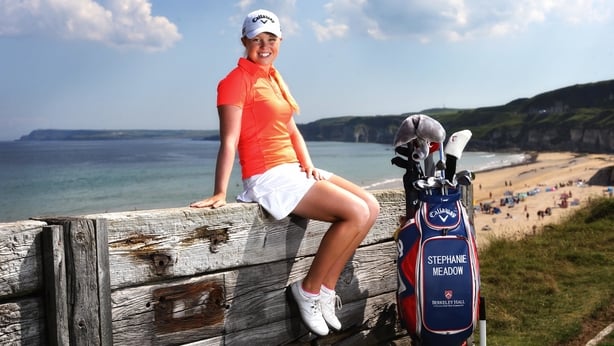 "It's a great feeling. I have been through a lot over the last few year so to finally get it, it feels really good. It is kind of hard to believe, but I am very, very happy," said Meadow, speaking on symetratour.com.
"I think it is kind of funny, especially coming back here to Daytona. I played Q School last year and I can't remember what I shot in the first round, but it was big.
"That was a big blow to me and I had just had an injury. I remember saying 'what am I doing? Am I ever going to get this back?' That was a really hard time for me.
"But here I am now, standing here a year later and the world looks a little different."
Meadow has endured a roller-coaster few years as she lost her LPGA Tour card and struggled with injury, while her personal life also proved traumatic as her father died due to pancreatic cancer in 2015.
"The biggest thing my Dad thought me was perseverance and always to give it 100 per cent. And I think I have done that this year.
"I know he would be really proud, and that is something that is very special to me."
It was my dad's birthday a few weeks ago and I can't think of a better birthday present to give him than earning back my LPGA tour card ❤️❤️ also very glad that my golf course fashion has improved. #family #dad #misshim pic.twitter.com/JNa4Sk0iGo

— Stephanie Meadow (@StephMeadow20) October 1, 2018