Padraig Harrington insists he never lost belief in his ability to win tournaments but has revealed he considered taking a break from the PGA Tour before winning his first US event since 2008 at the Honda Classic on Monday.
Speaking exclusively to RTÉ Sport's Greg Allen, Harrington said: "When I got my couple of chances of winning, I took them. The couple of events in Asia, the Grand Slam [of Golf in 2012], so I felt good if I could get myself in the position but I was struggling to get there.
"I was thinking, because of my success in Asia, that maybe I'd be better off back in a small pond for a while and build the confidence up, which is a big part of the game.
"The US tour is a big tough field every week. It feels like a sprint. It's a big charge, everybody runs out there and if you don't get hot, you're not going to win.
"So there were certainly times when I was considering 'am I doing the right thing here? Should I step away from the tour in the US and go a place where I can build my confidence back up on the golf course?'
"A lot of players have had great success by going to a smaller place and winning and bringing that back to the States so maybe my win in Indonesia did help."
"There were certainly times when I was considering 'am I doing the right thing here?"
Harrington said that he had met his long-time sports psychologist Bob Rotella the week of the Honda Classic but only to reassure himself that he was still taking the correct mindset onto the course.
"Bob and myself, we've been doing the right stuff for a number of years. The idea of the dinner was that he wanted to check that I was doing as I was telling him. That I wasn't telling him one thing and doing something else.
"I've assured him that I'm not, and never have."
"I'm pigeonholed as the guy who's always working and changing his golf swing but since I read Golf Is Not a Game Of Perfect by Bob Rotella in 1997 I have never hit a shot with a technical swing-thought. In tournament play that is.
"He was just confirming that that's where I'm at, that I was doing the right stuff.
"I also worked with Steve Peters in the UK, he's friendly with my coach Pete Cowen, and I got some good stuff done with him.
"Bringing it all to the golf course, I was doing the right stuff but in the end of the day I kind of got a bit backwards and wasn't necessarily believing it."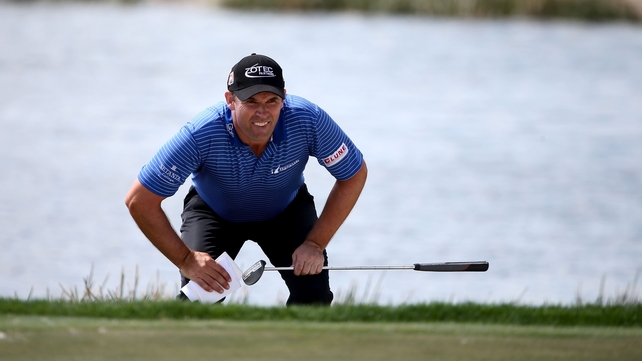 Perhaps the perfect example of Harrington's mental strength is the fact that at Palm Beach he became the first player to have hit two double bogeys in the final round of a US Tour event and won in ten years.
"I won a tournament once where I hit it out of bounds in the last round. I have that mentally stored," he said.
"Most people would think if I hit it out of bounds or have a double-bogey in the last round I can't win. I know I can.
"All that proves to me going forward is I shouldn't be of fearful of danger. We over-estimate how much damage these things can do in a round of golf.
"I recovered there from two double-bogeys. Surely that means next time I'm out there I shouldn't be afraid of having just one."
"I play the game to keep winning but the next win doesn't justify or prove anything about the previous wins."
As for being a tour winner again, the benefits are not confined just to a boost in confidence.
"There are considerations going forward," said Harrington. "I've got to change my schedule. At least five more events, big events, and it has a knock-on effect to Ryder Cup next year because I'm in bigger events, world-ranking-wise for that.
"It changes a lot of things. I've played first or second off or second-last or last off every Thursday or Friday. That's my category on tour.
"I'm either warming up in the dark or finishing in the dark at pretty much every event so now I'm in the middle of the field. I have TV draws, I'm playing with the big names in the event, so there are so many changes that winning means.
"It's one step on the road back. A win is a win and that's what you're judged on. It'll bring a lot to me and a lot of confidence, but I ultimately want to see performance going forward, see a little bit of consistency and challenge a bit more.
"A lot of people come up to me and say I've nothing to prove and I don't have anything to prove. Three majors far exceeded any expectations as it is. It's great. Yes, I have more majors in me but I don't have to win a fourth to prove anything about my first three.
"I play the game to keep winning but the next win doesn't justify or prove anything about the previous wins."
To hear the full interview click here and for more listen to Saturday Sport, from 2.45pm every Saturday on RTÉ Radio 1
Watch Harrington's appearance on Friday's Late Late Show below.