England's John Parry carded a flawless eight-under-par 64 to claim a one-shot lead over compatriot Simon Khan after the opening round of the Aberdeen Asset Management Scottish Open.
Shane Lowry is among a group of seven tied for third after shooting a 66. The Offalyman finished off with a birdie on 18 - his seventh of the day. Phil Mickelson is on the same score as he readies himself for next week's Open at Muirfield.
A shot further back are Damien McGrane and Paul McGinley alongside defending champion Jeev Milkha Singh.
"It was a good start," said Mickelson, who missed the cut in the Greenbrier Classic last week on his first appearance since a record sixth runners-up finish in the US Open last month.
"We had perfect conditions the first 14 or 15 holes and there are opportunities on this course to make birdies and eagles. It's an above-average round but there were opportunities to pick up three or four shots that I let go so I have to get a little sharper.
"There was a good chance to go low but it's great for me to get off to a decent start because historically I have gotten off to poor starts the last couple of years here and I've been fighting just to make the cut and get into reasonable contention.
"Now getting off to good start I'm not having to battle uphill. I'm able to move up the leaderboard if I play well.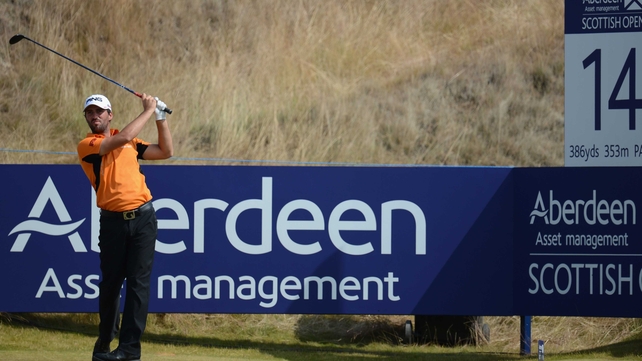 "I think the best way to get ready for next week is to get into contention and to feel that nervousness and those butterflies and try to win. When I won the Masters in 2006 I won the week before in Atlanta by 13 shots and I thought that couldn't have been a better way to get ready.
"The reason I love playing this week before next week is that it gives me an opportunity to hit all the shots I'll play next week, all the bump and run shots, the chips around the greens, putts off the green, and yet it doesn't beat you up and it doesn't punish you the way we'll get punished next week. You can only handle so much of that."
Mickelson three-putted the 10th, his opening hole, and hit such a poor tee shot on the 11th that he exclaimed "What in the world was that?' but a brilliant bunker shot saved his par and an eagle from 15ft on the next soon followed.
The world number eight carded six further birdies and one bogey and added: "The first hole was a good wake-up call for links golf. I didn't give myself an angle to get to that pin and ended up with a bogey. I tried to get a little greedy and it came back to bite me so it taught me to be patient."
Khan, out in the first group out at 7:30am, had set the initial target on seven under after completing a 65 with an eagle on the 18th, but Parry birdied the same hole in the next group to return his score of 64
The 26-year-old from Harrogate, who regained his European Tour card by winning the qualifying school last November, finished 28th in the US Open at Merion after coming through qualifying and said: "The US Open has been the catalyst for playing better.
"It's renowned as the toughest event you can play and if you can compete in that you can compete in any event. It's good for your confidence.
"I also played with some top players like Padraig Harrington and Matt Kuchar and you realise you are not that far away from them."
Khan was up at 5am for his early start, so early in fact that he had to wait for the European Tour physios to arrive, but said: "I started off a bit rusty, it was a bit early in the morning for me, but after six or seven holes I started hitting it really well and gave myself a lot of chances.
"I remember making a lot of birdies and eagles here a couple of years ago but also a lot of disasters."