Tiger Woods has warned Rory McIlroy to think before he speaks after the Northern Irishman pulled out of the Honda Classic midway through his second round yesterday.
McIlroy claimed he was "in a bad place mentally" on a dramatic day in Palm Beach - then later released a statement to say a sore wisdom tooth was the reason for his early exit, although he was seen enjoying a sandwich on the course.
The 2011 US Open champion started the defence of his title on the back nine and played his opening eight holes of the round in seven over par, before he found the water hazard at the 18th - his ninth hole - and immediately quit the tournament.
It was McIlroy's first ever withdrawal from a tournament as a professional, but the road to the Masters looks set to be an uphill battle as it is the third time this year he has failed to reach Saturday playing with his new clubs from sponsors Nike.
The 23-year-old missed the cut in Abu Dhabi and was knocked out of the Accenture Match Play Championship in the first round by Shane Lowry.
"He's just got to be more - just got to think about it a little bit more before you say something or do something," Woods told reporters.
"It can get out of hand, especially when you get into social media and start tweeting and all those different things that can go wrong.
"I've been through it for a long time, but also this is a slightly different era, as well. It's even faster than what it was when I came out.
"Things are instantaneous around the world. We were still in fax machines, things were a little bit slower."
"It can get out of hand, especially when you get into social media" - Tiger Woods
Graeme McDowell said he had noticed a difference in his friend McIlroy.
He told pgatour.com: "His demeanour looks a little different. I felt like he was a little off with his golf swing on the range.
"There were a few moans and groans coming from the bay next to me. It's normally a display. It's normally a clinic.
"It's superlatives coming from the coach and the caddie. That's the sign of a guy who's lacking a little technique in his swing and a little belief in his game."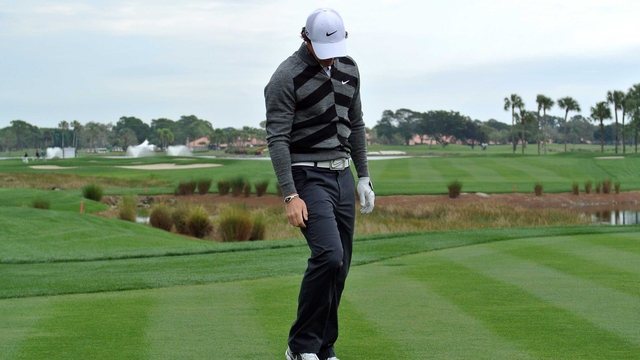 McIlroy has 14 days to submit written evidence to the PGA to support his claim, with a fine or suspension possible if the body is not satisfied with his explanation.
The link between McIlroy's slump in form and his new clubs has been the focus of speculation and although he admitted the change had affected his confidence he had insisted on Thursday following his level-par opening round he was rounding the corner.
After walking off the course, McIlroy initially told reporters he was "in a bad place mentally"', according to ESPN.
But he later released a statement saying: "I sincerely apologise to the Honda Classic and PGA Tour for my sudden withdrawal.
"I have been suffering with a sore wisdom tooth, which is due to come out in the near future. It began bothering me again last night, so I relieved it with (painkiller) Advil.
"It was very painful again this morning (Friday), and I was simply unable to concentrate. It was really bothering me and had begun to affect my playing partners."