Rory McIlroy has been named as the PGA Tour Player of the Year, capping an outstanding season for the world number one.
The 23-year-old won won four titles on the tour during the season, including the PGA Championship, to become the youngest player since Tiger Woods in 1998 to receive the Jack Nicklaus Award as player of the year.
McIlroy gave some of the credit for the award to his girlfriend, Danish tennis star Caroline Wozniacki.
"Seeing how hard she works and how hard she practises and how dedicated she is, it definitely flipped a switch with me that I could be a little more like that," he said.
"She's definitely been a great influence on me.
"I've always felt like I've been dedicated to the game and I've practised hard and I've worked at it.
"But I guess over the past 18 months, especially after winning the US Open, I sort of felt like I went to the next stage of my career."
"She's definitely been a great influence on me" - Rory McIlroy
He added: "I feel like my personality away from the golf course hasn't changed, but definitely when I get to the golf course I'm maybe a little more professional, a little more business-like.
"I guess that's just the way you have to be to be successful and to try and win as many tournaments as you can.
"It's definitely helped and obviously helped me to win more tournaments."
On winning the vote among his fellow players the Northern Irishman added: "It's an honour and I'm delighted.
"It's always nice to get recognition from your peers, the guys that you're trying to beat week-in, week-out.
"It's very rewarding, and I guess it's just a great way to end what has been a great year and my best season so far."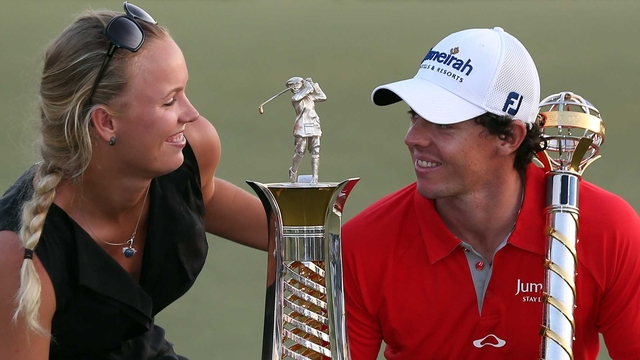 John Huh was named as the rookie of the year after becoming the youngest player in more than a decade to qualify for the Tour Championship.
The winners were decided by a vote of eligible tour players.
"These awards are significant to these players as they are bestowed upon them by their peers, one of the highest compliments a player can receive," PGA TOUR Commissioner Tim Finchem said in a statement.