Tiger Woods remains a firm favourite for the US Open in San Francisco - and as he enters the weekend joint leader at one under par defending champion Rory McIlroy and world number one Luke Donald are nowhere to be seen.
Woods added a 70 to his opening 69 and, with surprise first-round leader Michael Thompson going from three clear to two behind with a 75, that was good enough to put him at the head of things at halfway.
Four years on from the last of his 14 majors, but back to winning ways three times in the last seven months, Woods has two Ryder Cup team-mates for company.
Jim Furyk, now 42 and nine years on from his victory in the event, shot 69 and then 45-year-old David Toms, whose major title came at the 2001 USPGA Championship, matched Woods' round.
By then McIlroy and Donald knew their fate. The 23-year-old - an eight-shot winner on a record 16 under last June - crashed out on 10 over after a 73, while the only player ahead of him in the world rankings was one worse following a 72.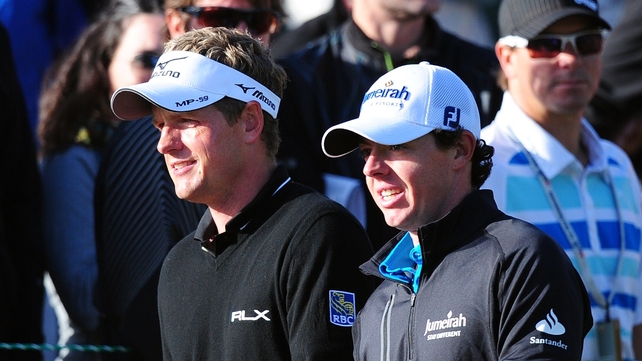 For both the damage had been done on the opening day.
There is still a chance of the trophy going back to Northern Ireland for the third successive year.
Graeme McDowell, champion down the Californian coast at Pebble Beach in 2010, reached two under, but three bogeys in his last four holes left him two behind.
McDowell said: "It's just tough to have fun out there, I've got to be honest with you. It's just a brutal test of golf.
"I'm disappointed to bogey three of the last four, but that's what this golf course can do to you in a heartbeat - and if you had offered me one over par starting on the first tee yesterday I would have probably snapped your arm off for it.
"I'm very happy to be where I am. I made enough birdies to kind of offset some mistakes, which I think's key."
Woods stuttered with three successive bogeys from the fifth, but rolled in a 30-foot putt at the 10th and also birdied the short 13th.
At that point he had hopes of taking firm control, but he had to settle for pars on the 16th and 17th, both par fives, and had to get up and down from sand for his four at the 344-yard last.
"That was not easy," he said. "It got dried out and the wind was swirling a little bit.
"It was really, really tough and I just had to stay as patient as possible.
"I think I'm in a good spot. This tournament, you just keep plodding along.
"You're just playing for a lot of pars. This is not a tournament where we have to make a bunch of birdies.
"It's been a very long time since my swing felt this good - don't forget I went through all of last year hurt and hadn't been able to practise.
"Now it's becoming more consistent, day-in and day-out."
Justin Rose and Padraig Harrington will resume four over, Lee Westwood and Ian Poulter five over.
Five-time runner-up Phil Mickelson, outscored by playing partner Woods both days, birdied the last for seven over and said: "I barely made the cut.
"Until the last putt (a 10-footer) I think the longest I made was four feet.
"Tiger's hitting the ball very well, Jim Furyk's extremely solid and I don't think they're going to come back too much.
"Tiger has great control of his ball-striking and is getting it in play."
The tournament even had an amateur out in front for a while, but 17-year-old American qualifier Beau Hossler felt the pressure and slipped back to three over with a 73.
In the end eight over was the cut-off mark and Simon Dyson, who a month ago did not expect to be playing because of a hip injury, and European Tour rookie Matthew Baldwin, who qualified at Walton Heath, squeezed through to the closing 36 holes.
Scotland's Marc Warren, playing the first major of his life like Baldwin, joined Westwood and Poulter on five over with a late 72.
McIlroy was spared the added angst that would have come if the nine overs had got in.
He was proved right that he needed a 15-footer for eight over on his final green. He missed it and then failed with the tiddler coming back.
Scot Martin Laird's closing bogey cost him, while others to miss by one were Masters champion Bubba Watson and England's Lee Slattery.
They would have stayed in the event if only the rule whereby anybody within 10 shots of the lead had not been scrapped this year.
China's 14-year-old Andy Zhang, the youngest ever player in the championship, bowed out by eight with rounds of 79 and 77, but was far from last.