By Paul O'Neill
Annie Walsh had to play the waiting game when she was first called into the Cork ladies football squad – and she is delighted with the result.
Walsh is a regular in the Cork team these days and played a key part in their All-Ireland and National League successes over the last 13 months.
But the forward was not always so prominent with the Rebel County, having to settle for more of a supporting role for the most of the first five years after she joined the squad in 2008. The patience paid off, though, and she is glad that she stayed around to get her chance to shine.
Walsh said: "Some players might have packed it in if they were not starting too many games but I was prepared to bide my time and try to force my way into the side.
"When I was brought into the squad Cork had just won three All-Irelands in a row so it was going to be difficult for me to get into a very strong team. I saw it as a privilege to be involved with some of the best players the game has ever seen and I tried to learn as much as possible.
"There were opportunities to play from time to time and I went out to do my best and try to show what I could do.
"Even though I have managed to play quite a bit, I take nothing for granted"
"Last season I began more games and luckily I was included in the starting line-up for the All-Ireland final against Monaghan. And playing made the experience of winning all the more enjoyable compared to the previous four All-Irelands, which I picked up as a substitute.
"However, even though I have managed to play quite a bit, I take nothing for granted.
"We have a strong squad with lots of competition for places and you know that if you struggle in games or training then there are others ready to dislodge you. But that is what you need when you are a team challenging for the top honours and it is one of the reasons why Cork have done so well over the last 10 years."
The fight for places in the Cork side has become even more intense this month since the return of Nollaig Cleary to the squad.
Cleary did not feature in this year's league as she considered whether she would look to play on with the county. But she re-joined the squad and appeared as a substitute as Cork began their championship campaign with a win over Clare in the TG4 Munster round-robin last week.
And Walsh is happy to see Cleary back – even if it has put more pressure on her.
"It is great for Cork to have Nollaig on board again at what is a crucial stage of the season," she declared.
"She has been a terrific servant for the county but still has lots to offer. Obviously her return increases the competition for spots in the side but I do not think any of us would have it any other way."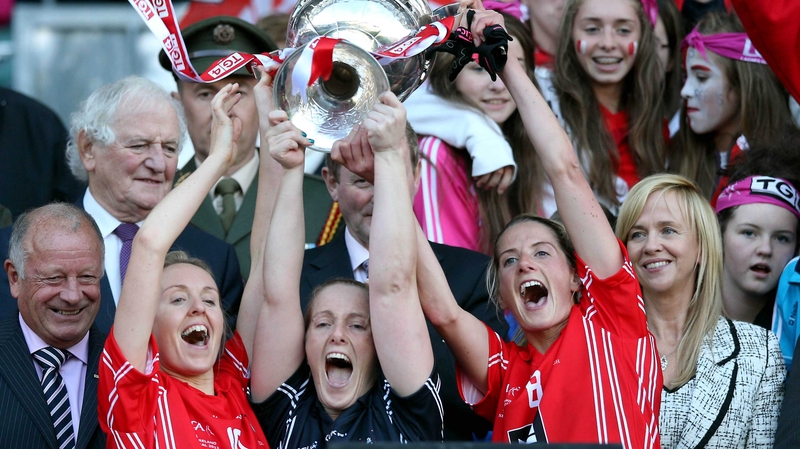 Cleary is set to be involved again as Cork face Kerry in their second provincial outing on Saturday.
The game at Páirc Uí Rinn will be the rivals' first clash in Munster since the decider last term where Kerry denied Cork what would have been a 10th title in a row.
But Walsh says that defeat was a turning point for Cork as they quickly bounced back in the All-Ireland qualifiers.
Walsh recalled: "Losing the Munster final was a huge disappointment as we had been so used to winning it for so long.
"It would have been been great to have made it 10 back-to-back but we could have no complaints.
"Afterwards some followers of the game were wondering if we were slipping, especially as we had also lost to Kerry earlier in Munster.
"It was suggested that we were an old squad but that was not true. While some players have played a lot of football at this level, it was not that we were past it.
"We were determined to show we were not going away and we did it by winning the All-Ireland."
And she continued: "While there was not much between Kerry and ourselves in the last Munster final, this game promises to be just as close.
"Another victory would see us through to the final and that is all we are thinking about for now."
Saturday: Liberty Insurance All-Ireland Camogie Senior Championship first round.
Group 2: Derry v Tipperary (Swatragh, 2.30pm), Offaly v Clare (Birr, 2.30pm). TG4 Munster Ladies Football Senior Championship first round: Cork v Kerry (Páirc Uí Rinn, 2.30pm).

Sunday: TG4 Leinster Ladies Football Senior Championship semi-finals
Dublin v Westmeath (Portmarnock, 1pm), Laois v Meath (Crettyard, 2pm).