By Paul O'Neill
Caroline O'Hanlon says Armagh are not bracing themselves for a tougher test from Cork because they might be wounded from a shock loss in the Munster Ladies Football final.
Reigning TG4 All-Ireland champions Cork aim to get their title defence back on track following defeat by Kerry in the provincial decider last month.
It was only their third defeat in the championship in nine years.
O'Hanlon said: "We are not more wary of Cork simply because they suffered a rare loss in the championship.
"For sure they are going to be really keen not to get beaten again as they know they must win if they are to have any chance of holding onto the All-Ireland."
But while Armagh could be expected to receive a backlash from Cork, midfielder O'Hanlon does not believe their task will be made any harder.
She added: "I do not think the test we will have on our hands will prove to be any tougher than usual as Cork are always difficult opponents."
"They are a superbly strong side and you could say they are under pressure to deliver in every game because of who they are and their record of having won seven of the last eight All-Ireland finals.
"In a way, this will be just another game for them where they will be expected to come out on top and they have generally been able to cope with that pressure in the past."
"I do not think the test we will have on our hands will prove to be any tougher than usual" - Caroline O'Hanlon
The encounter in Birr this Saturday will be the first time the two counties have clashed since the 2006 All-Ireland final when Cork emerged victorious.
But for O'Hanlon – who lined out for Armagh that day – the pain of losing by one point has scarcely eased since.
She said: "I can still remember that game quite clearly and it remains a big disappointment for us the way it turned out.
"We were ahead by four points at half-time but unfortunately some important decisions in the second half went against us and we were edged out. It was a huge let-down to have gone so close to getting our hands on the biggest prize in the game."
Since the heartbreak of that defeat, Armagh have struggled to stay around the top of the game.
Two years ago the Orchard County dropped out of the senior ranks, but they immediately bounced straight back up by winning the All-Ireland Intermediate Championship last October.
O'Hanlon insists a series of changes to the squad made it hard for the team to build on qualifying for that All-Ireland final date with Cork.
She said: "Over the last few years we have lost quite a few experienced players who have retired and it left some significant gaps to try and fill.
"Several of the county's minor players have been promoted to the senior set-up but they have needed time to bed in.
"All of the changes meant that results were not as good as everyone involved would have liked but things have been settling down and we are hopeful of doing well in the future."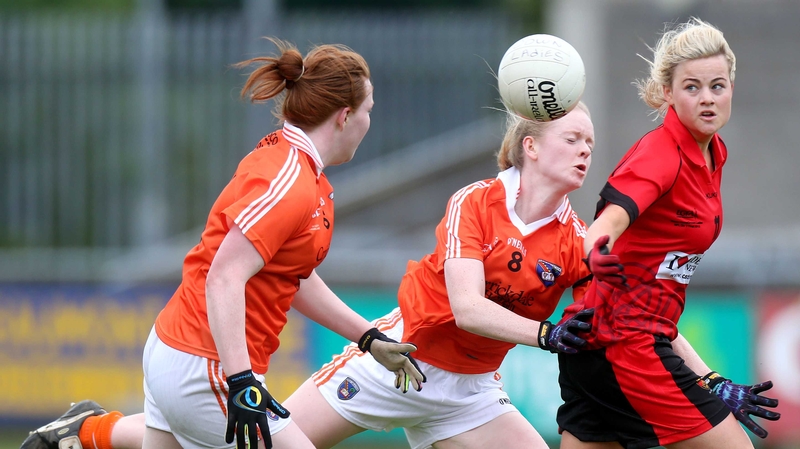 Armagh have been encouraged by an impressive campaign in Division Three of this season's National League which saw them lose just once – to Down in the final.
The difference between the teams at full-time was one point and there was a similar margin in the end as Armagh were beaten in their next game, which was against Tyrone in the last four in Ulster.
The versatile O'Hanlon – a netball international who helped Northern Ireland claim the runners-up spot in last year's European Championship – believes Armagh have learned from their two defeats ahead of the Cork game.
She said: "I know some people think we will struggle against Cork as they played two divisions higher than us in the league this year.
"But we ran Tyrone, who are also a Division One side, very close and might have beaten them if we had made better use of the large amount of possession we enjoyed over the 60 minutes.
"Against Down, we were well on top but unfortunately lost concentration for a while and it cost us dearly.
"We have looked at those two losses closely and I think we understand we cannot afford to produce similar performances if we want to win big games."
Saturday:
TG4 All-Ireland Ladies Football Senior Championship qualifiers second round:
Armagh v Cork (Birr, 6.00), Clare v Tyrone (Longford, 3.45), Laois v Meath (Birr, 4.15), Mayo v Westmeath (Longford, 2.00).