Mount Leinster Rangers 0-11 Oulart-The Ballagh 0-08
Updated: Sunday, 01 Dec 2013 20:22

| Comments
Denis Murphy scored eight points as Mount Leinster Rangers became the first Carlow club to be crowned AIB Leinster Senior Club Hurling champions, following a hard-earned 0-11 to 0-08 win over Oulart-The Ballagh at Nowlan Park.
Oulart were held to three second-half points as the first time finalists dug deep to register victory.
Scores from Des Mythen and Eoin Moore handed Oulart a 0-05 to 0-03 interval lead, and although Oulart took a three-point lead on the restart, MLR bounced back.
Murphy led the charge, with Paul Coady, Diarmuid and Derek Byrne also on target to ensure a three-point win.
For the fourth year in succession, Oulart the Ballagh went in search of a provincial crown, but found it tough once again, as Mount Leinster Rangers, offered them their toughest game of this year's campaign.
Little separated the sides on the scoreboard in the opening 21 minutes, with the teams level on three occasions during this spell.
Oulart started strongly and registered the first wide of this game inside the opening 15 seconds, but Conor O'Leary opened their account a minute later.
Indeed, the 11-time Wexford champions had the ball in the back of the Mount Leinster Rangers net in the third minute, after a long delivery from Lar Prendergast into Garrett Sinnott.
But Sinnott was penalised following a throw-ball and Rangers blushes were saved.
Oulart weren't without their chances, but they failed to add to their tally for a further seven minutes.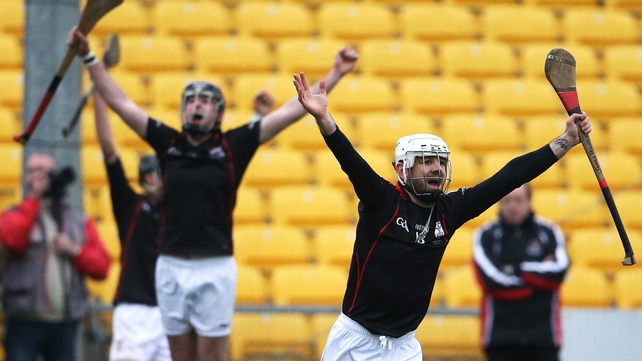 Mount Leinster Rangers goalkeeper Frank Foley coped well under the high dipping balls which came on top of him throughout the first half, while Oulart were also guilty of eight wides inside the opening half an hour.
Mount Leinster Rangers opened their account in the seventh minute, with Denis Murphy slotting over the first of his three first-half points from frees.
Rory Jacob and Murphy traded points over a six-minute spell to tie the game at 0-02 apiece in the 16th minute, but Oulart's wides tally stood at five at that stage.
Mount Leinster Rangers threatened to take the lead as they hit a purple patch, but struggled in front of the posts, with Murphy and Edward Byrne registering a wide each in a 90-second spell.
David Redmond became Oulart's third scorer as Martin Storey's charges regained the lead, but Murphy quickly responded with a well-struck free from 65 metres out to level the tie at 0-03 apiece with 10 minutes to go before the interval.
Mount Leinster Rangers were showing firm dominance at midfield at this stage, but struggled to convert this to scores.
Points from Mythen and Eoin Moore handed Oulart a two-point lead after 26 minutes.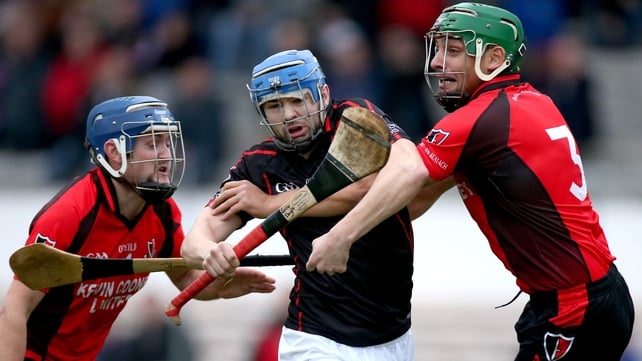 Both teams had chances before the break with Eoin Doyle cutting through for a goal chance in the 28th minute, but Doyle blazed wide of the posts.
Oulart also had a chance to add to their tally, but Redmond registered his sides eighth wide as Oulart took a 0-05 to 0-03 lead at the break.
Darren Nolan became Oulart's sixth scorer as he placed them three points ahead inside 90 seconds of the restart.
But amazingly Oulart weren't to score for a further 20 minutes, as Mount Leinster Rangers dug deep to deliver silverware.
The South Carlow outfit registered five unanswered points during this period, including four in a row from Murphy to take a two-point lead with 14 minutes remaining.
Murphy's seventh point handed Mount Leinster Rangers the lead for the first time in the 41st minute, and the former All-Ireland Club Intermediate champions weren't to trail for the remainder of the hour.
Oulart weren't without their chances, but struggled for scores with Michael Jacob, Mythen and substitute Nicky Kirwan all registering wides.
Rory Jacob broke the deadlock to cut the gap to the minimum with a pointed free with nine minutes of normal time remaining, but Mount Leinster Rangers finished strongest.
A well-struck Diarmuid Byrne sideline cut, coupled with points from play from Murphy and Derek Byrne sent Mount Leinster Rangers on their way to a historic success.
Mount Leinster Rangers: F Foley; M Doyle, G Doyle, G Kelly; Diarmuid Byrne (0-01, 1 sideline), R Coady, E Coady; Derek Byrne (0-01), P Nolan; P Coady (0-01), E Byrne, D Phelan; D Murphy (0-08, 6f), J Coady, E Doyle. Subs: HP O'Byrne for J Coady (45 mins); J Hickey for E Doyle (52 mins); W Hickey for P Coady (60 mins).
Oulart-The Ballagh: B O'Connor; E Moore (0-01, 1f), K Rossiter, B Kehoe; C Goff, P Roche, L Prendergast; M Jacob, S Murphy; D Nolan (0-01), D Mythen (0-02), D Redmond (0-01); G Sinnott, R Jacob (0-02, 1f), C O'Leary (0-01). Subs: D Stamp for Goff (Blood Sub 5-7 mins); N Kirwin for O'Leary (45 mins); D Stamp for Murphy (57 mins).
Referee: John Keenan (Wicklow)