Clare boss Davy Fitzgerald has hit back at condemnation of his leadership earlier in the season in the wake of the Banner's All-Ireland Hurling title win.
Fitzgerald completed the achievement of winning the ultimate prize in the game as both a player and manager as he led a young Clare side to victory over Cork in yesterday's replay with a 5-16 to 3-16 victory.
The Clare manager received criticism in some quarters this year, including after the loss to Jimmy Barry-Murphy's team in the Munster Hurling Championship semi-finals as well as moments during the first Championship campaign of his management in 2012.
He said he continually tried to focus on those that kept faith in his guidance.
Fitzgerald said: "It did hurt that people didn't trust me.
"My one objective was for Clare to win. I wasn't trying to do anything else, only to try and make sure Clare would win. It does hurt when people would cut your throat and knife you in the back. It isn't nice.
"They should know my form and my form is I want Clare to win. I won't always get it right and I would be the first to admit that. I don't know it all. But I try my best for Clare to win and that's all can I ever do. In saying that, while some people would cut you, there is an awful lot of good people.
"There is an awful lot of good people in Clare and I kept saying that to myself. They understand what you are trying to do and they are the important people. You just have to be positive and think of the good people. The main thing was the lads' unwavering support even when we lost.
"They never doubted what we were doing. That is why we are successful. It is because of those lads believing in what you do."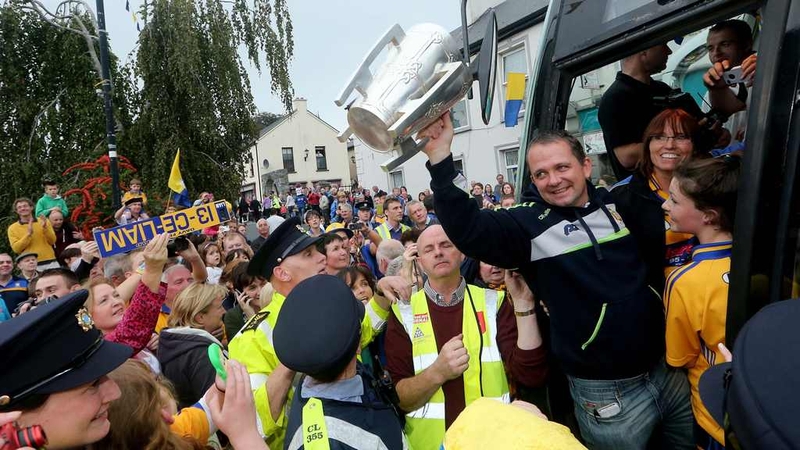 Reflecting on Saturday's titanic game that produced scenes of overwhelming joy for the county at the full-time whistle, Fitzgerald commented that he felt lucky to be on sidelines managing the players.
He added: "I'm a lucky buachaill, it is nothing to do with me as far as I'm concerned. I was only a small cog in the wheel.
"The credit has to go to the players. It is all about the players. That is my opinion. I think they are a fantastic bunch of guys.
"It hasn't sunk in as much as I'd like it to but it's fantastic. We're All-Ireland champions for 2013 so what more can you ask for?"
Shane O'Donnell was the hero of the day for Clare, scoring 3-03 as a late entry to the team in a 19-minute goal spree from throw-in.
Fitzgerald lauded the 19-year-old and said an injury problem for Darach Honan was fundamental in his selection.
"Shane is a young lad and we knew a good bit out he would probably be playing. We just decided to leave it as long as we could to give him every chance to play well. He was flying in training and what everyone didn't realise was that Darach Honan had an injury for the last two months.
"He had a 16-centimetre tear in his quad muscle. He hadn't been training as much as we wanted but we knew we might get 15 or 20 minutes out of him. He came in at the end and scored a great goal.
"Fair play to Shane, at the start he was unreal but I think the hats go off to every one of the 37 players. They have been magnificent all year."
John Mullane, former Waterford hurler and analyst for RTÉ Sport, said this afternoon that Fitzgerald had to doctor his tactics earlier in the year to come out on top.
The five-time All Star told Sunday Sport on RTÉ Radio: "I would have been one of the very ones (asking questions) after the Cork game. The first day they played against Waterford, they played out of this world. They won by eight points, if it went on for another 10 minutes they could have won by 15 points.
"People were giving out within his own county of this short hand-passing game. After the Cork game, people like myself would have questioned whether it was the way forward for Clare.
"People within their own county would have questioned it and possibly the players too.
"To be fair to Davy, he reverted back to the old style of hitting the ball into space and it has rewarded them with an All-Ireland. The environment that we are in, it is cut-throat."
Fellow RTÉ analyst Tom Dempsey added that Fitzgerald's comments were unfair.
"I think Clare work it very well. It is a siege mentality and I say it in the best possible sense.
"It is us against them. It works very well and I have often seen it in panels. If you're going to go in a job like managing a senior inter-county team, if you're going to manage Manchester United talk to David Moyes, you're going to get little hits.
"You have to accept that. I don't think Davy needs to say that."