2013: A hurling summer to remember
Updated: Wednesday, 04 Sep 2013 20:41

| Comments
By James McMahon
It is not yet over, but already this Championship has been one for the ages. Ahead of the final, we pick out some of the games and crucial moments that made the summer of 2013.
Disagree? Let us know your favourite moments in the comment section below.
The summer blockbuster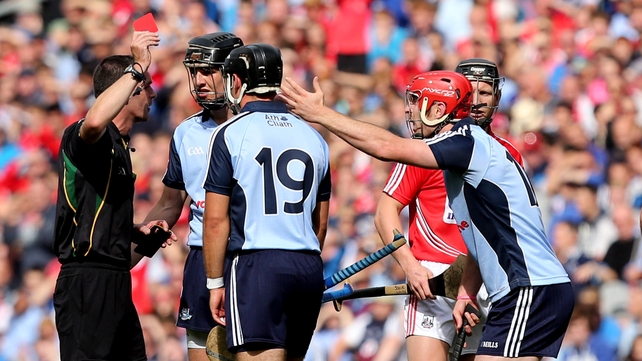 Hurling people and other followers of sport in this island of ours could sometimes be accused of over eulogising the competitive feats involving the camán and sliotar.
Yet their arguments found even greater expression when Dublin and Cork lined up in this year's All-Ireland semi-final. It was absolute belter of a game that yielded 45 scores.
In the Munster final, the Rebels amassed a total of 0-15 in their defeat to Limerick. However, the same total was reached by JBM's side at half-time against the Dubs. The scoreboard operator was busy. Hawk-Eye even made an appearance and got the call right.
The sending off of Dublin's Ryan O'Dwyer after 53 minutes for a second yellow card was questionable. Much has been said and written about it and we'll never know what direction the game would have taken if 15 v 15 remained on the pitch till the end.
This was a Championship where the sight of the red card caused much debate. However, mature reflection would decree that Limerick's graph was on the rise even before Pat Horgan got his marching orders in the Munster final.
Kilkenny lost Henry Shefflin for two yellows a fortnight later, but not even the presence of the 'King' for 70 minutes against Cork could have saved the Cats who already looked vulnerable in previous battles.
Dublin were beginning to impose their will on proceedings prior to O'Dwyer's eviction, but now had to adjust. The Munstermen made excellent use of the extra man. Conor O'Sullivan played the role with aplomb.
A rarity on the hurling fields in recent times saw Pat Horgan nip in for an opportunist Cork goal late on and with the forwards combining to good effect, Anthony Daly's brave troops could find no answer.
Cue the celebration on Leeside.
62,092 witnessed the spectacle. Many more will say they were there.
Dublin scale new heights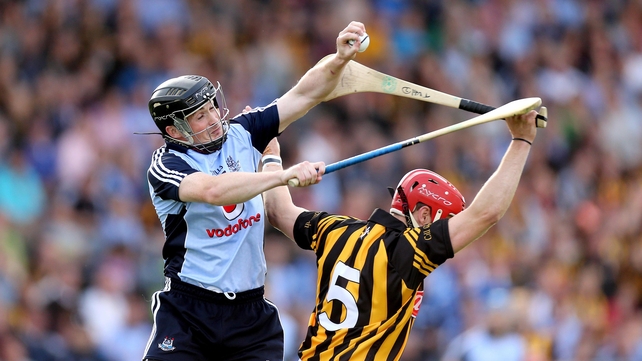 Cast your mind back to 21 April. The first Allianz League semi-final saw Tipperary easily account for Dublin. Fast forward to 8 June and Anthony Daly's side were somewhat lucky to force a draw against Wexford in the Leinster quarter-final.
RTÉ pundit Eddie Brennan felt the Dubs on the night were too inhibited in their play. Ger Loughnane was even more pointed and described their Wexford Park showing as "pure constipated hurling". It didn't take long for social media to pick up on Ger's mutterings.
"Pure constipated hurling" - Ger Loughnane on 8 June
What the Dublin management made of it I don't know, but home advantage was made to count, as Wexford exited the Leinster campaign in the replay.
Next up were the Cats. We expected Daly's boys to be spirited, but that Black and Amber class would come to the fore. Portlaoise was the setting. No live coverage on tv, but the updates on the wireless were regular. It was level at 0-08 apiece at the break, but crucially Kilkenny would have wind advantage for the second period.
However, despite conceding a goal early on, Dublin's resistance did not wane and a Joey Boland free put them a point up with seconds left. The Cats, however, had one of those lives to use up. They profited from hesitancy in the Dublin defence and TJ Reid swept the ball between the posts for a levelling score.
And so to the replay. Kilkenny win replays! Anthony Daly remained defiant – but we all kept saying "Kilkenny win replays."
The unpredictability of sport can often produce magical moments. While events on 29 June were not quite magical – we did see a Dublin team that was never headed against the aristocrats of hurling. Inspired by a dominant display from Liam Rushe and a Danny Sutcliffe goal they prevailed on a 1-16 to 0-16 scoreline.
The team that had a wretched 2012 and looked vulnerable ahead of the summer campaign had rediscovered the drive that brought them a league title and many admirers two years ago.
Galway were swotted aside in the Leinster final for a first title since 1961 and Dublin's involvement in the epic against Cork was proof that Daly's team had moved on to a higher level.
Was there a laxative taken in response to a former Clare hurler and manager?
Limerick, You're a Lady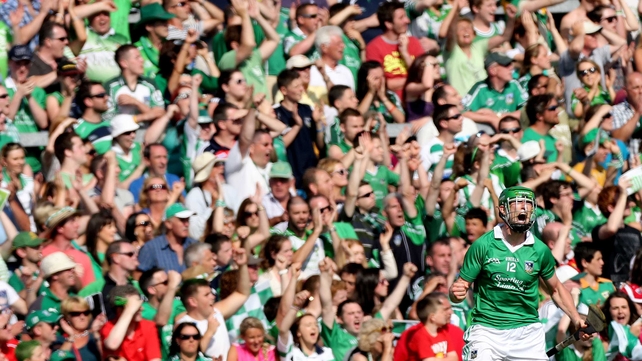 A baking hot day saw Limerick claim their first Munster title since 1996. Their 0-24 to 0-15 victory over Cork on their home patch was fully merited. A powerful second-half surge that saw their bench used to good effect with Shane Dowling, Kevin Downes and Niall Moran all making scoring contributions, secured the spoils for the Shannonsiders.
Those, who like to pour cold water on the achievements of others, will point to the fact that it wasn't a classic provincial decider and that Pat Horgan's sending off had a bearing on the game. Yes, the latter was a huge blow to Cork, coming as it did just on half-time.
The Rebels were on top in that opening period, but failed to make it count on the scoreboard. Their opponents grew in confidence in the second 35 minutes and had the fresher legs to bring on.
More importantly those introduced coped well with the searing heat.
The moment that stands out from the 2013 Munster final were the joyous hordes of Limerick supporters rushing out onto the Gaelic Park sod and acclaiming their heroes.
Cue a rendition of 'Limerick You're a Lady'. Written by singer-songwriter Denis Allen – a native of Shannonside – the song reached No 1 in the Irish charts in 1979
Laois nearly topple Galway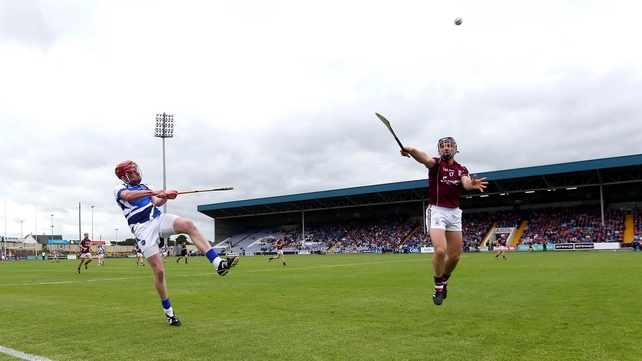 It was meant to be a stroll in the park for the side that reached an All-Ireland final the previous September.
Galway, fancied by many to have another long summer, found themselves on the 'soft' side of the draw in Leinster. Laois won the prize to face them in the semi-final. A county that had shipped 16 goals in recent championship encounters against Cork and Limerick were expected by nearly all observers to struggle again.
Having been entrusted with the task of finding a new Laois manager last autumn, Seamus 'Cheddar' Plunkett wound up taking the job. His first task, that of safely negotiating a passage back to the second tier of the hurling league, was achieved in early spring. On the horizon was a cut at the Tribesemen.
Plunkett had his side well prepared for the clash in O'Moore Park on 16 June. It was Bloomsday. If James Joyce were present, surely he would have found some words to describe Laois' containment of Galway and their overall drive and purpose in the first half. The held a one-point lead at the break and not surprisingly the home fans gave them a rapturous applause as they headed for the tunnel.
The midlanders continued to hurl with a high level of intensity in the second period, with 'Cheddar' now confident enough to adopt a more offensive approach.
On came the towering Neil Foyle and it was he who laid off a pass to Tommy Fitzgerald that resulted in a Laois goal after 57 minutes. That put them 1-10 to 0-12 ahead. Any bookie would have given you good odds that Galway would be trailing at that point of the match.
To their credit, the westerners, through goals from Davy Glennon and Aonghus Callanan, managed to carve out a victory. Laois, not surprisingly, tired as the game reached a conclusion. Yet, they had made a mark on the Championship summer, in spite of a heavy defeat a few weeks later against Clare in the qualifiers.
Post-match interviews with managers can often be bland and frequently state the obvious. Cheddar Plunkett's few minutes to RTÉ Sport underneath the O'Moore Park Stand were refreshing. He scoffed at the notion that his side should be operating in the Christy Ring Cup, while also calling for help from the powers that be to enable them dine more regularly at hurling's top table.
How the ancient game would benefit if more counties felt they had a chance to pocket Liam MacCarthy,
We'll wait with interest to see how Laois fare on all fronts in 2014.
What now for Kilkenny?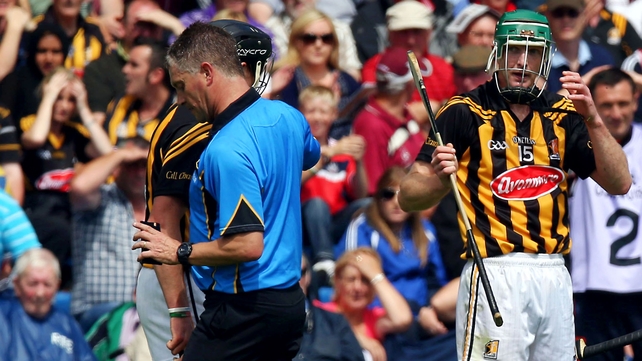 The hurlers of Kilkenny did not play a Championship match in Croke Park in 2013. The month of August did not bear witness to the famed black and stripes in competitive action for the first time since 1996.
Yet they did play a part in the quest for honours this term. They retained their league title last May. Their battles with Dublin in Leinster were compelling. Tipperary's visit to Nowlan Park provided a cracking atmosphere on a balmy evening.
Waterford tested them the next day out in Thurles. Matthew Ruth thought he had won it in normal time, but referee James Owens had blown the full-time whistle just as he was about to pull the trigger.
Cue extra-time, where Kilkenny's response to a Ray Barry goal that again had levelled up the tie, was most impressive as Colin Fennelly, Ruth and Aidan Fogarty drilled home points to land the spoils.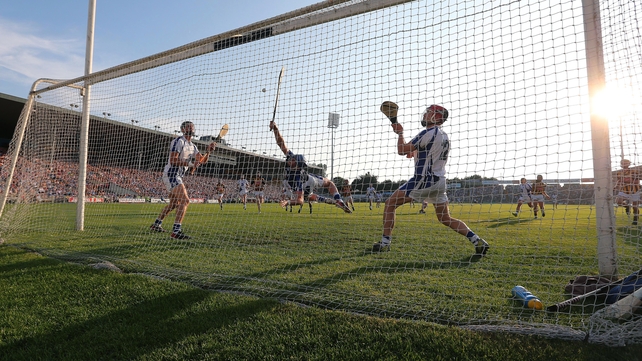 Thoughts will immediately turn to next year. The smart money is on Brian Cody patrolling the sidelines come February. If he manages to avoid serious injury with his club, Henry Shefflin will give it another go. It would be foolish to dismiss the Cats.
Regaining provincial supremacy next July will be an obvious target. For now, their period of sustained dominance looks to be over.
Live television coverage of the All-Ireland Hurling Final between Clare and Cork from 14:15 on Sunday 8 September on RTÉ Two and RTÉ.ie (Ireland only). Live radio coverage of all the day's action from 14:00 on RTÉ Radio 1, RTÉ RnaG and RTÉ.ie (Worldwide).