Cork 1-24 Dublin 1-19
Updated: Monday, 12 Aug 2013 13:01

| Comments
A 66th minute goal from Patrick Horgan helped Cork to a first All-Ireland SHC final since 2006, following a hard-earned 1-24 to 1-19 win over Dublin at Croke Park this afternoon.
This game had it all, with the sides level on 15 times over the 70 minutes, with 18 different scorers, as both sides produced an epic encounter.
David Treacy bagged the only goal of the opening half in the 30th minute, but Cork led by 0-15 to 1-11 at the interval thanks to a Daniel Kearney point.
The sides were level on four times in the third quarter, and again with 11 minutes left on the clock, but Horgan's late goal and the sending off of Ryan O'Dwyer provided the platform Cork required for victory.
For the third game in succession Dublin manager Anthony Daly was able to name the same starting 15, while his Cork counterpart Jimmy Barry Murphy stuck with the same 15 he named to start midweek.
The game had it all, drama from start to finish, a tremendous atmosphere to boot, with the attendance of 62,092 left on the edge of their seats throughout.
Dublin, contesting their second All-Ireland semi-final in the space of three years were bidding to make their first final since 1961, with Cork aiming to bridge a far-shorter gap, eight years since they last contested a decider.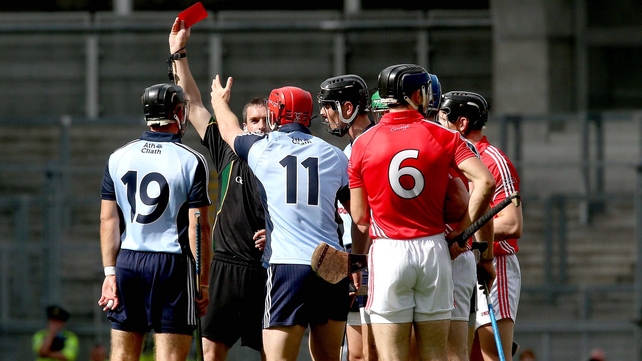 Amhran na bhFiann had barely finished, and referee James Owens got the game off to start a minute before time, with Danny Sutcliffe reacting quickest as the St Jude's man put Dublin on the scoresheet after just 14 seconds.
Three minutes later Cork had firmly made amends for that early lapse as the Rebels raced into a 0-03 to 0-01 lead with Horgan, O'Farrell and Conor Lehane on target.
By the tenth minute the score stood at 0-04 apiece and already eight different players had got on the score-sheet, four for each side.
Dublin with a trio of scores, put them a point in front as Paul Ryan, David O'Callaghan and Conal Keaney helped them to a 0-04 to 0-03 lead after nine minutes.
O'Callaghan's score a particularly impressive effort, with the St Mark's clubman losing his balance, but still managing to fire the ball over the crossbar at the Hill 16 end.
A second McLoughlin point put Cork 0-05 to 0-04 ahead after 11 and a half minutes, but this lead wasn't held for long.
The sides were level for the fourth time following Ryan's second point for Dublin, and although Cork took the lead following a third McLoughlin score, again Dublin equalised.
Points from Treacy and Sutcliffe pushed Dublin one-point clear as the first quarter drew to a close, but with this game on a knife-edge, it was tit-for-tat for the bulk of the remainder of this opening half.
Liam Rushe, Niall Corcoran and Paul Schutte were excelling in defence for Dublin, while at the opposite end, Anthony Nash was in superb form between the posts.
Cork took an 0-11 to 0-09 lead after 28 minutes following a third Horgan point, but Nash was caught for the only time in this game, after Cuala man Treacy ploughed through for Dublin's only goal.
Ryan provided the pass, as Treacy kicked the ball to the net in the 30th minute, with the Hill coming alive as Dublin moved 1-09 to 0-11 in front.
Cork rallied but Dublin were on the front foot for most of the remainder of the half.
However, Anthony Daly's side were guilty of six first half wides, with scores from Patrick Cronin and Daniel Kearney helping Cork to a 0-15 to 1-11 interval lead.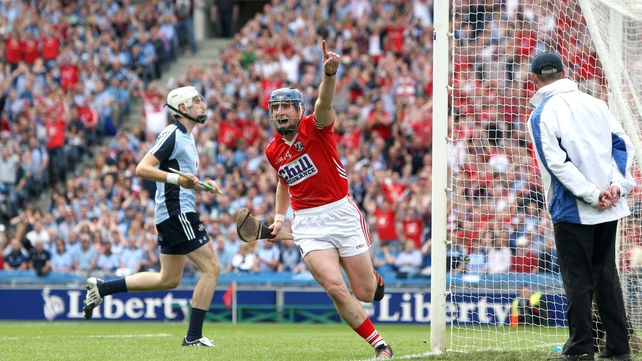 O'Dwyer fired an equaliser 72 seconds after the restart, with little to separate the sides in the opening stages of the second half.
Dublin moved 1-15 to 0-16 ahead by the 45th minute with substitute Shane Durkin, Sutcliffe and Paul Ryan on target.
However, O'Dwyer had a goal miss during this spell, with the centre-half-forward denied after an excellent block by Nash.
Nash went from score-stopper to score-getter in the second half, contributing three vital points from placed balls.
One of those coming with 19 minutes left on the clock, to tie the game for the thirteenth time on a 0-19 to 1-16 score-line.
Cork were more composed in the final quarter, as Dublin began to lose their focus in front of the posts following the dismissal of O'Dwyer for two yellow cards.
O'Dwyer clattered into McLoughlin to receive his second yellow, which seemed a fair call from referee Owens. But the first yellow for a shoulder on O'Farrell was questionable, and has been the source of much debate.
Paul Ryan was guilty for four bad misses from frees in the closing 35 minutes, with Jamie Coughlan, Horgan and Nash bagging vital scores for the beaten Munster finalists.
Ryan did manage to cut the gap to a point with six and a half minutes remaining, following his sixth point, but Horgan's goal came two minutes later.
Despite plenty of chances for Dublin late on, Cork held out for victory with a point from substitute Stephen Moylan sealing victory deep into injury-time.
Scorers for Cork: P Horgan (5f) 1-07; L McLoughlin, A Nash (3f), C Lehane 0-03 each; S Harnedy, L O'Farrell 0-02 each; D Kearney, J Coughlan, P Cronin, S Moylan 0-01 each.
Scorers for Dublin: P Ryan (6f) 0-06; D Sutcliffe 0-04; D Treacy 1-01; C Keaney, D O'Callaghan 0-02 each; S Durkin, J McCaffrey, J Boland, R O'Dwyer 0-01 each.
Cork: A Nash; S McDonnell, S O'Neill, C O'Sullivan; T Kenny, C Joyce, W Egan; L McLoughlin, D Kearney; S Harnedy, J Coughlan, P Cronin; L O'Farrell, P Horgan, C Lehane.
Subs: S White for Kenny (45); R O'Shea for McLoughlin (Blood 51-51); C Naughton for Coughlan (64); S Moylan for Lehane (68).
Dublin: G Maguire; N Corcoran, P Kelly, P Schutte; S Hiney, L Rushe, M Carton; J McCaffrey, J Boland; C Keaney, R O'Dwyer, D Sutcliffe; P Ryan, D O'Callaghan, D Treacy.
Subs: S Durkin for Hiney (22); S Lambert for Carton (49); M Schutte for Treacy (51); E Dillon for O'Callaghan (61); R Trainor for P Schutte (72).