James Ryan credits the fans support for Limerick's long-awaited Munster Hurling title
Updated: Tuesday, 16 Jul 2013 17:47

| Comments
Limerick forward James Ryan has highlighted the support of the fans as the Treaty county beat Cork on Sunday to win their first Munster Hurling Title since 1996.
The man of the match told RTÉ Sport: "It was all new to us, five weeks of the fans getting hyper and the adrenaline pumping and things like that.
"So it was hard to get use to but it was just getting to the match, getting to the day, today finally came and, look, it worked out.
"I'd say it was the best feeling I ever had in my life, the fans were nearly in on top of the ball."
Despite winning the man of the match award, Ryan said it was a team effort.
"Everyone, one to 26, there's an honesty in the team and I suppose last day against Tipp even I got a job to do and it took me right out of the game and that's the honesty of the team
"It's not about man of the match, it's about one to 26 and everyone is in it together."
Cork's Patrick Horgan was sent off just before half time and Ryan believes it was a turning point in the game.
"I thought we didn't play great in the first half but the second half we really kicked on.
"The extra man really helped there I know psychologically from being out there myself when they'd get a ball or win a great ball in the full-back line they would hit it up the field and our spare man was just getting it
"[It] absolutely killed them so it was definitely a big help without a doubt," he said.
"We're hoping to be competitive and get into these finals more often and inspire the next generation" - James Ryan
The Garryspillane clubman hopes Limerick's win can lead to greater things in the years to come.
"Look, we're a county that's starved of success, we haven't won a Munster since '96 so I suppose this game and we said it already we want to break down the barriers," he said.
"We're hoping to be competitive and get into these finals more often and inspire the next generation and that's what we've hopefully done today and that's why the fans are so happy."
Speaking about their upcoming All-Ireland semi-final, he said "It's all about getting the minds right, trying to deal with the crowd, all things like that, it's all unknown territory to us but territory I'm happy to be going into."
Full forward Declan Hannon also credited the Treaty fans. "They've been behind us all year, they've travelled to Thurles for the Division 1B final and into the Gaelic grounds playing all the divisional games" he said.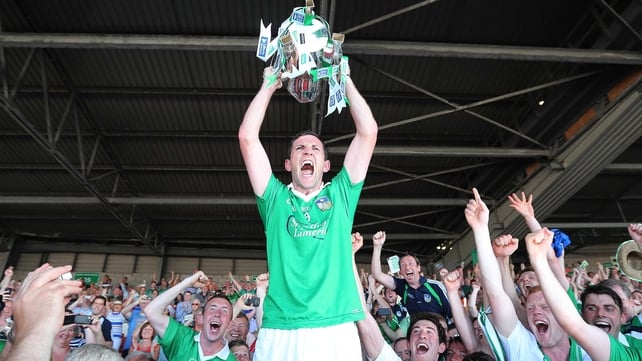 "Again today, they were massive; the roar out there was unbelievable."
He said the players showed great composure when Cork began to fight back.
"We kind of drove on there at the start of the second half got a few points, we kept the score board ticking and [we're] just delighted. Composure was a big thing and just sheer determination. I think Cork got it back to two but we just drove on and kept cool."
He said manager John Allen and the backroom team have been "absolutely tremendous."
"I couldn't talk more highly about him. He might have come in for a bit of criticism after the league final not getting out of the Division 1B but clearly Dublin are a good side" he said.
He said the competition this year is wide open and that they would be "quietly confident".