Cork v Clare, Division 1A relegation play-off, Sunday 3pm
By James McMahon
The Gaelic Grounds is the venue for a game that Cork and Clare wanted to avoid, with one of them destined for life outside the top tier for 2014.
Much has been said about the structure of the leagues this spring in that two out of the six teams in the top tier will square off over 70 minutes to decide who will make the dreaded drop.
Three of the sextet have qualified for the semi-finals, while the remaining team, Waterford, can now focus on theChampionship after preserving their top flight status by finishing fourth.
Some have called for a 10-team Division 1, bringing in counties like Limerick, Wexford and Offaly into equation.
They add that scrapping the pre-season tournaments and starting the league earlier would facilitate this.
Speaking to RTÉ Sport last weekend, Limerick manager John Allen feels the current make-up (now in its third year) of Division 1A is too elitist, and does nothing to promote the game of hurling.
Obviously, Allen was still smarting after his side's defeat to Dublin, and while many will agree with the thrust of his argument, he also alluded to the fact that the top tier as it stands leaves no room for error.
What's wrong with that? As politicians are often inclined to say – "we are where we are" and Division 1A was as competitive this year as you could get.
Ahead of the final day, every team could have made the semis, while equally the relegation shoot-out lay in store for all.
Jimmy Barry-Murphy and Davy Fitzgerald must now galvanize their troops for Sunday's encounter.
Both managers can point to some positives this spring.
Cork started off brilliantly against Tipperary, scoring freely to run out easy winners. The last day against Kilkenny in Nowlan Park saw them create enough chances in the first half to lay the foundations for victory.
And while the Cats did push on at the business end, Cork kept plugging away.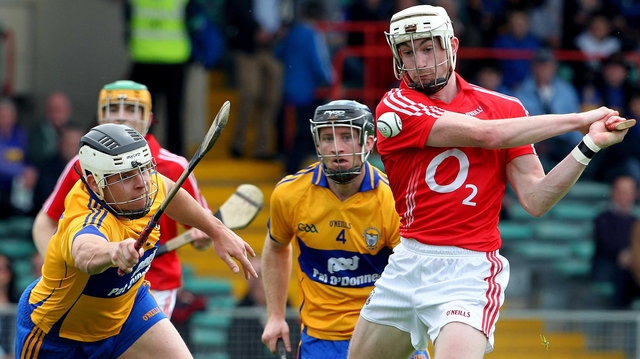 Clare were certainly competitive in five of their six games so far and gave their best performance in seeing off this weekend's opponents on Leeside on 16 March.
A strong second half showing, with Colin Ryan and Tony Kelly leading the way, characterised that victory.
The Banner also saw off Galway, while they could count themselves unlucky to suffer one-point defeats at the hands of Waterford and Kilkenny.
However, of concern for Davy Fitz's side was the manner in which they went down to Tipperary on Easter Sunday.
The Premier were superior in every department at Semple Stadium, as Clare failed to get any foothold in midfield and the half-back line.
"Of concern for Davy Fitz's side was the manner in which they went down to Tipperary on Easter Sunday"
Easy goals were conceded and the losers far too often seemed intent to question the referee's decision. Frustration all round for the Banner!
On the face of it, Cork would appear better placed facing into Sunday's clash and have the incentive of avenging that defeat of a month ago.
Jimmy Barry-Murphy is on record as expressing his satisfaction with the way his side has progressed in this campaign.
Against the backdrop of a lack of underage success, JBM has worked diligently at reviving Cork's fortunes and those who have come on the scene have not looked out of place.
Lorcán McLaughlin, Conor O'Sullivan and Chris Joyce in defence, Daniel Kearney in midfield and Conor Lehane and Luke O'Farrell up front have all soldiered well this spring.
The Rebel cause will be boosted on Sunday by the return of Shane O'Neill, Tom Kenny and William Egan, who all missed the defeat to Kilkenny.
After hip surgery, Clare's Conor McGrath made his first start of the year as a sub against Tipperary. His return will be welcomed.
A back injury may see midfielder Nicky O'Connell miss out.
Both Cork and Clare could meet in the Championship on 23 June, and it's safe to say that the Gaelic Grounds may witness something close to a summer intensity on Sunday.
If the Rebels can repeat the performance against Kilkenny and be more productive in front of goal then they just might have enough to get over the line.
Verdict: Cork
Live radio coverage of the Allianz National Leagues from 14:00 on Sunday 14 April on RTÉ Radio 1, RTÉ RnaG and RTÉ.ie (Worldwide).
Highlights of all the weekend's Allianz League action on League Sunday on RTÉ Two and RTÉ.ie (Ireland only) from 20:00.