Opinion: Is relegation fair if a team wins 40% of all hurling league games?
Updated: Thursday, 04 Apr 2013 13:44

| Comments
By Rory O'Neill
"We are where we are," as a fella says. So the super group of six played out a dramatic and final last weekend in the round-robin stage of the Allianz hurling league.
While the other two games might not have had the same spark as the fare offered up in Nowlan Park, the results were all that mattered for Tipperary and Galway.
Qualifying for the knockout stages almost seems like a by-product of avoiding relegation, which is the fate about to befall one of Clare or Cork for their sins.
This week we have seen a number of managers come out against the format - most notably Eamon O'Shea in Tipperary whose team topped the division; and more latterly John Allen whose Limerick side must surely rank as the most unlucky of league sides, having secured promotion a couple of years ago only to be told they were back down again due to a re-jigged format.
Looking at the two teams faced with the prospect of 1B hurling for 2014, Clare have had by many standards a pretty good campaign with a very young, inexperienced and emerging side.
They lost to Kilkenny and Waterford by a single point, beat Cork off their own field in Pairc Uí Rinn and recorded an impressive victory over Galway at home in Ennis. I'd hazard a guess that if manager Davy Fitzgerald was offered that beforehand in the hopes of avoiding the drop, he might have taken it.
On the back of a couple of notable Under-21 successes in recent seasons, Clare are in the middle of a major rebuilding process which will inevitably bear fruit. There's simply too much talent there for it not to, but how does a season spent playing Carlow and Antrim aid that process?
Cork are in a similar position, with a young side in the early stages of their development. They put in a reasonable shift by beating Tipperary, picking up a draw away to Galway and losing to Kilkenny in Nowlan Park by just two points. Jimmy Barry Murphy is on the record as expressing his satisfaction with their progress this season with a very new and experimental side acquitting themselves well through the league.
"Relegation needs to be a punishment for performing poorly"
Eamon O'Shea made the valid and not unreasonable argument that attaining 40% of the available points on offer should have been enough to survive any league competition. Relegation, if it is to work properly, needs to be a punishment for performing poorly.
Can that be said of Clare on the back of this year's campaign? Can Cork be accused of being the worst team in a division where they only lost two out of their five available matches? And should either side be consigned to the ignominy of relegation when they've obviously put in a huge amount of work through the spring? Does the punishment fit the crime?
For most supporters, players and managers, the league isn't about winners and losers. Ultimately, it's about development on an individual and collective basis to act as a springboard for teams to enter the Championship on the best footing possible.
Offaly and Wexford continue to compete in the Liam McCarthy Cup, but how is the current format beneficial to Ollie Baker when he has to prepare his team to face the juggernaut that is Kilkenny on 8 June in Tullamore?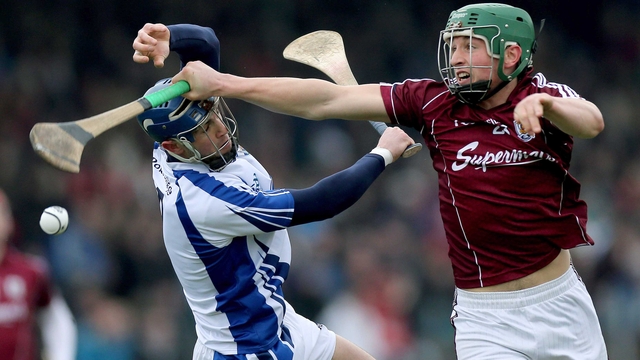 Then we have the scheduling of the league. It doesn't start until the end of February, sprints its way through March and April, before we get the big pause button pushed again for two months until the Championship starts - and for some this might not be until the end of June.
In that sense, Cork are probably lucky (if you could call it luck) that they have a relegation play-off game to fill a three-month gap to the Championship.
Does the argument about club championships needing a slot hold water when most of them end up getting run off in a blitz through September and October? I'm not sure if it does. Is there a reason why it can't begin in early February as it used to, as football does, and run until the first weekend of May having more games spaced out over a longer period of time? Maybe there is. The weather probably being one, but anyone who braved the elements in Nowlan Park last weekend will attest to the futile nature of trying to factor the unpredictable beast that is 'Irish weather' into any sporting schedule.
Hurling is such a precious and delicate entity that the overall well-being of the game should supersede any inter-county and individual concerns and the fact we got such an exciting finish to the round-robin stage of this year's competition shouldn't gloss over the very obvious flaws in the current system.
The strong will continue to get stronger and the weak get pushed further adrift. Next year's format will do little to cure any of these ills, meanwhile hurling in general suffers and no one wins.
Rory O'Neill is series editor of the Sunday Game and League Sunday. @downdepairc